Ranking the Weekday Series: Brewers-Braves showdown coming
The Brewers-Braves and Giants-Rockies series rank as the two best for this week in MLB action. Where do the rest fall?
More MLB: Power Rankings | Expert Picks | Latest news & notes | Fantasy news
Another week, another foray into the "Hoagie Scale," as we check out the series (plural!) Major League Baseball will bring us in this upcoming and sure to be glorious week. How hungry we are to devour the action determines the rating, as always. Let's dig in.

| | | |
| --- | --- | --- |
| | at | |
Milwaukee Brewers at Atlanta Braves
Monday: Wily Peralta (4-2) vs. Mike Minor (1-2)
Tuesday: Yovani Gallardo (2-2) vs. Julio Teheran (2-3)
Wednesday: Kyle Lohse (5-1) vs. Ervin Santana (4-1)
Thursday: Matt Garza (2-4) vs. Aaron Harang (4-4)

Historically speaking, the Braves used to play in Milwaukee and these were the two teams Hank Aaron played for.
Specifically speaking, Brewers center fielder Carlos Gomez has a history with the Braves, including first baseman Freddie Freeman. Remember?
Generally speaking, this is a matchup between two first-place teams.
The Braves haven't played well in a while, though, having lost 12 of their last 18. The Brewers haven't fallen quite as badly, but they're 7-10 since their hot start and just lost a series to the lowly Cubs. Each club would rather get things going more like it's the middle of April again.
The Braves visited Milwaukee to begin the season and took two of three from the Brewers. It was one of only two series the Brewers lost in April.
| | | |
| --- | --- | --- |
| | at | |
San Francisco Giants at Colorado Rockies
Tuesday: Madison Bumgarner (5-3) vs. Franklin Morales (3-3)
Wednesday: Matt Cain (1-3) vs. Jhoulys Chacin (0-2)
Thursday: Tim Hudson (4-2) vs. Jorge De La Rosa (5-3)

Pretty obvious here, as the Giants have a three-game lead over the Rockies in the NL West and this is a three-game series. Do the math.
Think we might see a little offense? This isn't a typo and it's not made up -- it's completely true, I swear: The Rockies are hitting .352 and averaging 7.3 runs per game at Coors Field this season. That's just stupid.
Madison Bumgarner has a rather respectable 4.01 ERA in 10 career starts in Coors, but that's still not awesome. Matt Cain is at 4.60 while Tim Hudson sits at 7.41. The Rockies, meanwhile, sport a 4.08 ERA at home this year.
These should be competitive games and they will be high-scoring ones. It's a must-watch series.
| | | |
| --- | --- | --- |
| | at | |
Detroit Tigers at Cleveland Indians
Monday: Drew Smyly (2-2) vs. Corey Kluber (4-3)
Tuesday: Justin Verlander (5-2) vs. Trevor Bauer (0-1)
Wednesday: Max Scherzer (6-1) vs. Zach McAllister (3-4)

These two AL Central foes made the playoffs last season, but it's getting late early for the Tribe in 2014. They've lost four in a row -- including being embarrassed in a three-game sweep by the A's in Cleveland -- and are six games under .500. And now they get to try their hand against the Tigers, with both Verlander and Scherzer getting a turn?
Yikes.
Still, this is a big opportunity for the Indians to get a series against the Tigers. It could do wonders for the club moving forward. Remember, the Tigers were 15-4 against the Indians last year. The Indians managed a split earlier this year in two games but it's still pretty evident the Tigers are the "big brother" here. What better way to turn the tide than to shock Big Brother with a series win?
Speaking of which, Big Brother comes in with the best record in baseball and is playing great right now, having gone 6-0 this past week.
If things go as they have been for these two clubs, this series won't be as much fun as most "foot long" category series. It's here because this is about as important as a mid-to-late May series can get for the Indians.

| | | |
| --- | --- | --- |
| | at | |
Oakland Athletics at Tampa Bay Rays
Tuesday: Drew Pomeranz (3-1) vs. Jake Odorizzi (2-3)
Wednesday: Tommy Milone (1-3) vs. Erik Bedard (2-1)
Thursday: Sonny Gray (5-1) vs. Chris Archer (3-2)

It's a battle of two 2013 AL playoff teams that also includes one of the AL's very best teams this season. On the other hand, much of the drama with this series involves whether or not the Rays can get things right.
Joe Maddon's club sits at seven games below .500, matching a season low. By this point last season, the Rays were never worse than .500 again. They have had a few injuries, but they've done little to inspire confidence in a major turnaround to this point.
The A's, meanwhile, continue bullying their way through baseball. They just swept the Indians in three games by the combined count of 30-6. Overall, they've won nine of their last 10 and have a ridiculous plus-95 run differential. 
The Rays badly need to step up here and stop the bleeding, but the A's could well prove too strong to allow that to happen.
| | | |
| --- | --- | --- |
| | at | |
Cincinnati Reds at Washington Nationals
Monday: Mike Leake (2-3) vs. Stephen Strasburg (3-3)
Tuesday: Johnny Cueto (4-2) vs. Doug Fister (0-1)
Wednesday: Alfredo Simon (5-2) vs. Tanner Roark (3-1)

A pair of playoff hopefuls with major injuries right now. The Reds will go without Jay Bruce and maybe Joey Votto for the series while the Nationals continue to miss Bryce Harper, Ryan Zimmerman and Adam LaRoche. Meanwhile, the Reds still don't have Mat Latos in their rotation while the Nats just had to DL Gio Gonzalez.
Despite the rotation injuries, expect this series to come down to pitching. Cueto is as good as anyone right now while Strasburg has stuff that is as good as anyone. The Cueto-Fister matchup is a beauty, too.
I also had a thought that would make each of the two fan bases angry with me for opening an old wound -- remember just how close we were to a Reds-Nationals NLCS two years ago? Yeah, I know, bad memories ...
| | | |
| --- | --- | --- |
| |  at  | |
Toronto Blue Jays at Boston Red Sox
Tuesday: J.A. Happ (2-1) vs. Felix Doubront (2-3)
Wednesday: Drew Hutchison (2-3) vs. Clay Buchholz (2-3)
Thursday: Mark Buehrle (7-1) vs. Jon Lester (4-5)

Just when it looked like the Red Sox were starting to get things moving in the right direction, they've lost four in a row and have fallen three games under .500. It feels like they are better than they're playing, but 43 games isn't really a small sample any longer. The Blue Jays, meanwhile, have won five of their last seven and are the only member of the AL East with a positive run differential.
With the Jays only being one game out and the Red Sox still only three out -- despite underachieving for the most part -- this is a big intra-division tilt. The Red Sox took two of three earlier this season.
Also, obviously, there's the whole John Farrell against his former team thing, though that's mostly fallen by the wayside in terms of being an interesting storyline.
One thing to watch: Buehrle has been one of baseball's best pitchers this season. In nine starts, he's allowed two or fewer runs eight times. His one bad outing came against these Red Sox, when they tattooed him for seven runs (six earned) on 12 hits in 5 1/3 innings on April 25. Will they get to him again? That would go a long way in winning this series.

| | | |
| --- | --- | --- |
| | at | |
Los Angeles Dodgers at New York Mets
Tuesday: Josh Beckett (1-1) vs. Rafael Montero (0-1)
Wednesday: Hyun-Jin Ryu (3-2) vs. Jacob deGrom (0-1)
Thursday: Zack Greinke (7-1) vs. Jon Niese (2-3)

The Dodgers definitely feel like they should be a lot better than their record. They simply haven't been able to start firing on all cylinders. They're still over .500, but it's only by one game and they have a negative run differential. They just lost a series to the Diamondbacks, too.
The good news is they finally have their entire starting rotation healthy, so maybe the time for an extended run is near.
On the Mets' end, they've lost four of five after battling their way back to .500. Rookie Rafael Montero is very talented but was harmed by the long ball in his debut last week. That's definitely something to watch against the potentially powerful Dodgers lineup Tuesday.
| | | |
| --- | --- | --- |
| | at | |
Baltimore Orioles at Pittsburgh Pirates
Tuesday: Miguel Gonzalez (1-3) vs. Francisco Liriano (0-3)
Wednesday: Chris Tillman (4-2) vs. Wandy Rodriguez (0-2)

Hey, it's a rematch of the 1979 World Series when the "We Are Family" Pirates won a classic in seven games. A seven-game World Series victory also happened with the Pirates over Orioles in 1971.
As far as 2014 goes, it's not a huge battle here. The Orioles have actually lost four of their last six but still sit just a 1/2 game back in the AL East. The Pirates have also lost four of their last six and don't seem to have the "magic" element they did last season.
Tillman is coming off his first career shutout while the Pirates' can be offensively challenged at times and aren't very familiar with him. It's a good chance to keep things going well for the All-Star right-hander.
| | | |
| --- | --- | --- |
| | at | |
New York Yankees at Chicago Cubs
Tuesday: Masahiro Tanaka (6-0) vs. Jason Hammel (4-2)
Wednesday: Chase Whitley (0-0) vs. Jeff Samardzija (0-4)

Just a two-gamer here with limited intrigue. The Yankees are in first place in the AL East, of course, which definitely means something and helps this series to avoid "slider" status. I remain skeptical regarding their chances of winning the division, but then again, does anyone in the AL East inspire confidence at this point?
The W-L stat brings us two relatively fun storylines in this quick little series. Tanaka hasn't lost a regular-season game since 2012, which is just ridiculous. On the opposite end of the spectrum, Samardzija hasn't garnered a win since Aug. 24, 2013, a span of 15 starts. He has a 1.62 ERA this year, he's just had awful luck.
These two teams played a doubleheader earlier this season with the Yankees sweeping it and the Cubs failing to score a single run.
| | | |
| --- | --- | --- |
| | at | |
Arizona Diamondbacks at St. Louis Cardinals
Tuesday: Bronson Arroyo (4-2) vs. Adam Wainwright (6-2)
Wednesday: Brandon McCarthy (1-6) vs. Michael Wacha (3-3)
Thursday: Wade Miley (3-4) vs. Lance Lynn (5-2)

The Cardinals appear to have turned a corner on what was a disappointing season for a bit. They blew the game in the ninth inning Sunday, but still were in position to collect their fifth straight victory. Overall, though, taking two of three from the Braves isn't bad.
If just looking at the win-loss record, Arizona would appear to be a walkover candidate for the Cardinals, but the D-Backs have shown life of late. In fact, they've won 10 of their last 16 games and have whittled their rotation ERA down to 5.29 -- notable as it was once flirting with 8.00.
Still, this series is all about the Cardinals and if they can keep their momentum in the positive direction.
| | | |
| --- | --- | --- |
| |  at  | |
Chicago White Sox at Kansas City Royals
Monday: Scott Carroll (1-3) vs. Jason Vargas (4-1)
Tuesday: Andre Rienzo (3-0) vs. Yordano Ventura (2-3)
Wednesday: Jose Quintana (2-3) vs. Jeremy Guthrie (2-3)

Chris Sale is still out and Jose Abreu has joined him on the DL, both of which make the White Sox a whole lot less appealing. They've also lost six of eight and are coming off a series loss to the Astros.
So, basically, the attractiveness of this series boils down to the Royals. They've won eight of their last 12 and sit a game over .500. In the AL this year, that means they're right in the thick of things. In fact, while it's far too early to look at such things, they're only a 1/2 game out of the second wild card.

| | | |
| --- | --- | --- |
| |  at  | |
Minnesota Twins at San Diego Padres
Tuesday: Kevin Correia (1-5) vs. Ian Kennedy (2-5)
Wednesday: Phil Hughes (4-1) vs. Tyson Ross (5-3)

This is a two-game series between two clubs with essentially no history while also presenting two mediocre teams. The guess is this series is met with a colletive yawn from all baseball fans outside of Minnesota, San Diego and any fantasy baseball interests.
It is worth mention that the Twins are playing well, having won five of their last seven and winning series against the Tigers, Red Sox and Mariners in the past week-plus. By the same token, the Padres had won five of six before losing a series to Colorado.
| | | |
| --- | --- | --- |
| | at | |
Philadelphia Phillies at Miami Marlins
Tuesday: A.J. Burnett (2-3) vs. Anthony DeSclafani (1-0)
Wednesday: Kyle Kendrick (0-4) vs. Nate Eovaldi (2-2)
Thursday: Cole Hamels (1-2) vs. Henderson Alvarez (2-3)

The Marlins return home after losing seven of their last 10. The Phillies have actually won two in a row and swept the Marlins in three games earlier this season, but that was in Citizens Bank Park.
The intrigue here comes with the games being played in Miami. The Marlins are 17-5 at home this season, a ridiculous clip that they surely can't continue. Then again, they are a young team and seem very comfortable at home.
| | | |
| --- | --- | --- |
| | at | |
Houston Astros at Los Angeles Angels
Monday: Dallas Keuchel (4-2) vs. Garrett Richards (4-0)
Tuesday: Scott Feldman (2-1) vs. Tyler Skaggs (3-1)
Wednesday: Collin McHugh (2-2) vs. Jered Weaver (4-3)

The Astros have won four of their last five, but they're still objectively the worst team in the AL. They also have a tendency to follow up good stretches with abysmal ones. The best guess is the Angels steamroll them here.
Speaking of, has anyone else noticed how good the oft-maligned Angels look right now? They've won eight of their last 10 and are now five games over .500 for the first time since 2012. Richards is pitching like an All-Star, Albert Pujols is coming off a two-homer game, Kole Calhoun will be back from the DL soon and Josh Hamilton is soon to follow. Keep an eye on this club.
| | | |
| --- | --- | --- |
| | at | |
Seattle Mariners at Texas Rangers
Tuesday: Hisashi Iwakuma (2-0) vs. Colby Lewis (3-2)
Wednesday: Chris Young (3-1) vs. Nick Tepesch (0-0)

No King Felix or Yu Darvish in a two-gamer between a pair of mediocre teams. Yes, Iwakuma is filthy when he's going well, but otherwise there isn't much to love here. The Rangers have been awful for a bit, actually, as they're 6-14 since April 26. The Mariners are a fickle bunch this season, already with some pretty drastic hills and valleys. They salvaged a win Sunday, which broke a four-game losing streak.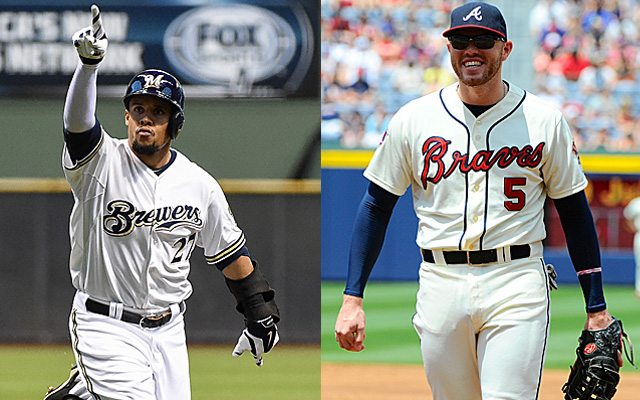 Wright was arrested at his home Friday

The former Tigers teammates were voted into Cooperstown by the 16-person Modern Era Commit...

The Yankees still have room for a good-sized signing even after Saturday's trade with Miam...
St. Louis gets some much needed help for their bullpen

Keep tabs on the top 50 free agents right here

Morrow thrived with the Dodgers last season