Ranking the Weekday Series: Tigers-Orioles showdown coming
Let's take a look at what's in store for us this coming week. At the top? First-place battles between the Tigers-Orioles and Braves-Giants.
More MLB: Power Rankings | Expert Picks | Latest news & notes | Fantasy news
We're heading into another week of action in major league baseball, which means it's time to look to the Hoagie Scale to see which series are most worthy of our consumption. Dig in.

| | | |
| --- | --- | --- |
| | at | |
Detroit Tigers at Baltimore Orioles
Monday: Rick Porcello (5-1) vs. Bud Norris (2-2)
Tuesday: Drew Smyly (2-2) vs. Ubaldo Jimenez (2-4)
Wednesday: Justin Verlander (4-2) vs. Wei-Yin Chen (4-2)

A pair of first-place teams squaring off here, one at least a mild surprise and the other not even a bit surprising.
The Tigers were the hottest team in baseball, but just lost a series to the Twins. Still, they have the best record in the AL and might well be the best team.
On the Orioles, we've seen this before, haven't we? They have a negative run differential, but thanks to a 9-3 record in one-run games they sit five games above .500 with a lot of people outside Baltimore questioning how good they actually are. They thrived in the face of this narrative in 2012, so we know it's possible to keep it going for an entire season. The Tigers mark a big test -- at least considering that in mid-May, no test is really that "big."
Keep an eye on Jimenez on Tuesday. He had a 6.92 ERA in three starts against the Tigers last season. Twice he didn't even make it past four innings.
Also, the 2013 AL MVP and the third-place finisher in that same vote are both here. Fun times.
| | | |
| --- | --- | --- |
| |  at  | |
Atlanta Braves at San Francisco Giants
Monday: Gavin Floyd (0-0) vs. Tim Lincecum (2-2)
Tuesday: Mike Minor (0-2) vs. Ryan Vogelsong (1-1)
Wednesday: Julio Teheran (2-2) vs. Madison Bumgarner (4-3)

First place vs. first place, part two. Last time we wrote about this series, it was played in Atlanta and the visiting Giants swept the Braves. That was part of a seven-game losing streak by the Braves in which they were having trouble scoring runs.
Well, the Braves are still having trouble scoring runs for the most part, but they come in having won four of five. Yes, it was the lowly Cubs that they just swept at home, so the question remains whether or not Atlanta has worked out its issues. Playing three in San Francisco should give us a clue.
The Giants are riding high, too. They just took three of four from the Dodgers in LA and have gone 13-4 since a rough patch in mid-to-late April. A pretty powerful signal could be sent to the rest of the NL with another sweep here.

| | | |
| --- | --- | --- |
| |  at  | |
Pittsburgh Pirates at Milwaukee Brewers
Tuesday: Gerrit Cole (3-2) vs. Marco Estrada (2-1)
Wednesday: Francisco Liriano (0-3) vs. Wily Peralta (4-2)
Thursday: Wandy Rodriguez (0-2) vs. Yovani Gallardo (2-2)

First things first, this is the matchup that brought us the fight a few weeks back. Remember?
And wouldn't you know it that fate would give us Cole on the mound in the first game. The battle between him and Carlos Gomez should be fun.
This is also a good one because of the NL Central implications. The Pirates started off terribly but are showing signs of life, having won six of their past nine. The Brewers still have a comfortable lead in the Central, but have lost seven of their past 11 and are dealing with some important injuries.
This will be a fun series.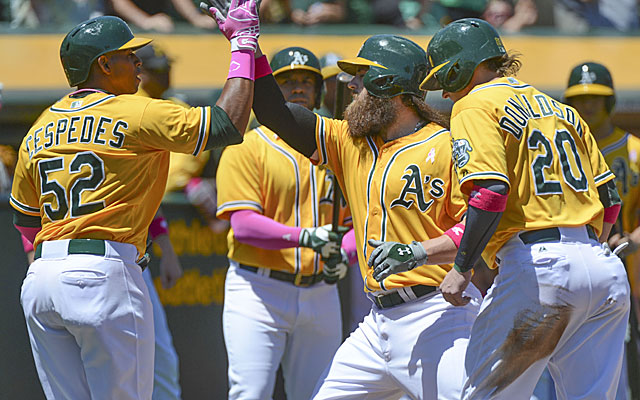 | | | |
| --- | --- | --- |
| |  at  | |
Chicago White Sox at Oakland Athletics
Monday: John Danks (3-2) vs. Jesse Chavez (2-1)
Tuesday: Scott Carroll (1-2) vs. Drew Pomeranz (2-1)
Wednesday: Andre Rienzo (3-0) vs. Tommy Milone (1-3)

The White Sox have been one of the more exciting teams in baseball to this point, but they haven't been able to really break through. They also don't have a winning record against any team that is currently above .500. With that in mind, having to deal with the second-best team in the AL (by record) on the road marks a substantial test for the young White Sox.
The A's, meanwhile, were struggling but have now won four in a row and just outscored the Nationals 21-4 in a three-game sweep. So they're fine.
| | | |
| --- | --- | --- |
| |  at  | |
New York Mets at New York Yankees
Monday: Bartolo Colon (2-5) vs. Hiroki Kuroda (2-3)
Tuesday: Zack Wheeler (1-3) vs. Vidal Nuno (1-0)
Wednesday: Jenrry Mejia (3-0) vs. Masahiro Tanaka (5-0)
Thursday: Dillon Gee (3-1) vs. TBD (probably Alfredo Aceves )

It's a 19-17 second-place team against a 17-19 team that is tied for last place. The Mets enter the series having lost eight of their past 10 while the Yankees limp in with a patchwork starting rotation.
Still, it's a Subway Series, so that's always something worth watching.
Curtis Granderson had an awful April with the Mets, but he has been hitting much better in May and now faces his former team.
Also: Masahiro Tanaka still hasn't taken a regular-season loss since 2012. Remember, he was 24-0 last season in NPB. I'm guessing the Mets would love to break things up there.
| | | |
| --- | --- | --- |
| |  at  | |
Colorado Rockies at Kansas City Royals
Tuesday: Franklin Morales (3-2) vs. James Shields (4-3)
Wednesday: Jhoulys Chacin (0-1) vs. Jason Vargas (3-1)

The Rockies are coming off their first series loss since April 11-13, so it'll be interesting to see how they react. I know one thing, they'll be a bit more fresh Tuesday than they have been of late, because Monday will mark their first day off since April 24.
The Royals come back home after a 4-3 West Coast swing concluded with a big come-from-behind victory in which they hit two home runs in a game for the third time this season. Speaking of which ...
Fun secondary storyline: This matchup pits the MLB team leader in home runs against the team that ranks last in home runs. In fact, Troy Tulowitzki and Charlie Blackmon alone have combined for four more home runs than the entire Royals team.
| | | |
| --- | --- | --- |
| |  at  | |
Miami Marlins at Los Angeles Dodgers
Monday: Tom Koehler (3-2) vs. Dan Haren (4-1)
Tuesday: Jacob Turner (0-0) vs. Josh Beckett (0-1)
Wednesday: Jose Fernandez (4-2) vs. Paul Maholm (1-3)

After an extended hot streak at home, the Marlins are still over .500 and within striking distance in the NL East. They need to prove they can win away from home, though, and they're coming off losing three of four to the Padres. The Fish are now 3-13 on the road and have seven more games before they return home.
The Dodgers need something to right the ship. They've lost seven of 10. It was just over a week ago that they lost two of three to the Marlins, but that was in Miami. Might the road Marlins be what Donnie Baseball and his troops need?
If not, they have some serious early season problems. Again.

| | | |
| --- | --- | --- |
| |  at  | |
Los Angeles Angels at Philadelphia Phillies
Tuesday: Matt Shoemaker (0-1) vs. Cliff Lee (3-3)
Wednesday: Garrett Richards (3-0) vs. A.J. Burnett (2-2)

Just a quick two-gamer here that doesn't have a ton of intrigue. The Angels are pretty talented and are hanging around in the AL West. In fact, entering Monday (when they have one more game against the Blue Jays and are going for a four-game sweep), they're two games over .500 for the first time since 2012.
There's also this: Mike Trout grew up (kind of) near Philadelphia but has never played a big-league game in Philly. He's also 4 for 34 with 12 strikeouts so far in May. Will a trip back "home" help him get things back on track?
On the Phillies side, only 15 of their 36 games this season have come at home, but they're 6-9 at home. It's not quite the drastic split we'll see below (Arizona section), but they're bound to start playing better at home, right?
| | | |
| --- | --- | --- |
| |  at  | |
Tampa Bay Rays at Seattle Mariners
Monday: Cesar Ramos (1-1) vs. Felix Hernandez (3-1)
Tuesday: David Price (3-3) vs. Hisashi Iwakuma (2-0)
Wednesday: Jake Odorizzi (1-3) vs. Brandon Maurer (1-1)

The Rays are in the midst of a real bad stretch and are just 16-22 overall, despite entering the season with high expectations. We've seen them struggle before only to turn things around, but they were never six games under .500 last season.
The Mariners, meanwhile, have gone five series without losing one and sit within striking distance in the very competitive AL West. So, perhaps unbelievably, the Mariners would be the prohibitive favorite here over the Rays. Talk about a role reversal.
Of note: King Felix has been struggling and is actually coming off just the third outing of his career where he didn't record a strikeout. The last time it happened was all the way back in 2008.
| | | |
| --- | --- | --- |
| |  at  | |
Boston Red Sox at Minnesota Twins
Tuesday: Felix Doubront (1-3) vs. Ricky Nolasco (2-3)
Wednesday: Jake Peavy (1-1) vs. Kevin Correia (1-4)
Thursday: Clay Buchholz (2-3) vs. Phil Hughes (4-1)

The Red Sox come into this series with a winning record for the first time since April 3, when they were 2-1. They've won six of their past eight and are starting to resemble the team many picked to repeat as AL East champs.
They shouldn't take the Twins lightly, though, because Minnesota just took a series from the red-hot Tigers.
Something to watch: Hughes has been very good lately, but the Red Sox crushed him the two times he faced them last season. Can he turn the tide?
| | | |
| --- | --- | --- |
| |  at  | |
Cleveland Indians at Toronto Blue Jays
Tuesday: Danny Salazar (1-3) vs. R.A. Dickey (3-3)
Wednesday: Justin Masterson (2-1) vs. Dustin McGowan (2-1)
Thursday: Corey Kluber (3-3) vs. J.A. Happ (1-1)

Here we go again? The Indians were one of the most streaky teams in baseball last year -- as I've mentioned several times before -- both good and bad. After starting 11-17 this season, they've now won seven of their past 10.
Can Carlos Santana get it going? He entered Sunday mired in a 1-for-28 slump, but was able to go 2 for 3 with a double.
Speaking of streaky, the Blue Jays swept the Phillies in four games but have lost three straight to the Angels.
Something to watch for the series opener: R.A. Dickey leads the majors in walks while the Indians are going best when they're among the most patient teams in the league, as they were last season. They would be advised to take a strike.
| | | |
| --- | --- | --- |
| |  at  | |
Washington Nationals at Arizona Diamondbacks
Monday: Jordan Zimmermann (2-1) vs. Josh Collmenter (1-2)
Tuesday: Stephen Strasburg (3-2) vs. Bronson Arroyo (3-2)
Wednesday: Doug Fister (0-1) vs. Brandon McCarthy (1-6)

Get this: The Diamondbacks have won three straight series and are 6-3 in May. That all happened on the road, though, where the D-Backs are 12-10 on the season. They're 3-15 in home games (0-2 in Australia, 3-13 in Chase Field). What gives there? Have they been that scarred by the Dodgers/pool incident?
I kid, I kid. But it will be worth watching to see how Arizona plays back at home.
The Nationals, meanwhile, are coming off getting embarrassed in Oakland. They've handled bad teams pretty well thus far in 2014, but are the D-Backs actually bad right now?
| | | |
| --- | --- | --- |
| |  at  | |
Chicago Cubs at St. Louis Cardinals
Monday: Travis Wood (2-4) vs. Tyler Lyons (0-2)
Tuesday: Jake Arrieta (0-0) vs. Adam Wainwright (6-2)
Wednesday: Jason Hammel (4-1) vs. Michael Wacha (2-3)
Thursday: Jeff Samardzija (0-3) vs. Lance Lynn (4-2)

With the Cardinals being nothing more than mediocre overall this season -- and failing thus far to live up to lofty expectations -- and facing off against the worst team in the NL, this isn't an overly enticing series. It's saved from slider status for two reasons, though.
First of all, it's one of baseball's biggest rivalries. No matter the quality of the two teams, the history makes it at least mildly interesting.
Secondly, the Cubs took two of three from the Cardinals last week with the Cubs beating both Wainwright and Wacha, so the St. Louis fans surely want payback here.

| | | |
| --- | --- | --- |
| |  at  | |
San Diego Padres at Cincinnati Reds
Tuesday: Andrew Cashner (2-5) vs. Mike Leake (2-3)
Wednesday: Ian Kennedy (2-4) vs. Johnny Cueto (3-2)
Thursday: Tyson Ross (4-3) vs. Alfredo Simon (4-2)

Both teams can potentially play better than their current records indicate and I think at least the Reds are a good bet to do so. Neither has been able to play well for extended stretches, though, and the bottom line is the two clubs are multiple games under .500 coming in.
Keep an eye on Wednesday, because the Padres have been one of baseball's least imposing offenses for most of the season while Cueto has the best ERA, WHIP and hit rate in all of baseball.
| | | |
| --- | --- | --- |
| |  at  | |
Texas Rangers at Houston Astros
Monday: Colby Lewis (2-2) vs. Brad Peacock (0-3)
Tuesday: Matt Harrison (1-0) vs. Dallas Keuchel (3-2)
Wednesday: Nick Tepesch (0-0) vs. Scott Feldman (2-1)

The worst team in baseball against a Rangers team that has lost 10 of its past 14 games. Yuck. We don't even get to see Yu Darvish go for a no-hitter, as he has been pushed back to Friday as part of their rotation scramble in the wake of Martin Perez  elbow injury. There won't be many people outside Texas watching this one.
They still would much rather grab the AL East, however

Sale becomes the first AL pitcher to reach 300 strikeouts since 1999

Steve Balboni's long-standing record of 36 has finally fallen
Several players called for the netting to be extended down the base lines following Wednesday's...

Maria made landfall as a Category 4 on Wednesday

The players are trying to do their job and don't want to see anyone hurt