Rays ace may not be off market yet, but price of Price is going up
David Price would only be traded for a major haul at this point.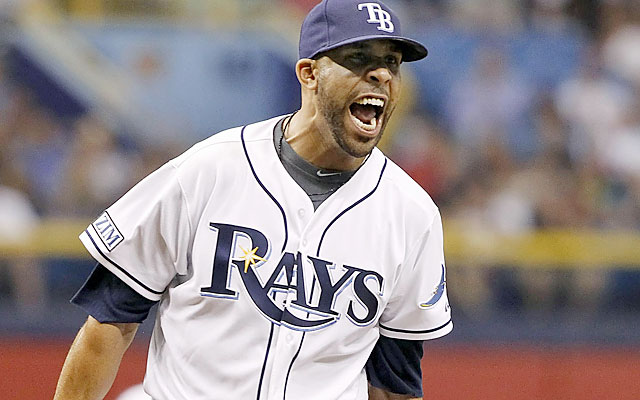 More MLB: Power Rankings | Expert Picks | Latest news & notes | Fantasy news
Some rival baseball executives believe there are Tampa baseball people who may still be inclined to trade star pitcher David Price for a big haul and give up the pennant chase, but even those folks acknowledge it would be hard to buck a committed clubhouse that has played its way into the race.
The red-hot Rays certainly don't have the look or feel of a seller. And most think now they will stay in it to try to win it, despite any original inclinations.
"I believe so," one person familiar with their thinking said when asked whether they'd likely hold onto their stars. "Simply put, it will take more than it would have a few weeks back"
Most folks believe the price will be too high for a trade now. They've come from 18 games below .500 to two below, at 52-54, following their 10th win in 11 games. They are only four games out of a wild-card position.
"Guessing Price is sold at 200 percent markup or not moved," one rival GM said.
The Dodgers, seemingly the prime candidate to make a big Price trade, weren't in the first place agreeing to the request of multiple pieces from their coveted top quartet of shortstop Corey Seager, outfielder Joc Pederson and pitchers Julio Urias and Chris Anderson. And now that there's company on the market with two more aces, Jon Lester and perhaps Cole Hamels, so there may be less reason for the Dodgers to accede to the request.
Price, due to his contractual situation and his stuff, should command more than the other two pitchers. He is 11-7 with a 3.08 ERA and 183 strikeouts, but he's been about the hottest pitcher in baseball. Price would likely be any team's top choice, but any of three aces would greatly enhance the chances of the Dodgers or anyone else, for that matter.
And don't forget, it'll take even more to get Price now.
The club made the announcement on Friday

It's a full slate of MLB night games, so keep it locked right here

The Rockies are clinging to the second NL wild card spot at the moment
Plus Matt Olson and Kevin Kiermaier heroics, a look at Zack Greinke's dominance and more

Plus the Indians are now 27-1 in their last 28 games. Here is everything you need to know from...

The soon-to-be 43-year-old Dickey said he wants to spend more time with his family