Rays already working on one consequence of replay
Though they surely aren't alone, the Rays are working on playing through the third out -- both on offense and defense -- in case replay overturns the third out call.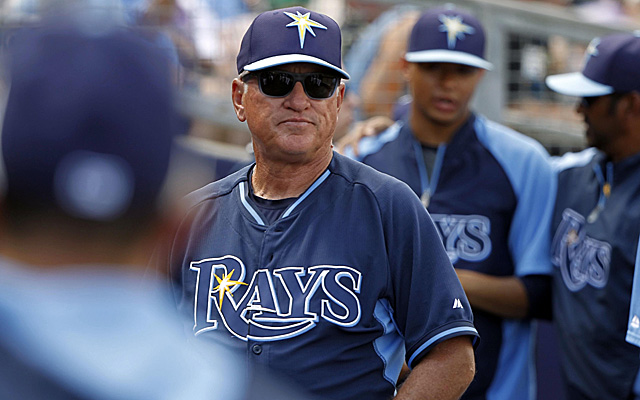 MORE: Spring Training | Scoreboard | FA tracker: position players | FA tracker: pitchers
Though it's doubtful they're alone -- in fact, I'm guessing all 30 teams will at least eventually be doing the same -- some stories emerged from Rays action Thursday evening (tbo.com and tampabay.com) that they are working on "extra out" plays both on defense and on the basepaths.
That is, if there's a close play on a would-be third out, the Rays are continuing to play as if there's a fourth out due to the possibility that instant replay can overturn an on-field out ruling.
More specifically, if there's a play with the Rays on defense that would result in a third out but there's another baserunner, they'll make an extra throw after the third out to prevent a possible extra base -- in case there's a replay that rules the original call incorrect.
Likewise, when the Rays are on the basepaths, they'll keep running after a presumed third out.
"I know there's going to be some definites written down, but there's still going to be some gray that pops up that had not been thought about, or interpreted differently at the moment," Maddon said (tampabay.com). "So it's not about 'gaming' anything, it's about doing it for the first time and trying to not leave anything up to discretion."
As has been well-documented the past several years, the Rays are one of the more cerebral organizations in baseball, so it's not surprising to hear of this. Still, to reiterate, I doubt they're alone. It's only common sense to not leave things open to the interpretation of the umpire if one can help it. It's akin to continuing play after a ball is loose in football on a possible fumble even if everyone believes the runner was down by contact. There's no reason to make the umpires perform guesswork if they don't have to.
Plenty of other teams are involved, of course

Where might the Orioles third baseman land?

Kinsler will slot in at second base for the Angels
The Marlins got a better return for Ozuna than Stanton or Gordon

The two teams are going about things in very different ways

The Marlins are indeed in teardown mode under new ownership