Rays beat Rangers in tiebreaker game, win wild card spot: Quick hits
The Tampa Bay Rays beat the Texas Rangers, 5-2, Monday night in a tiebreaker to decide who would secure the second AL wild card spot. So they'll now head to Cleveland.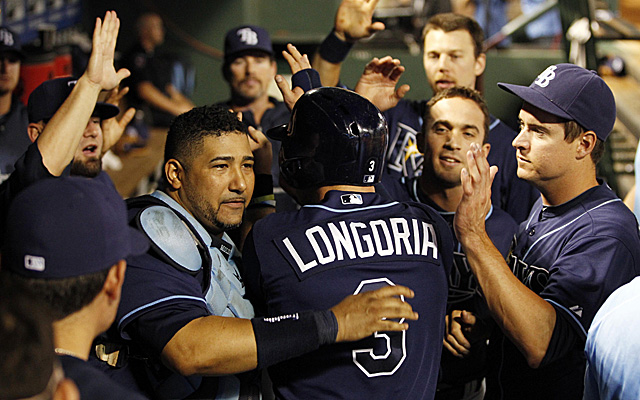 Video: Baserunning mistakes story in 1st inning | GIF: Umpires terribly botch 'catch' call
The Tampa Bay Rays beat the Texas Rangers, 5-2, in Arlington Monday night in Game 163, a tiebreaker to decide who would secure the second AL wild card spot. Let's run it down.
Heroes: We're gonna include two guys here. And being the Rays, it's not surprising that their two best players are the entries. Ace of the staff and 2012 AL Cy Young winner David Price went out and battled his tail off. He didn't have his best stuff in terms of making opposing hitters miss -- though he did have good velocity and control -- but he went the distance, allowing only two earned runs on seven hits in a complete game. He wasn't missing bats much, with just four strikeouts, but he got the job done.
The other pick is Evan Longoria. He went 3-for-4 with a pair of runs and RBI. He also provided the big blow of the game, coming through with a two-run homer in the third inning -- which would end up giving the Rays all the runs they needed, running the early lead to 3-0. Here's the shot:
Teams count on their stars to deliver in big games. Price and Longoria came through, so the Rays advance.
Goat: I'm gonna go with Rangers baserunners here. They twice were picked off first base in front of three-hole hitter Alex Rios. Rios had an RBI double in the game and had a pretty powerful September. In a do-or-die game, the fundamentals have to be better than this.
Turning point: Longoria's homer. The Rays were up, 1-0, yes, but Martin Perez battled out of that first inning jam to only allow one run after giving up three singles and a walk. Plus, one run doesn't amount to much in Rangers Ballpark at Arlington. But the 3-0 lead looked a bit more menacing once it was apparent Price was battling as hard as he was.
It was over when: Sam Fuld stealing third and then scoring on Tanner Scheppers' throwing error in the top of the ninth really felt like the dagger. Fernando Rodney hasn't been what he was in 2012 and two runs didn't feel like anything unrealistic. If Price gave up a baserunner and then Rodney was summoned from the bullpen, for example, a home run would be a game-tying shot. But that third run may have been what gave Maddon the confidence to run Price back out there and also meant the Rangers would need a pretty decent rally to tie it.
Next: On to the actual playoffs. The Rays will visit Cleveland for a date with the Indians in the AL wild card game. It's a one-game playoff, so the winner would then head to Boston for the ALDS against the Red Sox. Gametime Wednesday in Cleveland is 8:07 p.m. ET.
The lefty starter is coming off a terrible season

After acquiring Ian Kinsler and Zack Cozart in recent days, the Angels are trending upward

Cozart's coming off a big season as the Reds' shortstop
The veteran slugger spent the last eight seasons with Cleveland

The Padres may be poised for an active winter

Yes, Bryce Harper is going to make a lot of money next winter