Rays keep winning, attendance keeps dropping
The Rays just finished their home season with their lowest attendance total since 2007. It would be the worst attendance for a playoff team since 1997, and they could be the first playoff team ever to finish last in the majors in attendance.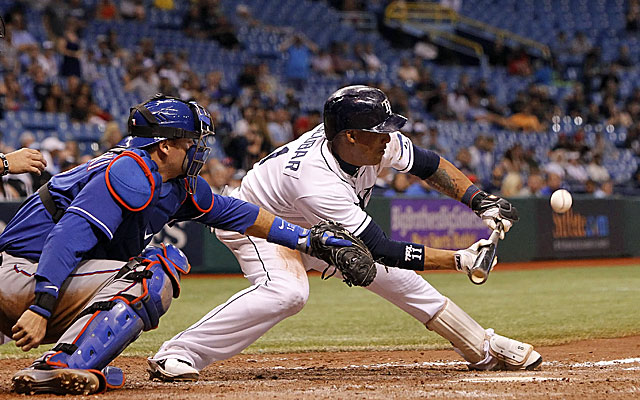 NEW YORK -- It's not true that the Rays have no fans.
In fact, they have enough that when their 18-inning win over the Orioles ended in the early hours of last Saturday morning, their television broadcast was doing a 4 rating.
At 2 a.m.
"When we took over, we were averaging less than a 1 for the season," owner Stuart Sternberg said Tuesday.
So they have fans. The fans just don't show up at the ballpark.
The Rays' attendance woes are a tiresome subject, and I wouldn't be bringing them up again, except for this: Somehow, it's getting worse.
The Rays ended their home season Monday with a full-season total of 1,510,300, the lowest since 2007. The 2007 Devil Rays lost 96 games, the 10th straight season of 90-plus losses.
The 2013 Rays have won 87, with six games to go. They should get to 90 wins for a fifth straight season, and should get to the playoffs for the fourth time in the last six years.
If they get there, they'd have the lowest home attendance by a playoff team in 34 years, since the 1979 Pirates drew 1,435,454.
"That was a fun team," Sternberg said with a smile.
It's hard not to admire the way Sternberg and his group have dealt with the attendance issue. While they've continued to insist they need a new ballpark, they've avoided the type of criticisms of Trophicana Field that suggest to fans that they should never go there.
They've even put money in to improve the park, and it's a safe guess that they'll do even more after this season.
There are still plenty of possible reasons why the attendance is so bad. But why is it going down?
"Maybe people have come to expect us to win," Sternberg said. "It's not as novel."
You know what is novel: A playoff team with the lowest attendance in the majors. As far as I can tell, in research through baseball-reference.com, it's never happened before.
The Rays are last in average attendance this year, and are basically guaranteed to finish the year last in overall attendance. They're not guaranteed to make the playoffs, but they entered play Tuesday with a two-game lead and six games to play, so they're close.
Somewhere, plenty of Rays fans are cheering.
Just not at Tropicana Field.
Charlie Morton will start either Game 3 or 4

Granderson, Verlander, Beltran and more are looking to reach the top of the MLB world

Houston's top relievers have been shaky this postseason
Our experts have a unanimous World Series pick

Otani's rare ability to hit and pitch will need to be accounted for in realms beyond real...

Kenny White has won 8 of his last 10 MLB Over-Under picks and has a strong play for Game 1