Rays' Matt Moore continues dominance in win over White Sox
Rays left-hander Matt Moore has been one of the best pitchers in baseball this year, and he continued his dominance on Saturday.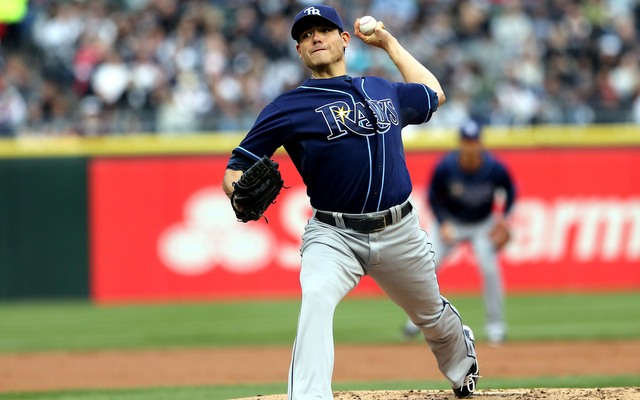 More MLB: Scoreboard | Standings | Probable Pitchers | Sortable Stats | Odds
Five starts, five wins, four runs allowed. That is the short version of what Rays left-hander Matt Moore has done so far this season. The long version makes his work much more impressive.
Moore, 23, went 11-11 with a 3.81 ERA in 31 starts and 177 1/3 innings as a rookie last season. He struck out 175, so nearly a man an inning. After the All-Star break, he pitched to a 3.01 ERA with 79 strikeouts in 77 2/3 innings. Things started to click down the stretch.
Whatever it is, it continues to click. Moore has allowed only 13 hits in his 33 innings this season, which is mind-boggling. All four runs that he has allowed have been home run-related -- two solo shots (Adam Dunn and Robinson Cano) and one two-run homer (Adam Jones) -- and only one of his five starts featured more than three hits allowed.
Against the White Sox on Saturday, Moore allowed one run (the Dunn homer) and three hits in seven innings. He struck out nine and walked one, and that last number is important. Despite being relatively unhittable, Moore has been a little too liberal with the free pass so far, walking 14 batters in his first four starts.
PitchFX data confirms he hasn't changed his pitch selection this year, but his fastball is averaging close to 2 mph slower than last season, when it sat at 94.1 mph. His slider continues to sit in the low-80s, his changeup in the mid-80s. Moore isn't getting considerably more ground balls, either (42.0 percent in 2013, 37.4 percent in 2012). So, for the most part, the results are the same. Everything but hits and runs allowed, that is.
Of course, Moore will not maintain a .149 BABIP and a 100-percent strand rate this year. No pitcher does, it's as close to impossible as it gets. At some point, balls are going to drop in and, at some point, runners who reach base are going to come around to score. Moore has been awesome so far, especially when it comes to missing bats and racking up strikeouts, but he has also been lucky. Great pitching plus good luck equals a 1.13 ERA a month into the season.
Moore is one of the game's rising pitching stars, and his performance this month has helped him take a big step toward joining baseball's elite hurlers. The Rays have a phenomenal track record when it comes to developing pitchers, as well, something that we shouldn't ignore. It's tough for a young player to reach his ceiling, but it's a bit easier with a strong support and development system. Moore's dominance through five starts has been remarkable, and he has an awful lot going for him as he continues his relatively young career.
Then again, three trades in four days might be behind Jerry Dipoto's usual pace

Ohtani is arguably the best hitter and pitcher in Japan

The O's need rotation help, and Cobb is available for hire
The Red Sox and Cardinals are expected to make trade offers next

The free agent first baseman may be a fit in St. Louis

The front office changes in Atlanta continue