Rays place Joel Peralta on DL; he believes he has Chikungunya
Rays reliever Joel Peralta is on the DL for the first time in his career, and he believes it's because he has the Chikungunya virus.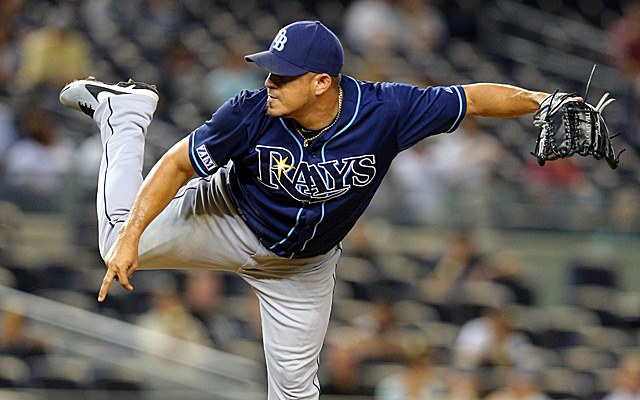 More MLB: Power Rankings | Expert Picks | Latest news & notes | Fantasy news
Rays relief pitcher Joel Peralta has been placed on the 15-day disabled list with an illness, the club announced Tuesday. The 38-year-old right-hander has a 4.15 ERA, 1.23 WHIP and 44 strikeouts in 39 innings this season, but the story is what Peralta might have.
The Dominican Republic product believes he's contracted the Chikungunya virus.
From cdc.gov, here's some information about the virus:
Chikungunya virus is transmitted to people by mosquitoes. The most common symptoms of chikungunya virus infection are fever and joint pain. Other symptoms may include headache, muscle pain, joint swelling, or rash. Outbreaks have occurred in countries in Africa, Asia, Europe, and the Indian and Pacific Oceans. In late 2013, chikungunya virus was found for the first time in the Americas on islands in the Caribbean. Chikungunya virus is not currently found in the continental United States. There is a risk that the virus will be imported to new areas by infected travelers. There is no vaccine to prevent or medicine to treat chikungunya virus infection. Travelers can protect themselves by preventing mosquito bites. When traveling to countries with chikungunya virus, use insect repellent, wear long sleeves and pants, and stay in places with air conditioning or that use window and door screens.
Peralta was back in his native country over the All-Star break and told MLB.com that he believes he was bitten by a mosquito "one or two times."
Further reading from the CDC reveals that "most patients feel better within a week," but for others "joint pain may persist for months." The only treatment to this point is rest, drinking plenty of fluids and taking medicine like ibuprofen.
This is the first DL stint of Peralta's career.