Rays-Red Sox ALDS preview: Who has the edge?
Our fourth and final installment of the Edge series for the LDS round of the playoffs features the Rays and Red Sox. Who has the edge?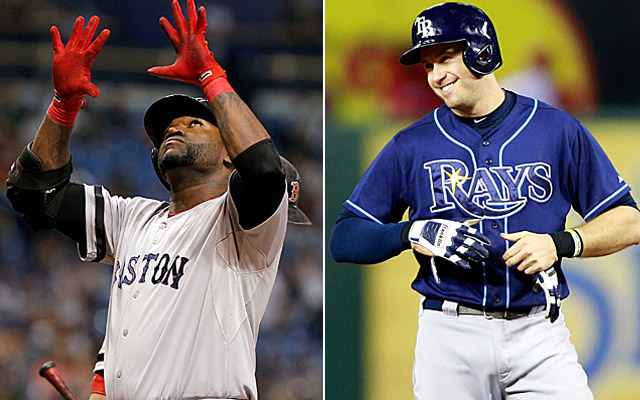 Who has the edge? Pirates-Cardinals | Dodgers-Braves | Tigers-Athletics
After winning the wild card game over the Indians, the Tampa Bay Rays become our eighth team to join the divisional round of the playoffs. And they get a team they're quite familiar with in the AL East champion Boston Red Sox.
The last time these two clubs met in the postseason, the small-market Rays took down the large-market Red Sox in seven games in the 2008 ALCS.
But that's in the past. This season, the head-to-head slate favored the boys from Beantown, as the Red Sox won 12 of the 19 games the two clubs played. The Red Sox outscored the Rays 71-57 in those games, however, indicating it wasn't as big a blowout as the record indicated.
The Red Sox have home-field advantage here, with a 53-28 mark at home -- compared to 44-27 on the road -- while the Rays were 51-30 at home and 41-41 on the road (and we could add on a road win in Cleveland for the wild-card victory).
Catcher: Jose Molina vs. Jarrod Saltalamacchia

Molina's a very solid defensive catcher, perhaps the best in the game when it comes to framing pitches. He is, however, a liability at the plate. Saltalamacchia, meanwhile, hit .273/.338/.466 with 40 doubles and 14 homers this season. He's not bad behind the plate, either.
First base: James Loney vs. Mike Napoli

Loney came through with his most productive offensive season since his rookie year, hitting .299/.348/.430 (118 OPS+) and plays quality defense at first base. Napoli, though, packs some serious punch. For those who care about such things, his postseason track record is pretty good. In fact, had the Rangers won the 2011 World Series, he'd have won the MVP. He also has decent advantages in WAR and OPS+ over Loney.
Second base: Ben Zobrist vs. Dustin Pedroia

Zobrist is one of the more underrated all-around players in baseball, but he's still not performing as well as he did in 2009 or 2011. Pedroia, meanwhile, is likely to garner some AL MVP support (that is, in terms of getting fourth, fifth, sixth, etc. place votes, not first or second place). There's separation here, but it isn't huge.
Shortstop: Yunel Escobar vs. Stephen Drew

Drew's a better hitter by a decent amount (111 to 97 OPS+ advantage, for example) and Escobar is the better defender by a decent amount per most advanced metrics and, yes, the eye test. Call it even.
Third base: Evan Longoria vs. Will Middlebrooks

Middlebrooks went through a disaster of a first half and it landed him in the minors. Since returning, he was much better, hitting .276/.329/.476 with eight homers and 24 RBI in 41 games. Longoria, though, is a gold standard at third base, both offensively and defensively.
Left field: David DeJesus vs. Jonny Gomes

It's the battle of the underrateds. Both players have low-type batting averages but make up for it in on-base percentage due to walk rate. Gomes has better home-run power, but his slugging percentage advantage (.426-.402) isn't huge. DeJesus has better value on defense, too. It's real close.
Center field: Desmond Jennings vs. Jacoby Ellsbury

Jennings has a bit better home run power, but Ellsbury trumps him everywhere else -- whether with the glove, legs or bat. And that small difference in home run power isn't enough to say this is less than a significant gap in my opinion.
Right field: Wil Myers vs. Shane Victorino

The dynamic Myers could well win Rookie of the Year with only 88 games played -- which would be a record low for an AL winner. He's an imposing force at the plate who posted a solid line of .293/.354/.478. Victorino, though, hit 294/.351/.451 and is a bigger threat on the basepaths and played better defense in his bounce-back season. Does postseason experience count? I think a little. Myers struck out three times Tuesday in Cleveland, though he did pick up one hit. Victorino, though, has 46 career playoff games under his belt.
Designated hitter: Delmon Young vs. David Ortiz

Perhaps amazingly, Young has nine career homers in just 29 postseason games. Big Papi is no postseason slouch, however, with several huge hits on his resume. And if we compare regular-season lines from 2013, this is a laugher. Look:
.260/.307/.407
.309/.395/.564
It's not close.
Bench

The Red Sox have a nice mix of complementary pieces like the young Xander Bogaerts, the speedy Quintin Berry along with Mike Carp and Daniel Nava. The Rays are similar, with the likes of Sam Fuld, Sean Rodriguez, Kelly Johnson and Matt Joyce. Nothing is really overly exciting and I don't see a huge difference maker for either side in deciding who has an advantage.
Starting rotation: Matt Moore, David Price, Chris Archer, Alex Cobb vs. Jon Lester, John Lackey, Clay Buchholz, Jake Peavy

There's lots of high upside with potential to disappoint on both sides here. Lester, for example, struggled through a decent chunk of the season, but was 5-2 with a 2.19 ERA in his last 10 starts. David Price is similar. Buchholz was the best pitcher in the AL for most of the season ... when healthy. But he hasn't been dominant in his last two starts. Moore can be dominant, but he's had serious problems with efficiency. Lackey and Peavy could easily be dominant, but it's hard telling. Archer can be very good but has had issues with consistency. And we saw how dominant Cobb can be Tuesday night. This is a tough call.
Bullpen: Fernando Rodney, Joel Peralta, Jake McGee vs. Koji Uehara, Junichi Tazawa, Craig Breslow, et al

In terms of bullpen ERA in the regular season, neither team was impressive at all this season. The Rays ranked 18th and the Red Sox ranked 21st. In the postseason, though, there's an increased importance on the key players and less importance on the depth. In Breslow, Tazawa and especially Uehara, the Red Sox are much more dominant. Uehara, in fact, has arguably had the best season of any reliever in the league this season.
Defense

The Rays have an advantage on the left side of the infield while the Red Sox are better in the outfield. The Rays are better behind the plate while the Red Sox are better at second. In terms of defensive WAR, the Rays ranked sixth in the majors this year while the Red Sox were seventh. In defensive runs saved, the Rays were 14th and the Red Sox were 13th. In Fangraphs UZR, the Rays were fourth and the Red Sox were 10th. The Rays have a better fielding percentage (.990-.987). Also, no one does the defensive shift better than Joe Maddon's clubs. It's close but we'll give the nod to the Rays.
Prediction
It's hard to pick against the savvy Joe Maddon and the inspiring Rays, but the Red Sox are pretty imposing. They are just too talented and it would shock me if the Rays won.
Red Sox in four.
Not that the Rays have never shocked us before, so stay tuned ... this could be very fun.
The reliever had a very good 2017 season with the NL Central champs

We don't need to discuss Chipper's Hall of Fame case, so let's have fun instead

Dioner Navarro still hopes to return someday
Christian Yelich's agent says his client's relationship with Marlins is 'irretrievably bro...

The free-agent market has been slow and one player is bracing for an even longer wait

The Mets didn't want to trade a young outfielder for an older one