Rays show why the Athletics should be willing to go 'all-in' this season
The last place Rays show why a small payroll team like the Athletics should try to capitalize on their success while they can.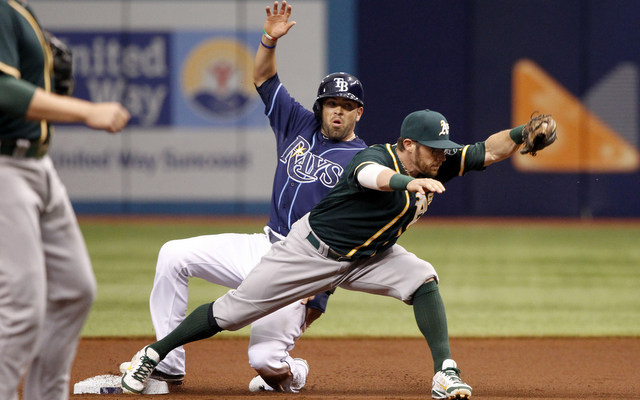 More MLB: Power Rankings | Expert Picks | Latest news & notes | Fantasy news
For the better part of a decade, the Rays were one of baseball's best teams, contending in the tough AL East despite a microscopic payroll. They won 90 or more games every year from 2010-13 and five times in the last six seasons overall. Only the Yankees (564) won more games than Tampa Bay (550) from 2008-13.
Now, one season after winning 92 games plus the wild-card game to advance to the ALDS, the Rays have baseball's worst record at 35-49. Their typically strong pitching staff has crumbled due to injury, lineup stalwarts like Evan Longoria and Ben Zobrist have underperformed, and the once robust farm system has dried up.
Such is the life of a small payroll team. The window to win is a finite thing for every team, and frankly it's remarkable the Rays remained in contention as long as they did given their payroll. Usually it's large market clubs who keep that window open for a half-decade, not one on a shoestring budget.
The Rays never did win a World Series during their impressive run, at least in part due to their continued focus on the future. Their biggest midseason additions from 2008-13 were Chad Qualls in 2010 and David DeJesus in 2013. In hindsight, that 2010 season would have been the perfect time to go for it, with Carl Crawford, Carlos Pena and Rafael Soriano all set to hit free agency.
Now that Tampa Bay is mired in last place and facing a rebuild, the Athletics have (again) emerged as baseball's small payroll darling. They won the AL West in both 2012 and 2013, and this year they own the best record in the league at 51-30. Oakland leads baseball in runs scored (418) and ranks second in fewest runs allowed (283). The season is halfway complete, you know.
The A's have become a powerhouse and are as well-positioned to make a deep run in the postseason as they have been at other point during GM Billy Beane's tenure. A strong pitching staff and a deep lineup go a long way, but Oakland is not perfect. No team is. They have gotten the fifth worst production from second base (-0.2 WAR) in baseball and there are some workload concerns in the rotation (Sonny Gray and Scott Kazmir, specifically).
Beane has been here before. He knows his team's window to contend won't be open forever from firsthand experience -- the A's won 88-plus games every year from 2000-06, then never won more than 81 from 2007-11. Beane doesn't need to look at the Rays for a reminder of how quickly things can go south, but there they are, staring him right in the face.
So, with his team in such a great position to win, this is the perfect time for Beane to push all his chips into the middle of the table and go "all-in." Get a second baseman, get another starter, get another reliever (every team could use another reliever). Jed Lowrie's flexibility allows them to pursue a shortstop instead of a second baseman, if that works better. Give your club the best chance to win right now because contending next season is far from guaranteed.
As for possible targets, how about Zobrist and Price? Oakland won't be able to afford Price next year, but they could always flip him in the offseason. If not those two, then what about Aaron Hill and Brandon McCarthy from the Diamondbacks? Chase Utley and Cliff Lee would be stupendous, but that won't happen. Asdrubal Cabrera and Justin Masterson? Daniel Murphy and Bartolo Colon? They could always acquire an infielder and a starter in separate trades, of course.
The Rays were one of baseball's best teams for several years, but they are left with nothing to show for it in terms of world championships. It's cliche, but flags do fly forever. Beane is a brilliant GM who was winning on a tiny budget long before the Rays dropped the Devil from their name, but his resume is missing a World Series title. This is the year to go for it and make the necessary trades at the deadline to get that elusive ring.
Fans aren't happy Gerrit Cole and Andrew McCutchen have been traded away

Acuna is arguably the best prospect in baseball

Kent had a good career, particularly with the bat
This would undoubtedly be the worst trade in Miami Marlins history

The Pirates recently shipped Gerrit Cole and Andrew McCutchen to Houston and San Francisco,...

Surely, Martinez and his agent are holding out for more