Rays sound stuck in Tropicana Field through 2027 season
In an interview with foxsports.com, Rays owner Stu Sternberg basically said the Rays can't get out of their lease and will be in Tropicana Field through 2027.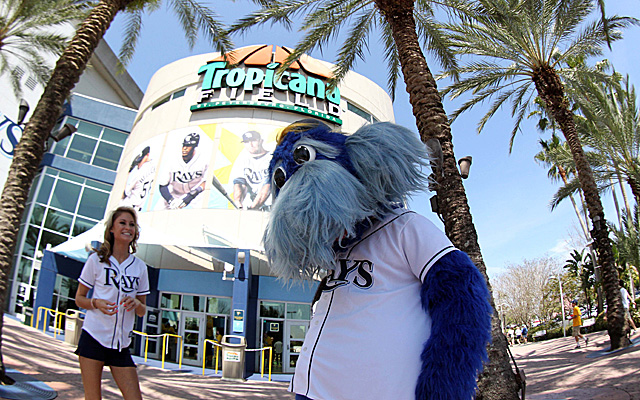 More MLB: Scoreboard | Standings | Probable Pitchers | Sortable Stats | Odds
For years, the Tampa Bay Rays have been trying to get out of a lease with Tropicana Field in St. Petersburg for various reasons. They have been unable to do so, and now it sounds like Rays owner Stuart Sternberg is resigned to the fact that they can't move until the lease expires, which is after the 2027 season.
Sternberg doesn't, however, want to leave the Tampa Bay area. Just the stadium.
In an interview with foxsports.com, Sternberg gave the following answers:
FS: What would it take to break the lease?

SS: The specifics of it, I can't and wouldn't get into. There's no real breaking of the lease. It's there. It's a lease. We're there. We have to play our games there until 2027. After that, we don't have to play our games there. If I walked in and said, 'Here's $12 billion. Can you let us out of the lease?' I think they'll probably say OK. If I say, 'Here's a dollar. I want to leave in five years,' they're probably not going to say OK.

By the same token, when you leave, you have to have a place to go. It's not as easy as moving into a house five miles away. It's complex. The next house we build has to be a self-sustaining home.

FS: What are the realistic chances the Rays leave the Tampa Bay area?

SS: It's very unrealistic. If it's up to me, it's very unrealistic. There's certainly been a lot of discussion, from others within baseball, that we should get the hell out of there. It's not in my makeup to do that. I am committed to doing whatever I can, until I can no longer do it, to make it work there.
The Rays haven't had a losing record since 2007, making the playoffs three times and World Series once in the years since. That being said, they entered the week 29th in the majors in average home attendance per game (17,909), in front of only the Marlins. The Rays ranked last in attendance last season and were 29th in 2011.
The general sentiment is that Tropicana Field is a bad building in a bad area and that the Rays would be better served across the bay in Tampa, where the NFL Buccaneers and NHL Lightning play. It doesn't appear, however, that anything will change until the 2028 season -- at the earliest.
Hat-tip: Baseball Think Factory