Real cheers, real emotion and real players make this draft show better
Enthusiastic kids like Dominic Smith (Mets), J.P. Crawford (Phillies) and Clint Frazier (Indians) make this year's draft show better.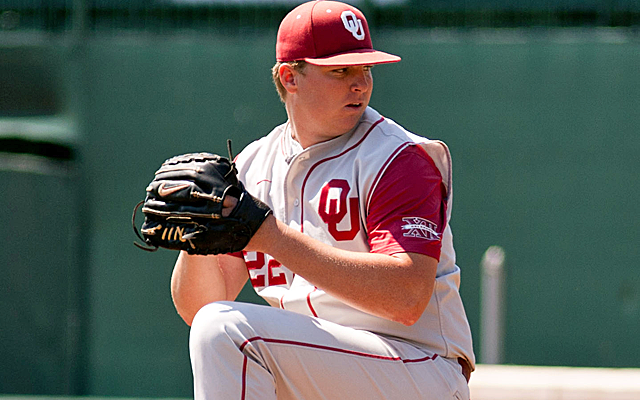 SECAUCUS, N.J. -- Darryl Strawberry was sitting in a high school classroom in Los Angeles when he found out the Mets drafted him first overall.
Dominic Smith was in front of a lively studio audience.
I don't know if the Mets are making progress. But maybe the MLB draft finally is.
I don't know if Dominic Smith can save the Mets, or if his buddy J.P. Crawford can save the Phillies. But maybe they helped save the draft.
"This is what we had in mind," commissioner Bud Selig said, in between announcing picks.
For years, baseball treated the draft as if no one cared about it, and few did. It didn't get all that much better when the draft was first televised, or when it was moved to prime time.
Two years ago, only one player agreed to show up, and he wasn't an early pick. Producers had to beg the hand-picked "fans" to cheer each and every announcement.
Thursday night, there were real cheers. There was real emotion. There were real players.
"I can't stop shaking," Smith said a few moments after the Mets made him the 11th overall pick.
The baseball draft is never going to be the NFL Draft, or the NBA Draft. Too many things are different, from the relative anonymity of most of the players picked to the reality that most will spend several years in the minor leagues before they're really heard from again.
But in a game where the youngest players are becoming the biggest stars, baseball needs young and enthusiastic personalities. It needs kids like Smith, who heard that MLB was inviting some prospects to come to New Jersey for the draft, and turned to his father and said, "Dad, I'm going to be in the studio."
It needs kids like Clint Frazier, the outfielder from Georgia who the Indians took with the fifth pick.
"I've had a lot of people tell me I could become a fan favorite because of my red hair," said Frazier, who also attended the draft. "I'm very confident. I think I'm outgoing.
"Hopefully, people like that."
Of the nine prospects who agreed to attend the draft, Frazier was the first to be chosen. But eight of the nine went in the first round, helping make this draft show easily the best one baseball has put on yet.
Strawberry was the first pick overall in 1980. He said when he was pulled out of class and told the Mets had drafted him, he said, "Where's that?"
Smith spent the day before the draft touring New York.
"New York looks more beautiful every time I see it," he said.
The draft looks better as a show than it did before, too.
The Twins have already fortified the bullpen with Addison Reed, and now they want to address...

The Orioles likely want pitching, and the Indians have plenty of it

Halladay died in a November plane crash off the coast of Florida
The power-hitting outfielder is headed to Toronto

Martinez could add some power to a Boston lineup void of it

It's almost that time of the year again, time for the Tebow madness to return