Red Sox acquire Jake Peavy from White Sox in three-team trade
Jake Peavy is shipping up to Boston in a three-team deal that sends Jose Iglesias to the Tigers and Avisail Garcia to the White Sox.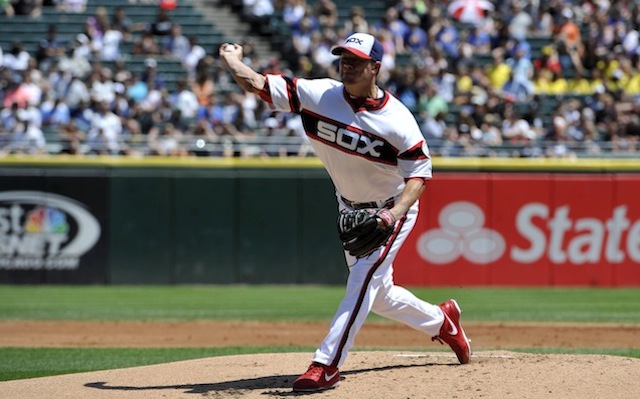 The White Sox have traded starting pitcher Jake Peavy to the Red Sox in a three-team trade, the Red Sox have announced.
Peavy heads to the Red Sox, infielder Jose Iglesias goes to the Tigers and outfielder Avisail Garcia is headed to the White Sox. The Tigers are also sending the Red Sox reliever Brayan Villarreal. Additionally, there are three lower-level prospects headed from the Red Sox to the White Sox, pitchers J.B. Wendelken and Francelis Montas and infielder Cleuluis Rondon.
Peavy, 32, is 8-4 with a 4.28 ERA, 1.14 WHIP and 76 strikeouts in 80 innings this season. He's a three-time All-Star and won the 2007 NL Cy Young award.
Peavy was set to be one of baseball's elite pitchers for quite a while until a serious lat injury in 2010. Since then, he's struggled with injuries but generally been effective when healthy. A rib injury forced him to miss about six weeks recently, but he's 2-0 with a 4.15 ERA in two starts since returning.
Peavy was scheduled to start Tuesday initially, but was scratched from the start Tuesday morning, signaling that a deal was about to go down. He'll now join Jon Lester, Ryan Dempster, John Lackey and Felix Doubront (at least until Clay Buchholz gets back) in the Red Sox rotation.
Iglesias, 23, is hitting .330/.377/.410 with 10 doubles, two triples, 1 homer, 19 RBI, 27 runs and three stolen bases this season. He's a slick fielder with nearly all his minor-league experience coming at shortstop, but for the Red Sox this season he's spent considerable time at third base and even a few games at second, too.
The move of Iglesias seems like insurance for Jhonny Peralta, who has been connected to the Biogenesis scandal and many believe will be suspended within the next few days. Had the trade deadline passed and then Peralta been suspended, the Tigers wouldn't have been left with any real good options. Now they'll have the ability to plug Iglesias in at shortstop -- and it's a marked improvement defensively -- should Peralta be suspended. If Peralta does dodge a bullet, Iglesias makes for a good bench player and great late-innings defensive replacement at shortstop or third base.
Garcia, 22, is hitting .241/.273/.373 with three doubles, a triple and two homers in just 88 plate appearances this season. He's spent most of the season in Triple-A, where he hit .382/.414/.549 with seven doubles and five homers.
Last season for the Tigers, Garcia hit .319/.373/.319 in 51 plate appearances and served as a useful part-timer in the postseason.
Villarreal, 26, has a 4.56 ERA, 1.51 WHIP and 86 strikeouts in 75 career innings. He's only made seven appearances this season and been torched twice, so his ERA in only 4 1/3 innings is 20.77.
Wendleken, 20, is 2-0 with a 2.81 ERA in Class A. He was the Red Sox 13th rounder in 2012.
Montas, 20, is 2-9 with a 5.70 ERA in Class A.
Rondon, 19, is hitting .277/.328/.353 with four doubles, a homer and five steals in 36 Low-A games.
Neither Josh Donaldson nor Brian Dozier have talked about a new contract extension

Francisco leads the Dominican Winter League with seven home runs

Thome deserves enshrinement and here's why the case against him does not hold up
The Twins have already fortified the bullpen with Addison Reed, and now they want to address...

The Orioles likely want pitching, and the Indians have plenty of it

Halladay died in a November plane crash off the coast of Florida