Red Sox added players who embraced Boston -- and winning
There was plenty that went into turning the Red Sox from a 93-loss team to one that has now advanced to the World Series. But adding players who embraced winning didn't hurt.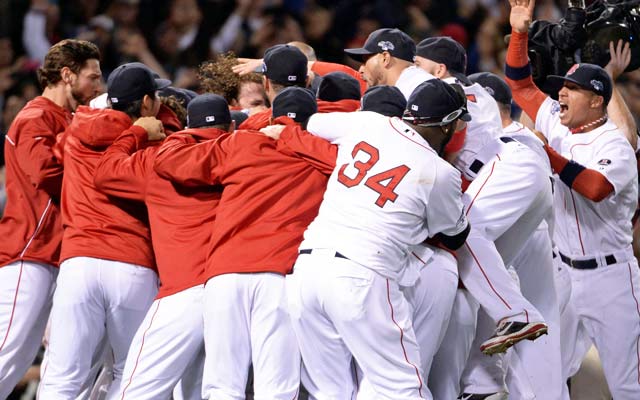 BOSTON -- The remake of the Red Sox is a story that has already been told over and over, a story that will live on for years around here if the Red Sox can do to the Cardinals in the World Series what they just did to the Tigers in the American League Championship Series.
The remake was about reallocating money, about changing personalities, about finding players who could thrive in the unique baseball environment the Red Sox exist in.
But as they were looking for players who would "embrace the challenge here," as manager John Farrell put it this week, did the Red Sox also end up with a group of players who simply embraced winning?
It's hard to say, but as Mike Napoli and Shane Victorino hit three of the biggest home runs in the ALCS, it was easy to think that maybe they did.
The Red Sox had been gone from the World Series long enough that only four players remain from the group that played the Rockies in 2007. They'd been gone from the playoffs long enough that only five players on the current roster had ever played in a postseason game for the Red Sox before this month.
Ten of them played on playoff teams elsewhere. Victorino won a World Series ring with the Phillies. Napoli went to the ALCS with the Angels and to the World Series with the Rangers, getting big hits along the way. John Lackey, who wasn't part of the winter makeover but was returning after Tommy John surgery, was a Game 7 World Series winner with the Angels.
There's no real way to know how much all of that helped this year, or how much any of it will help this week. The 2012 Red Sox were an outright disaster, and their roster featured all kinds of stars from winning teams, from Josh Beckett to Cody Ross to Carl Crawford to Kevin Youkilis.
Crawford and Adrian Gonzalez flopped in Boston, but were vital parts of a winning team this year with the Dodgers (even though they fell just short of a World Series return to Fenway).
For whatever reason, what they brought didn't translate with the Red Sox, at least not last year.
What Napoli and Victorino brought has translated. The same goes for Jonny Gomes and Stephen Drew and David Ross and ALCS MVP Koji Uehara.
All were part of winning teams elsewhere. All have now played a significant part in winning here.
The culture of the Red Sox clubhouse still revolves around Dustin Pedroia and David Ortiz, but there's a group here now that goes along with it.
It doesn't take long to realize it. John McDonald sensed it soon after he came to the Red Sox in an Aug. 31 trade with the Phillies.
"You get here and you realize you can't come to the ballpark early enough to get ready to win," McDonald said. "It's all about winning, preparing to win, going out there to win. It's fun to see a bunch of guys with the same goal.
"You don't see it every year."
McDonald has been with the Red Sox for just six weeks, but he's been in the big leagues for 15 years. And as a guy who grew up in Connecticut and still spends his winters in New England, he has long followed what goes on with this team.
He watched the Red Sox remake themselves, and when his friends at home Scituate, Mass., would ask what he thought of the Sox, his answer would be, "Who wouldn't want to play for that team?"
He meant no disrespect for the Diamondbacks, the team he began spring training with, or the Pirates, Indians or Phillies, the other three spots he passed through this season before landing with the Red Sox. He simply meant that with the changes in Boston, the Red Sox clubhouse was once again a welcoming spot for players whose main interest is winning.
A lot of that comes from Pedroia.
"All he wants to do is win," McDonald said. "You ask him, 'What do you want to do tonight?' and he just says, 'I want to beat their butts.'"
He says it, and he proves it, and the remade Red Sox have proven it, too.
How much of that is because the remake brought in so many players who won elsewhere?
There's no way to know for sure. But it couldn't have hurt.
Gonzalez was reportedly killed in a car crash in Cuba

Our Black Friday FA shopping guide includes a starting pitcher, slugger, super sub, and re...

Get 15 percent off any order of more than $75 at CBS Sports Shop
Need a gift for someone who loves baseball? We're here to help as the holidays approach

Several prominent Japanese-born Mariners and ex-Mariners have said they will help as well

Get your sports fans something that they'll wear all year