Red Sox beat Cardinals in World Series Game 1: Quick hits
The Boston Red Sox are out to a 1-0 lead in the best-of-7 World Series after beating the Cardinals, 8-1. Let's take a quick snapshot.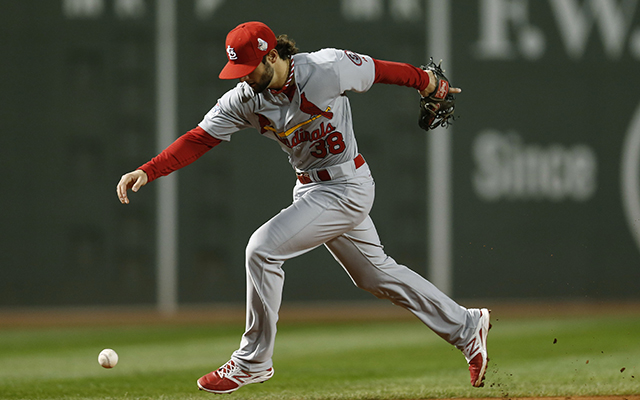 MORE: Umps overturn key call in Game 1 | Command, location hurt Wainwright
The Boston Red Sox have taken a 1-0 lead in the best-of-7 2013 World Series over the St. Louis Cardinals. They did so with an 8-1 victory in Game 1, taking advantage of some costly Cardinals mistakes.
Hero: It's hard to single out anyone with such a dominant victory, but Jon Lester was outstanding. He entered the game as the unheralded pitcher of the two starters, but he went out and was dominant, working 7 2/3 shutout innings, allowing five hits and one walk while striking out eight.
Goat: Could easily go Adam Wainwright here, but I'm instead going with Pete Kozma. He booted a routine feed on what would have easily been an inning-ending double play. Instead, the drop brought Napoli to the plate with the bases loaded and only one out. And he delivered with double to the left-center gap, scoring all three runners -- including the lumbering David Ortiz from first base. That Kozma drop changed the complexion of the game. He also booted a grounder next inning, helping the Red Sox scrape across two more runs -- and it would have been way worse if Carlos Beltran didn't rob David Ortiz of a grand slam.
Turning point: Considering what we've seen from the Cardinals in the past, I never, ever count them out. They can come back from five runs. And they had the bases loaded and only one out for past postseason hero David Freese in the top of the fourth. He hit into a double play, though, and it definitely seems to suck the wind from their sails.
It was over when: The Cardinals got runners on second and third in the top of the fifth inning with two outs. From there Lester retired seven straight batters to get through the seventh. And that's when I called it. With Lester going well and the Red Sox having an excellent back-end of the bullpen, five runs with only six outs to work with just wasn't gonna happen.
And if that doesn't satisfy as "it was over" territory, how about David Ortiz's two-run homer in the bottom of the seventh? That was the true nail in the coffin.
Next: The Cardinals won't have long to nurse their wounds and instead have a quick opportunity to bounce back. We'll do it again Thursday night, with Game 2 taking place at 8:07 p.m. ET. On the hill St. Louis sends rookie sensation Michael Wacha while Boston counters with veteran John Lackey.
The Astros scored seven runs in Game 6 after scoring nine runs total in Games 1-5

The Astros are still alive, and Justin Verlander is the reason why

With a six-run lead in the ninth, the Astros used closer Ken Giles for 23 pitches
On Saturday night in Houston, it'll be CC Sabathia against Morton

The ALCS will go the distance after all with the Astros offense coming back to life in Game...

Verlander's stuff was insane during Game 6 of the ALCS