Red Sox, Cardinals, Dodgers announce early LCS rotations
We're still waiting for ALDS Game 5 to be played, but here are the early LCS rotations for the three teams that have already advanced.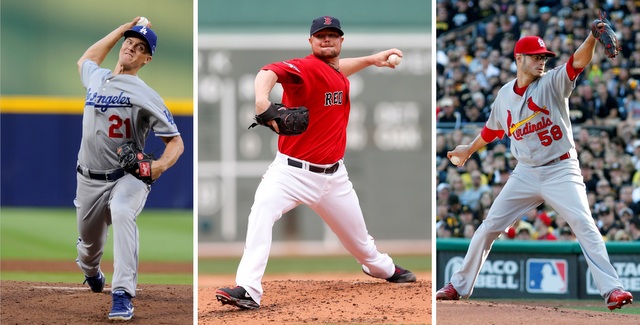 -- START TIMES FOR ALL LEAGUE CHAMPIONSHIP SERIES GAMES --
The Red Sox, Cardinals and Dodgers have all announced their rotations for the LCS round, at least somewhat. Here are the pitchers each team is running out there these next few days:
Game 1 (Saturday): LHP Jon Lester
Game 1 (Friday): RHP Joe Kelly
Game 2 (Saturday): RHP Michael Wacha
Game 3 (Monday): RHP Adam Wainwright
Game 1 (Friday): RHP Zack Greinke
Game 2 (Saturday): LHP Clayton Kershaw
That's all that's been announced so far. All of those pitchers will be on regular or extra rest; no one is starting on three days' rest.
Red Sox manager John Farrell indicated the winner of Thursday night's ALDS Game 5 between the Athletics and Tigers would factor into the order of his ALCS rotation. If Oakland advances, it figures to start Bartolo Colon in ALCS Game 1. If Detroit advances, it could be Max Scherzer or Anibal Sanchez.