Red Sox, Cardinals emerge among potential Jake Peavy suitors
The market looks solid for longtime star RHP Jake Peavy, who appears to be the top deadline pitching target with Matt Garza off the market.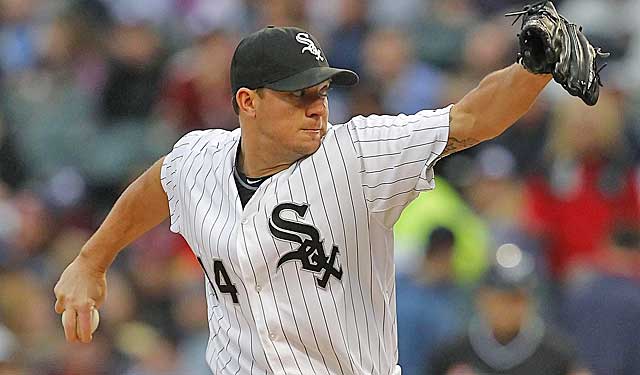 The Red Sox and Cardinals appear to be emerging as two of the potential players for White Sox star right-hander Jake Peavy, according to sources.
Several other teams could be in the mix, and the Diamondbacks, guided by general manager Kevin Towers, who is very close to Peavy, would make some sense since he favors pitchers who are non-rentals and has a long history with Peavy.
The Cardinals' interest in a starting pitcher in itself, first suggested by the St. Louis Post-Dispatch, is a bit of a surprise considering their stash of veteran and young talent. The Red Sox's interest could depend to some degree on the health of star Clay Buchholz, who has missed several weeks and pushed back a couple throwing sessions but has checked out by various doctors as not having anything too seriously wrong with his neck. The Red Sox's potential interest was mentioned by Nick Cafardo of the Boston Globe.
Peavy looks like the top starting pitcher on the trade market now, especially after Matt Garza was taken off the board when the Cubs dealt him to the Rangers. Many teams favored Peavy anyway because he has an extra year on his deal and potentially will be available for nearly four times the number of starts through 2014.
Peavy, 7-4 with a 4.19 ERA, could interest a number of playoff contenders, but it shouldn't be too surprising to see St. Louis, which appreciates Peavy from his NL days, or Boston, whose pitching coach Juan Nieves was the bullpen coach with Peavy's White Sox teams, in the mix.
Peavy, who recently returned to beat the Braves after missing six weeks because of  a fractured left rib, is in the first year of his two-year, $29 million deal. He could bring added value for a team that holds him all next year as a player who would be subject to a qualifying offer and potential draft-pick compensation.
The Dodgers, Rockies, Nationals, Orioles, Indians, Pirates and Giants are among others teams linked to starting pitchers, so the field may be much wider -- though the Dodgers' rotation looks excellent after adding Ricky Nolasco and the Orioles probably don't have the funds for such a move. The Indians are not believed to be a match for the White Sox at this time.