Red Sox-Cardinals World Series Game 3 preview: Peavy vs. Kelly
It's gonna be Jake Peavy vs. Joe Kelly in Game 3 of the World Series Saturday in St. Louis. Let's break it down.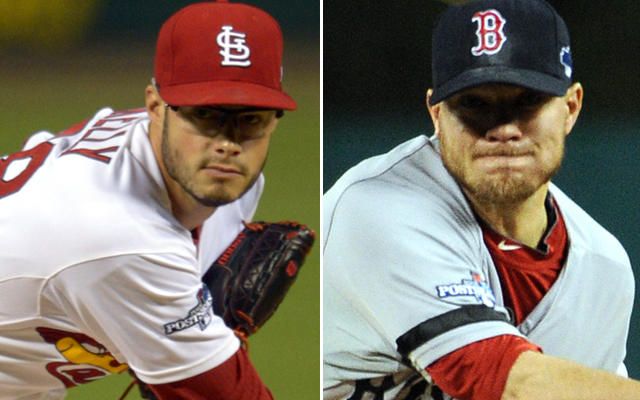 World Series Game 2: Quick hits | Grades | Recap/box score
BOSTON - Through two World Series games between the Cardinals and Red Sox, each has notched a victory. So now the series shifts to the city of the Arch, St. Louis. In Game 3 -- which will take place Saturday at 8:07 p.m. ET/7:07 local time in Busch Stadium -- the pitching matchup pits Jake Peavy of the Red Sox against Joe Kelly for the home Cardinals.
Let's break it down.
Kelly vs. Red Sox
The 25-year-old right-hander was 10-5 with a 2.69 ERA in the regular season. As a starter, though, he was far better, going 9-3 with a 2.28 ERA in 15 starts.
Surprisingly, Kelly was actually much worse at home (3.29 ERA) than on the road (2.07). He was excellent after the All-Star break, too, going 9-2 with a 1.91 ERA.
In the postseason, though, Kelly has been shaky. In three starts, he has a 4.41 ERA and 1.47 WHIP. The Cardinals have lost two of his three starts. In his one home start, though, he threw the ball well against the Dodgers in a game they'd win in extra innings -- a game that was started by ace-caliber Zack Greinke.
As far as against the Red Sox, the data is useless. Shane Victorino is 0-for-2 with a walk in his career against Kelly while Stephen Drew is 1-for-3 with a triple. Those samples are far too small upon which to cast judgment and no one else has ever seen him.
So, much like with Michael Wacha, it's the great unknown.
Peavy vs. Cardinals
Peavy went 12-5 with a 4.17 ERA this season for the White Sox and Red Sox. He was mostly better after the trade to Boston, but only marginally so.
On the road this season, Peavy was bad. There's really no sugarcoating it. He had a 5.27 ERA and 1.28 WHIP in 14 regular season road starts. He wasn't bad in Tampa Bay for his ALDS start, but he returned to Bad Jake on the road in the ALCS against the Tigers, coughing up seven runs on five hits and three walks in just three innings of work.
In fact, Peavy's postseason career shows a terrible track record. In four starts, he has a 10.31 ERA and 1.96 WHIP. His teams are 1-3 in his starts. Also, this technically counted as a regular-season start, but it's relevant here to note that Peavy started a one-game playoff for the NL wild card for the Padres against the Rockies in 2007. He allowed six runs on 10 hits and four walks in 6 1/3 innings. Yes, it was the thin air of Coors Field, but it was still pretty bad.
So, essentially, Peavy's track record in playoff-type games is real bad.
Peavy has made three starts in his career in this incarnation of Busch Stadium and had good success (2.25 ERA, 0.95 WHIP).
Three members of the Cardinals have seen Peavy more than 20 times. Matt Holliday is hitting .286/.474/.393 in 38 plate appearances, sporting 10 walks, all unintentional. Carlos Beltran is hitting .400/.480/.800 with three doubles, a triple, a homer and six RBI in 25 PA. So he owns Peavy.
On the flip-side, Yadier Molina is hitting .182/.182/.182 with five strikeouts in 22 plate appearances against Peavy.
In all, the guess is we see plenty of scoring in Game 3.
The Red Sox and Cardinals are expected to make trade offers next

The free agent first baseman may be a fit in St. Louis

The front office changes in Atlanta continue
The Marlins are more likely than you think on our list

Judge finished a distant second in the balloting and he paid respect to the winner

Stanton just won the 2017 NL MVP award but could wind up being dealt this offseason