Red Sox crush Cardinals, win 2013 World Series: Quick hits
With a 6-1 win in Game 6 of the 2013 World Series, the Boston Red Sox have secured the championship, toppling the Cardinals, four games to two in the best-of-seven series.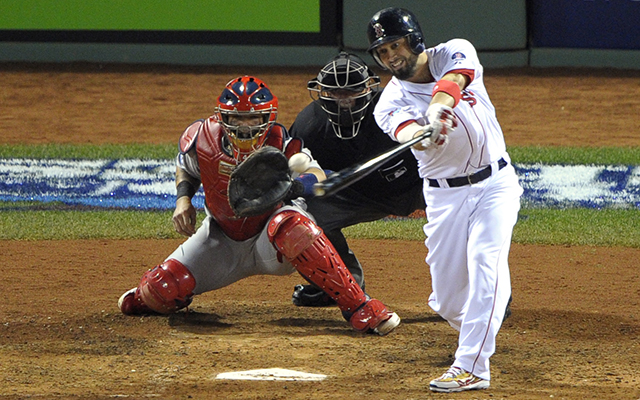 Heyman: Free agents made Sox special| Knobler: Biggest stars weren't new
BOSTON -- For the third time in the last decade, the Boston Red Sox are the World Series champions. They took care of business in Game 6 of the 2013 World Series, jumping out to a 6-0 lead through four innings and would rather easily cruise to a victory, 6-1. Let's run through some quick hits.
Hero: Lots of choices in this one, such as starting pitching John Lackey, but I'm going with Shane Victorino. He had the biggest hit of the game, coming through with a two-out three-RBI double in the third. In the fourth, he again came up with two outs and the bases loaded, this time singling home one. This came after Victorino missed two games with a bad back, so he obviously took advantage of the rest.
Goat: It's unfortunate to slap his name here, as Michael Wacha has such a bright future and has been an ace for several weeks. At the end of the day, though, Wacha was tagged for six earned runs on five hits and four walks in only 3 2/3 innings. He needed to keep his team closer than that, especially with the Red Sox having such a good bullpen. Arguments could be made for manager Mike Matheny leaving him in too long and the Cardinals dreadful offensive production, too, though.
Turning point: The Victorino double. Up to that point, both teams had stranded runners after having great chances to break through and score. After this, the floodgates opened for the Red Sox.
It was over when: It's pretty early to say this, but, yes, I'm going with the bottom of the fourth inning, when the Red Sox pushed the lead to six on Victorino's single. The way the pitching has dicated things this series, six runs was too tall an order for a struggling offense like the Cardinals. So, yeah, I'm saying the final 4.5 innings were a mere formality. The Cardinals did leave the bases loaded in the seventh, but I'm not budging here. This thing was over.
Next: The 2013 season is a wrap. Congratulations to the Boston Red Sox for a big 2013 season, bouncing back from worst to first and then adding yet another championship. Don't quit stopping by Eye on Baseball, however. There's no offseason for us. We'll be starting with free-agency talk Thursday.
Marcell Ozuna figures to be the next Marlins star on the move

Several relievers have signed in the last two days

Several teams are interested in the switch-hitting first baseman
Neshek and the Phillies are closing on a two-year contract

And the team that first drafted Cole is interested

This scout was SUPER into Jeter