Red Sox, Dodgers close to completing deal; Gonzalez, Beckett, Punto en route to L.A.
In a blockbuster deal involving multiple marquee players, staggering amounts of money and drama for the ages, the Red Sox and Dodgers were on the verge of completing a historic deal Friday that dramatically alters the face of both franchises. ...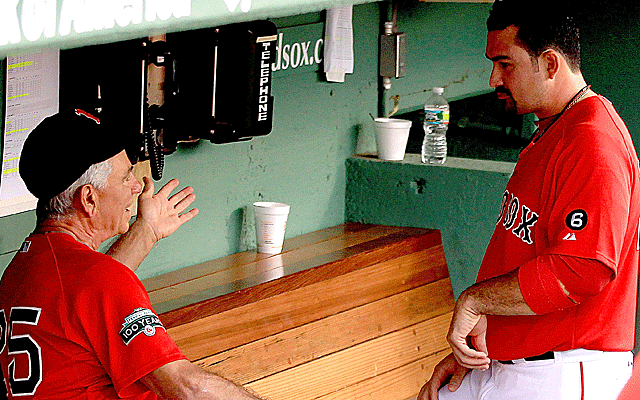 Amid trade talks, Adrian Gonzalez is pulled from the Boston lineup Friday.
(Getty Images)
Could the Red Sox really trade away their entire roster and keep Bobby Valentine?

In a blockbuster deal involving multiple marquee players, staggering amounts of money and drama for the ages, the Red Sox and Dodgers are on the verge of completing a historic deal that will dramatically alter the face of both franchises. Colleague Jon Heyman reports that the deal was being finalized Saturday.
Multiple sources with knowledge of the talks say that the two clubs have agreed to the parameters of a trade in which Boston will send first baseman Adrian Gonzalez, starter Josh Beckett, injured outfielder Carl Crawford and infielder Nick Punto to the Dodgers in exchange for first baseman James Loney, outfielder Jerry Sands, infielder Ivan DeJesus Jr., right-hander Rubby De La Rosaand a prospect, right-hander Allen Webster, who was tabbed as No. 2 prospect in the Dodgers' system this year by Baseball America.
Heyman reports that three of the principals -- Gonzalez, Beckett and Punto -- were on a plane to Los Angeles on Saturday afternoon.
Beckett and Crawford waived their no-trade powers late Friday night, sources told Heyman, clearing significant hurdles out of the way for the deal to be done soon. At midday Saturday, a source told Heyman that the clubs are just awaiting a signature from Crawford before the deal is done. Beckett was pulled from his scheduled start Saturday night vs. Kansas City in favor of Aaron Cook.
Also, because of the large amount of money involved, the deal still must be approved by Commissioner Bud Selig. The deal is expected to be concluded sometime Saturday.
It is not yet clear how much money is changing hands, though the Red Sox are definitely sending cash to Los Angeles in the deal.
"I just cannot get over the magnitude of this," one source with knowledge of the talks said. "It's pretty incredible."

For the Red Sox, the move is an admission that a flawed roster must be significantly restructured before they can return to contending. Since last Aug. 31, the Red Sox are 66-86. And things have gone from bad under Terry Francona last September to worse this year under first-year manager Bobby Valentine.

Most significantly for the Red Sox, they clear millions of dollars and position themselves in many ways for a fresh financial start while attempting to eradicate the toxic mess into which 2012 has devolved. Gonzalez, Crawford and Beckett are due some $250 million in future salaries after this season ends.

For the Dodgers, the deal is one more impressive statement of financial clout from a new ownership group that already has traded this summer for Hanley Ramirez and Shane Victorino while taking swings-and-misses at Cliff Lee and Carlos Lee.

In acquiring Gonzalez, the Dodgers add a slugging first baseman owed some $127 million from 2013-2018. That move addresses one more weakness in their lineup, with Gonzalez replacing a toothless James Loney/Juan Rivera tandem that ranks toward the bottom of NL first basemen across the board in nearly every offensive category.

Beckett (5-11, 5.23 ERA in 21 starts) is in the midst of a highly disappointing season, but moving from the AL to the NL, where he will face weaker lineups without designated hitters, could provide just the impetus he needs for a resurrection.

Crawford recently underwent Tommy John ligament transfer surgery, and his recovery is expected to take six-to-nine months. He could be ready by spring training. He is in the second season of a seven-year, $142 million deal that has been a bust since Day One.

As with Gonzalez, Boston was never a good match with Crawford. The Angels attempted to sign him two winters ago but were out-bid by Boston, a surprise entrant into those talks, at the eleventh hour. One source close to Crawford at the time predicted he would be miserable in a big-market, eastern city, especially one that can be as claustrophobic as Boston. Crawford, a Houston native, preferred to play on the West Coast, the source said then -- and has since reiterated -- but followed the money instead.

So Crawford is a perfect candidate for a fresh start in Los Angeles when he becomes healthy again, as is Gonzalez.

"From what I understand with Adrian, the Dodgers are taking a guy who's had surgery [Crawford] because they were after the prize, and the prize was Gonzalez," one source with knowledge of the talks said Friday.

"A Southern California native, a Mexican-American, all of the demographics are there for Gonzalez and the Dodgers ... and, he's a hell of a player."

Gonzalez, who lived in Tijuana, Mexico, in his early years before moving to San Diego when he was 12, was dealt from the Padres to the Red Sox after the 2010 season when the first baseman made it clear that he would not re-sign with the Padres for a hometown discount when he reached free agency.

So Boston acquired him before the 2011 season and quickly signed him to a seven-year, $154 million deal. But Gonzalez quickly discovered that Boston was not his kind of place, from the plentiful and obsessive media contingent that covers the Red Sox to the length of the Red Sox-Yankees games.

In many respects, this deal is the equivalent of a Get Out of Jail Free card for Gonzalez (although, in this case, given his $154 million deal, jail is the equivalent of house-arrest in the nicest mansion you can imagine).

"He loves the fans in Boston," one source close to Gonzalez says. "And the ballpark is great to play in. But he hates how the media is obsessed with non-baseball issues."

And clearly, he -- and many other Red Sox players -- is no fan of Bobby Valentine.

As for Punto, he's a perfect get now that the Dodgers have lost Jerry Hairston Jr. for the season to a hip injury.

In Loney, the Red Sox get a guy to play first base while they look for a better guy. The key here is, in dealing Gonzalez, they have money to reboot and go with another plan at first base ... and at several other positions on the diamond.

Of the players coming back to Boston, only Webster is touted with a high ceiling.



The Grapefruit League and Cactus League seasons started on Friday

Data will be collected and then used to determine whether humidors are necessary in 2019

Spring training play began on Friday, and the Stoneman Douglas tragedy was on the mind of MLB...
Baseball players forced to take pictures usually lead to fun for all of us

One of the most celebrated programs in baseball is looking to continue its run

A closer look at the teams in the Cactus League and Grapefruit League