Red Sox dominate Miguel Cabrera with fastballs in ALCS Game 3
The Red Sox had a very simple approach against Miguel Cabrera in Game 3 of the ALCS: throw fastballs by him. And it worked.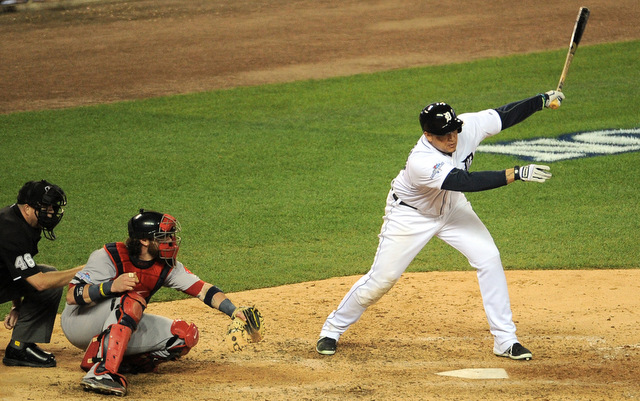 More ALCS: Tigers pitchers shelve fastball, rack up strikeouts | Who has the edge?
DETROIT -- The Red Sox beat the Tigers by the score of 1-0 in Game 3 of the ALCS on Tuesday, and in that game they did something that has never been done before: they got Miguel Cabrera to swing and miss at nine pitches. That is the most swings and misses in a single game in Cabrera's 1,709-game career according to Elias.
As staggering as that is, the nine swings and misses isn't even the most amazing part. It's how the Red Sox went about generating those whiffs. Cabrera saw 17 total pitches in his four at-bats and all 17 were fastballs according to PitchFX. Every single one. One was a cutter and the other 16 were straight four-seam fastballs. Just straight gas.
"We liked the matchup with power against Cabrera," said Red Sox manager John Farrell after Game 3 when asked about using the hard-throwing Junichi Tazawa against Cabrera with runners on the corners and one out in the eighth inning. "We felt power was the best way to go here. Whether he climbed the ladder away from him late or just stayed hard with him, it was a pivotal moment. You're getting the best guy in baseball at the plate, trying to preserve a one-run lead."
John Lackey and Tazawa simply blew fastballs by the best hitter in the world in Game 3 -- the average velocity of those 17 fastballs was 92.2 mph, including only five at 94+ -- and I think the most important thing is the quality of Cabrera's swings. This is a 91 mph fastball from Lackey in sixth inning, Cabrera's third at-bat: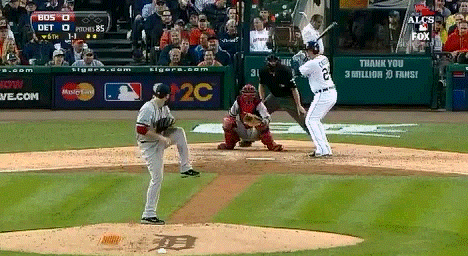 That's a 91 mph fastball, as close to league average velocity as you can get, and Miggy was late. He couldn't catch up to it. Here's a 92 mph pitch earlier in the at-bat and again, he's late. It's one thing to get blown away by 94-95 like what Tazawa was bringing in the eighth inning, but 91-92? That's a red flag.
I am no scout, but I think it's easy to see even from those two GIFs that Cabrera's swing was mostly arms. He's pulling off the ball and there's no explosiveness in his lower half. That's no way to hit. Players and coaches talk all the time about how baseball starts from the ground up -- you need balance and your legs under you to do anything effectively, including swing a bat.
Cabrera and Tigers manager Jim Leyland readily admit the reigning AL MVP is not healthy -- just watch him run, it's obvious he's hurting -- and he hasn't been healthy since about the All-Star break. He's been dealing with a nagging hip flexor and abdominal strain, and that's just the stuff we know about. Given how secretive teams can be about non-obvious injuries, it wouldn't be a surprise if Cabrera was playing through even more physical problems.
The Red Sox deserve a lot of credit. They recognized a weakness in Cabrera's current game and developed a gameplan to exploit it, and they executed that plan beautifully in Game 3. If Miggy was healthy, I'm sure Boston's approach would be a little more intricate than "throw fastballs by him." Cabrera is one of the smartest hitters in the world and has shown he can make adjustments in the middle of an at-bat, but if he's physically not right (and he's not), there simply might not be any kind of adjustment he can make at this point in time to catch up to a quality fastball.
Here are the bullet-points of what went down Tuesday regarding MLB and the Braves' punishm...

The owners need to ratify on the new system in place, but the takeaway here is Ohtani is coming...

A preliminary report National Transportation Safety Board has shined some light on details...
John Coppolella was placed on the permanently ineligible list by MLB on Tuesday

Among other sanctions, Atlanta lost the player who was deemed the No. 1 international signing...

Among other penalties, No. 1 international prospect Kevin Maitan is now a free agent