Red Sox even World Series with Game 4 win over Cardinals: Quick hits
The Red Sox have pulled even with the Cardinals, 2-2, in the best-of-seven World Series. Here are the quick hits.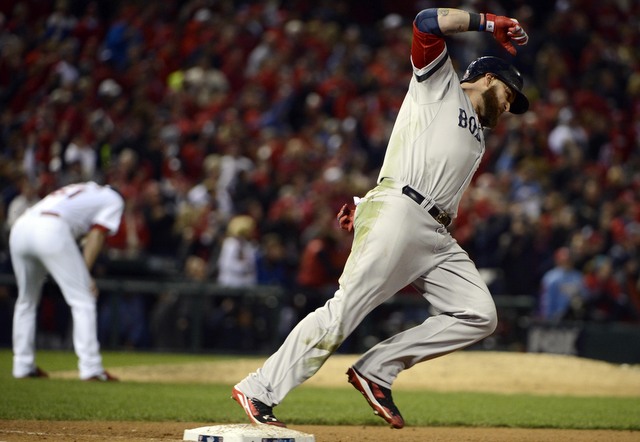 More: Game 5 preview | Big Papi is still the man
ST. LOUIS - The Boston Red Sox evened things up in what appears to be shaping up an epic World Series with a 4-2 win Sunday night over the Cardinals. Each team has now won two games apiece in the best-of-seven series.
Hero: Jonny Gomes wasn't even supposed to be in the lineup, but with Shane Victorino not being able to get his lower back loosened up enough to play, Gomes was inserted into the lineup. He came to the plate with two outs against tough, young right-hander Seth Maness in the top of the sixth and sent a shot into the Red Sox bullpen in left-center field. It was a three-run homer, giving the Red Sox a 4-1 lead, one they would not relinquish.
Goat: I'm going with Maness. The rookie only gave up two homers in 170 plate appearances to right-handed hitters this season. He only gave up 0.58 home runs per nine innings as a whole. As for Gomes, he's only homered once every 23.5 plate appearances in his career against righties. So the home run was really something that shouldn't have happened. And it was obviously the biggest play in the game.
Turning point: Gomes' homer. If he makes an out there, the inning is over and the game tied. Who knows what happens from there. This wasn't even a remotely difficult choice.
It was over when: With these two teams and the way they keep scratching and clawing back, I'd need a blowout (six-plus runs or so, maybe?) to declare any play other than the 27th out (in regulation) or walkoff winner was the moment the game was over. Thus, until Koji Uehara got that sometimes elusive final out, it was a nail-biter. And, wow, getting picked off to end the game with Carlos Beltran at the plate? That's rough, Kolten Wong.
Next: We'll be right back here Monday night with a now-pivotal Game 5, as the series is tied at two. I don't have to tell you that most of the teams that win Game 5 to take a 3-2 lead go on to win the World Series -- yet definitely not all, as these Cardinals proved in 2011. On the hill, we'll see a rematch of Game 1, with Adam Wainwright taking on Jon Lester. First pitch is set for 8:07 p.m. ET/7:07 p.m. local time.
Does the Jackson signing mean the Giants are out on Lorenzo Cain?

Acuna edged out Shohei Ohtani and Vladimir Guerrero Jr.

There's no reason to run over the cases for and against Bonds, so let's have fun instead
The coveted right-hander would certainly be a fit in Milwaukee

We rate the best mustaches from random baseball cards because, why not?

Colon wants to break a Dennis Martinez record