Red Sox fan arrested after allegedly trying to choke Rays mascot
During Tuesday's Red Sox-Rays game in Tampa Bay, a Red Sox fan is alleged to have attempted to choke Raymond (Rays mascot) twice. He's been charged with disorderly intoxication in public.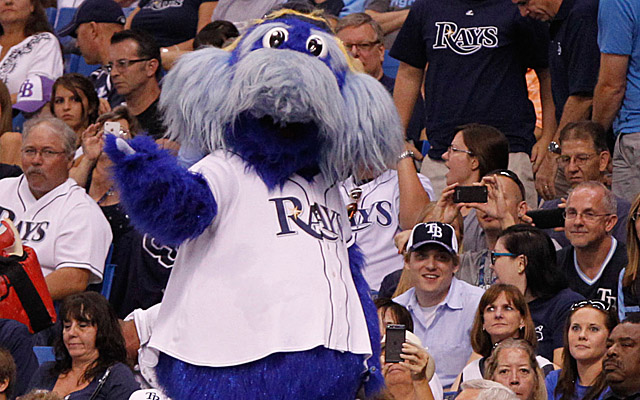 More MLB: Scoreboard | Standings | Probable Pitchers | Sortable Stats | Odds
Generally speaking, trying to strangle anyone at a major-league game isn't a good idea. Going after something as visible as a mascot -- twice -- goes above and beyond the line. Yet that's exactly what a Red Sox fan is alleged to have done earlier this week.
Each time Trevor James Martin, 27, wrapped his hands around Raymond's neck and pulled him back toward a railing, the mascot had "to push off of the defendant in order to break loose," according to a St. Petersburg police report.

Martin was clearly tipsy, and was seen slurring his words and staggering around the stadium, witnesses told police. He told police he had consumed two beers during the game, police said.
The person who portrays Raymond, the Rays' mascot, declined to press charges for battery, though Martin has been charged with disorderly intoxication in a public place, according to the report.
This transpired during Tuesday's 2-0 Red Sox win in Tampa Bay.