Red Sox free-agent spree turned this team into something special
Boston imported seven free agents and remade its team and clubhouse. The plan worked rather well.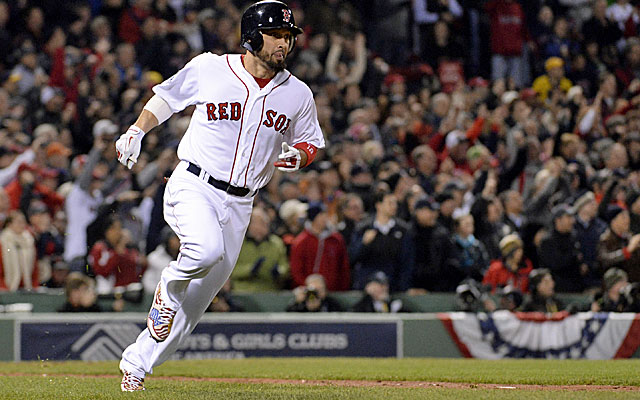 BOSTON – Shane Victorino can take a pitch to the ribs, or probably a punch, not to mention Philadelphia.
Mike Napoli once caught most of a World Series on a crushed ankle.
Jonny Gomes nearly died five times (you can google it).
Presenting exhibits A, B and C, three perfect free-agent fits for Boston, a lovely city which isn't for everyone. These three guys worked so well in their first year here, they might as well be Southies.
The Red Sox cruised to their third World Series championship in 10 seasons, not necessarily because they had the most talent but because they had the perfect blend of longtime veterans committed to the team and area and many incoming veterans who felt the same.
Their 6-1 Game 6 victory over the Cardinals and World Championship are testaments to their cohesion, resiliency and gumption.
This organization is full of survivors, new and old.
Those few who remain from last year survived the abomination otherwise known as the 2012 baseball season.
They won baseball's toughest division in a runaway.
Then they barely beat the Tigers, who threatened to no-hit them nearly every single game of the ALCS.
Then they came here and completed their last-to-first year in the best way possible. No one figured they'd become champs when the season started, but they kept picking up momentum as they went.
"Once we got into the season we felt it was a different group of people, completely selfless and a lot of fun to be around" said general manager Ben Cherington, who purposely changed plenty, from the players to the manager and coaches. "The guys who have been here were so motivated to write a different story. And we had a [new] group of guys who came in here and got it."
Cherington had a game plan, and made it work. Rather than brandishing mega bucks for only big stars when he went shopping for players last winter, the second-year GM went into each and every meeting with free agents (and there were many, many meetings) with one thought in mind: Does this guy really want to be in Boston?
Then there were the subsets of questions related to this beautiful but ultra-tough city, and they had nothing to do with whether the player relishes chow-dah or knows what "wicked pissah" means.
1. Can he take tough sportswriters? (One great one, in a rare moment of ineloquence, once called a Red Sox player a "piece of junk.")
2. Can he take an overdose of sports talk radio? (The other day I heard someone call in, and say he was sure it's time for Tom Brady to "re-ti-yah.")
3. Will he enhance a clubhouse that veered from the chicken and beer shenanigans of September, 2011 to a complete abomination in 2012? Cherington couldn't afford a repeat disaster, and he needed to find tough guys, who wanted to win and wanted to be here.
He didn't need to be told that he was on the hot seat in year two.
"Sure, there's always pressure," he said when asked if he felt it. "We know we let a lot of people down. We weren't near where we wanted to be on the field or off the field. We wanted to get back to where we should be. We didn't know how quick it would happen. But sure enough, it did [happen quick).]"
Cherington did not want to repeat the mistake of Carl Crawford, a lovely man who thought folks in Boston had it in for him.
He could not have chosen better.
Victorino is a guy who will do whatever it takes to win. He remade himself into a fulltime right-handed batter who specializes in the hit-by-pitch. His grand slam decided the ALCS, his three-run double Wednesday night in Game 6 pretty much put the game away early.
When Victorino signed for $39 million over three years, folks thought it was a joke coming off his uncharacteristically limp 2012 season. As it turns out, though, the one time he wilted was when he had free agency on the line. He's one of those guys who's much better playing for the team than himself. Good for him.
Cherington's suspicion that he was the right guy to headline their free-agent acquisitions was confirmed early. Victorino had a half dozen similar offers (a lot of folks must not have been watching his '12 season), and one for four years in Cleveland. But apparently, he badly wanted to come to Boston.
With three words he validated that suspicion. "Damn straight, bro,'" Victorino said afterward.
He'd loved Philly. He must have figured: how bad could Boston be?
Napoli is so tough he caught the 2011 World Series on one foot and has played through a degenerative hip condition he didn't know he had. It came up not until his physical, causing his contract to be knocked down from $39 million guaranteed (Boston seemed to love that $39 million/three year deal) to $5 million guaranteed. He earned the rest in incentives, and deserves every penny. He became Big Papi's protection, a pretty important role indeed, and he chipped in a run-scoring hit in Game 6.
No matter the money, he wanted to be here.
"With what happened I had the chance to evaluate," Napoli said. "I looked at this group and knew they had good core guys, and I'd faced the pitchers and knew they were better than what they showed [in 2012]. I felt like this was the best place for me."
Gomes, too, seemed like a stretch at $10 million for two years. Even Boston people figured he was probably worth $7-8 million elsewhere. But to them he was gold.
Gomes hit the biggest three-run homer of this World Series back in St. Louis. He reached base twice in Game 6 and played the heck out of leftfield, even if he doesn't look like a Gold Glover out there.
Gomes is full of clubhouse intangibles, a fun guy, a team guy and a tough guy. He's also the best quote in that clubhouse, important for a team that's covered as well as any in baseball.
"WAR is a stat in baseball," Gomes said on the field and in the rocking clubhouse, "but if you want to go to war, take me."
In the end, Cherington remade more than half the half the clubhouse, replacing 14 names out of 25, finding names for his war. So this is a far different team from the one that finished last in 2012, and has a far different feel.
"When you're around it, you feel it," Cherington said. "But I don't know if any of us know how to engineer it."
But, truth be told, he did just that.
Cherington brought in four more free agents, making it seven in all. What's more, for a big-market team, he did it on a shoestring.
Stephen Drew came for $9.5 million over one year. It seemed like an overpay at the time, now it looks like a steal. His immaculate defense was absolutely necessary this postseason. And he had a homer in Game 6.
David Ross, another would-be overpay at $6.2 million for two years, wasn't at all. He has a great, upbeat persona, he had the big run-scoring double off Cardinals ace Adam Wainwright in Game 5, and he caught over Jarrod Saltalamacchia when it counted most.
"I thought my career was over at one point this year, and now I catch the last out of the World Series. Are you kidding me?" Ross said, referring to a couple serious concussions he overcame.
Reliever Koji Uehara was a lifesaver. The fourth man given a chance to close for Boston became the most dominant closer in the game. For $4.5 million, he was a gift. They get him back next year, too, as his option vested. A bonus.
Veteran pitcher Ryan Dempster, at $26 million over two years, is the only non-bargain in the free-agent bunch. He ate some innings and got his ring.
Combined, Cherington's seven new guys received a grand total of $100.2 million. That's about $163 million less than the Red Sox saved in their grand mega trade with the Dodgers in the summer of 2012, when they sent away three star players whose times was up here or never should have come in the first place.
The Reds still have one of the best hitters in the game in Joey Votto and a rising star in...

Maxwell joins a growing movement across sports

The Yankees punched their ticket to the playoffs with a win over the Blue Jays on Saturday
Sabathia's stance seems to be an increasingly popular one among athletes

Plus the A's and Brewers have hope, Giancarlo goes deep again, and much more

Matt Chapman and Matt Olson give the A's hope