Red Sox in agreement on one-year deal with shortstop Stephen Drew
The Red Sox agree to a one-year deal with Stephen Drew, whose presence will give shortstop prospect Jose Iglesias more time to develop.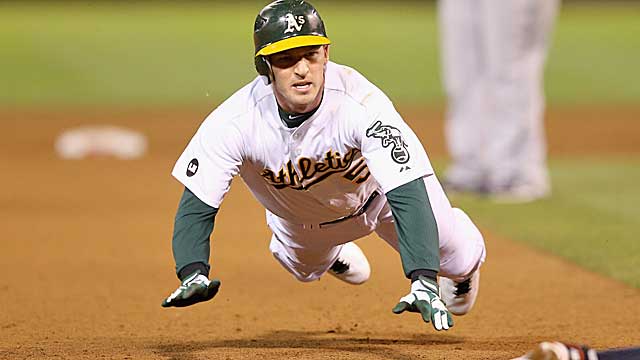 Drew's one-year deal allows the Red Sox more time to develop their infield prospects. (Getty Images)
The Red Sox have an agreement with shortstop Stephen Drew on a one-year, $9.5 million deal, league sources told CBSSports.com.
The Drew signing will allow the Red Sox one more year to develop slick-fielding youngster Jose Iglesias. Drew's deal is pending a physical.
The value of the agreement is $9.5 million gauranteed.
The Red Sox this winter have shown a willingness to pay high salaries in their free-agent deals so long as the length is reasonable. The one-year deal fits since Boston is well-stocked at the minor-league level with top prospect Xander Bogaerts as well as Iglesias.
The Red Sox previously agreed to free-agent deals this winter with Shane Victorino, Ryan Dempster, David Ross, Koji Uehara and Mike Napoli, though they are still working through some issues before finalizing Napoli's deal.
Iglesias is a terrific fielder but batted just .118 in 68 at-bats for Boston last year. He has had offensive struggles in the minors, as well. The Red Sox also have Pedro Ciriaco, who emerged as a big-leaguer last year but seems ticketed for a utility role. Drew will be the starting shortstop.
The deal gives Drew, 29, a chance to enhance his value following a second season affected by a severe ankle injury suffered in a home-plate collision.
Drew is a familiar name in Boston, as his older brother J.D. played five years for the Red Sox, a tenure that was highlighted by a terrific postseason in 2007 when the Red Sox won the World Series but limited by a variety of injuries. The older Drew retired after the 2011 season.
Stephen Drew hit just .223 with seven home runs and 28 RBI after returning from a devastating ankle injury early last year. However, he hit better as the year went on, batting .250 for the A's after they acquired him in trade from Arizona, his original team.
The A's, Yankees and Cardinals were among other teams this winter to have shown interest in Drew.
The Twins have already fortified the bullpen with Addison Reed, and now they want to address...

The Orioles likely want pitching, and the Indians have plenty of it

Halladay died in a November plane crash off the coast of Florida
The power-hitting outfielder is headed to Toronto

Martinez could add some power to a Boston lineup void of it

It's almost that time of the year again, time for the Tebow madness to return