Red Sox intend to fire Valentine when season ends
In a move that will be seen as anticlimactic at this point, Red Sox upper management intends to remove Bobby Valentine as manager soon after the season ends, people familiar with the situation say.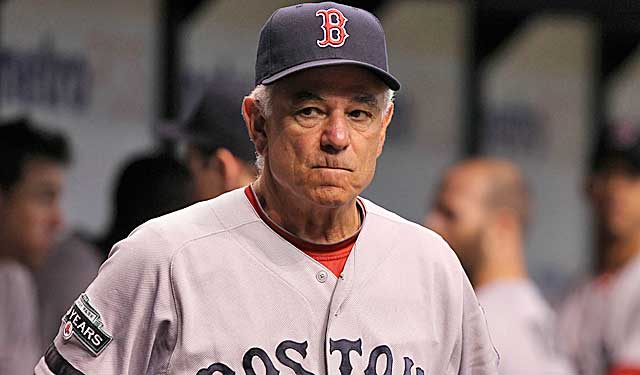 Bobby Valentine has been mired in controversy since the season began. (US Presswire)
In a move that will be seen as anticlimactic at this point, Red Sox upper management intends to remove Bobby Valentine as manager soon after the season ends, people familiar with the situation say.

The belief is Valentine's ouster will come either Thursday or Friday, though that isn't known. Some people believe the Red Sox will give Valentine the courtesy of a meeting, but several people said they don't believe there's any chance he would be able to change their minds, assuming he'd want to.
"No comment," general manager Ben Cherington said by text regarding the expected imminent ouster.

The Red Sox have wilted for a second straight season in September, though this season it's more understandable considering how their original roster was altered by injuries and a big trade with the Dodgers. They are having a very similar September season; Boston is 7-21 and has been outscored 147-83 this September. And last September, when the infamous chicken-and-beer episode occurred, they were 7-20 and were outscored 172-147.
More on Bobby Valentine
Columns

Valentine raised eyebrows internally with interesting comments throughout the season, and on Wednesday he provided more of the same during his regular spot on WEEI, answering negatively when asked whether all his coaches had been loyal to him this season. Valentine acknowledged he helped picked the coaches, saying, "I had a say. I interviewed everyone."

A source said Valentine has believed that bench coach Tim Bogar, in particular, has been working against him. Valentine further acknowledged on the radio interview that it is his job to "work through it," and "make it all functional."

The Red Sox have used more players than ever before, 56, because of injuries and in some cases underperformance. Team management doesn't believe a 69-92 record represents any sort of overperformance, and it also didn't like some of the mini firestorms that came up.
In an unusual move, owners met with the players in July in New York to listen to grievances regarding Valentine and the coaching staff. It's clear Valentine had a poor relationship with Kelly Shoppach, who denied instigating the meeting but was shipped out, and Alfredo Aceves. However, the Aceves issue was could be placed on the reliever, who was suspended by the team for three games after blowing up at Valentine.

It was tough to follow Terry Francona, who is seen as a players' manager who spoke positively about all the players. Valentine seemed to fall into a hole when he expressed surprise that Kevin Youkilis wasn't giving quite the type of effort he expected. Youkilis was traded not too long after, but some say Valentine had trouble digging his way out of that. Dustin Pedroia publicly disagreed with Valentine over the Youkilis remark, and Cherington sided with Pedroia and Youkilis at the time.

In a WEEI interview a week ago, Cherington spoke openly about his plan to move quickly in his upcoming managerial search. Cherington, in his first full year at the helm, later tried to explain his answer by saying he "wasn't talking about Bobby," but it was hard to hear those comments without thinking a change was on his mind. Cherington is said to have told someone else that he meant to say "if" a change is made.

Valentine has a year to go on the two-year deal he was given before this season. The ownership triumvirate of John Henry, Larry Lucchino, Tom Werner steered GM Ben Cherington to hire Valentine after Cherington originally recommended Dale Sveum, who was then hired by the Cubs.

John Farrell, a former Red Sox pitching coach, is believed to be high on Boston's potential replacement list. Farrell's Blue jays team is only three games better than the Red Sox in the AL East.
CBS Sports HQ Daily Newsletter
Get the best highlights and stories - yeah, just the good stuff handpicked by our team to start your day.
Please check the opt-in box to acknowledge that you would like to subscribe.
Thanks for signing up!
Keep an eye on your inbox for the latest sports news.
Sorry!
There was an error processing your subscription.
The Brewers were hoping to gain an advantage in Game 5 of the NLCS vs. the Dodgers

Bregman has a .714 on-base percentage in the ALCS

Los Angeles tied the best-of-seven series at 2-2 after a walk-off win in Game 4
The Dodgers are looking for a much better start out of Clayton Kershaw

Manny Machado is reportedly fined after Game 4 incident with Brewers

The Astros have come under fire for reportedly having an employee record the opposing team's...