Red Sox, Jon Lester extension talks on 'pause'
Jon Lester is set to be a free agent after this season. Both he and the Red Sox have expressed optimism in getting an extension done, but for now the talks are on 'pause.'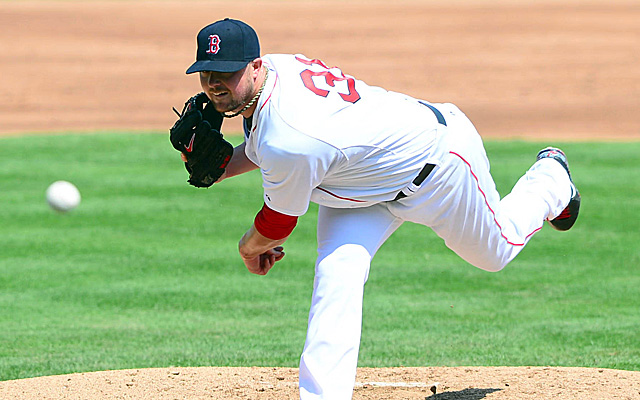 MORE: Predictions | Spring Training | Scoreboard | Team previews
Through much of the spring, the Red Sox and Jon Lester have seemed to share mutual optimism on agreeing to a contract extension before the beginning of the 2014 regular season.
With just two days until the opener, it appears that won't happen, however.
"We're going to hit the pause button," Red Sox general manager Ben Cherington said (providencejournal.com). "We've had a lot of good dialogue and shared information. Jon and (agent) Seth (Levinson) have made a lot of good arguments for their position. We understand their position. We feel like we have good arguments for our position. Our desire remains to keep him here past 2014. We weren't able to find something that worked for everyone during this spring training. In the interest of allowing him to get ready for Monday and let the team get ready for Monday, we'll hit the pause button and hope that we can pick up the conversation again at some point."
I'll stick with the theme and note that the pause button is entirely different than the "stop" button the Tigers and Max Scherzer hit. Let us also note that this could be called a similar situation to that of Dustin Pedroia and the Red Sox last season -- and Pedroia ended up agreeing to a seven-year, $100 million extension on July 23.
So this is definitely not the same as the Scherzer/Tigers talks, where the player is almost certain to hit free agency (especially now that the Tigers granted a huge extension to Miguel Cabrera, but that's a different topic for a different day). I still believe Lester and the Red Sox agree to an extension at some point before he hits the open market.
Lester, 30, was 15-8 with a 3.75 ERA, 1.29 WHIP and 177 strikeouts in 213 1/3 innings last season while also going 4-1 with a 1.56 ERA in the postseason.
If Lester doesn't get an extension before the end of the season, he'll join the likes of Scherzer, James Shields, Ervin Santana and Justin Masterson as free agent starting pitchers next offseason.
Lester will be the opening day starter for the defending champs Monday in Baltimore against Chris Tillman and the Orioles.