Red Sox may listen on Uehara if AL East gap grows, but not Lester
Boston could even see what's out there for star closer Koji Uehara. But Jon Lester isn't going anywhere.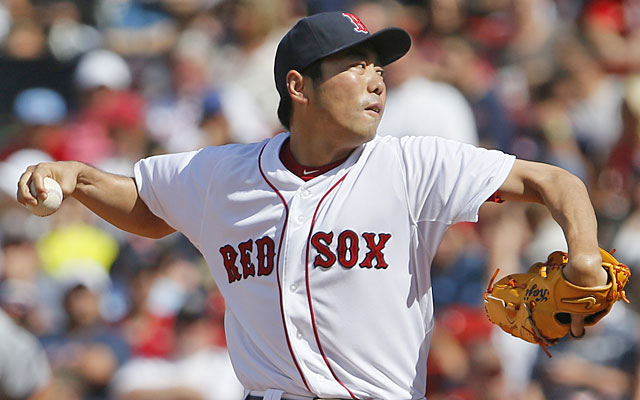 More MLB: Power Rankings | Expert Picks | Latest news & notes | Fantasy news
The Red Sox, fresh off their sweep of the Royals and now only 7½ games out in the AL East, are focused on trying to win. But at the same time, they are talking to teams to gauge potential trades should they fall farther behind. If that happens it appears they would listen on all their potential free agents with the notable exception Jon Lester.
There are a lot of variables in play, but rival teams say that Boston would listen on even superstar closer Koji Uehara, who like Lester is eligible for free agency after the season, if they should fall out of the race.
"They're not shopping Uehara but they might listen," one rival GM said.
That isn't the case for Lester, who Boston dearly wants to re-sign to a long-term contract at some point. While Lester asked the team to table talks a few weeks ago, Boston has an "open door" for him, and even if talks can't be restarted during the season, the team is intent on trying to make a new play for him after the season. The Red Sox could also give Lester a qualifying offer, which meant they would receive a draft choice should they lose him.
Uehara was a major factor in Boston's 2013 World Series title, and is having another brilliant season with a 5-2 record, 1.58 ERA and 59 strikeouts compared to only six walks. But he is 39 and a reliever, so it seems like they would listen to inquiries on him if they fall out of the race. Left-handed reliever Andrew Miller is another Red Sox piece that's drawing a lot of interest. Veteran starter Jake Peavy also has suitors, including St. Louis.
In any case, the Red Sox have won four in a row, and are closing the gap in the AL East, do nothing is expected to hapen in the next few days.
Pawol is expected to umpire in the minors again come the regular season

No. 3 Texas Christian is looking to ruin Long Beach State's return home

Martinez's physical isn't taking much longer than usual
The Rangers have a lot riding on Mike Minor and Matt Bush

Though the process is far from complete, taxpayers got good news Thursday

Dickerson had been designated for assignment by the Rays last week