Red Sox may pass character test and still finish last in AL East
The Red Sox have laid out $78 million over the past two days for Mike Napoli and Shane Victorino, but what are they getting? They don't appear much improved from last year.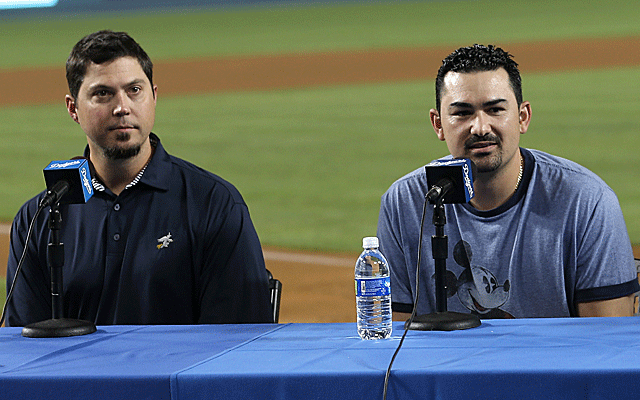 Boston was praised when it dumped Josh Beckett (L), Adrian Gonzalez (R) and Carl Crawford last summer.
(US Presswire)
NASHVILLE, Tenn. – This was always going to be the problem from the moment the Red Sox pulled the ejection lever on Carl Crawford, Josh Beckett and Adrian Gonzalez last summer.
The Sox were universally praised for moving themselves out from underneath a mountain of bad contracts.
More on MLB
Related links
But where were they going to go to fix things in the short term?
The answers have started arriving in earnest this week at the Winter Meetings.
They are going to go to Mike Napoli. And to Shane Victorino. And to Jonny Gomes, whom they signed last month.
Whether they go anywhere other than last place in the AL East remains a legitimate question. Fourth place, maybe.
General manager Ben Cherington is doing what he can here to fix last summer's abysmal 69-93 landslide. But the problem is that Nashville is worse than Oakland in that there's no there there.
Or should that be, there's no there here?
Whatever.
One day after agreeing to give Napoli $39 million over three seasons, the Red Sox agreed with veteran outfielder Shane Victorino on the exact same package.
Say one thing: They're consistent.
But that's $78 million committed to two flawed players, one the Rangers thought so little of that they didn't even offer a one-year, $13.3 million tender sheet and one that looked every bit like a platoon player in 2012.
Within, oh, 30 seconds of the Victorino news breaking, many executives in the Opryland Cascades lobby thought it was the silliest thing they'd ever heard.
A switch-hitter traded from the Phillies to the Dodgers last summer, Victorino's splits against right-handers in 2012 were .229/.296/.333. Against lefties, he was almost 100 points higher at .323/.388/.518.
Gomes, whom the Red Sox signed for two years, $10 million last month, was a platoon player in Oakland in 2012. Over the course of his 10-year career, Gomes' splits against right-handers are .223/.307/.425. Against lefties, they're .284/.382/512.
One important element all three of have in common is that they're winners: Victorino was instrumental in the Phillies' 2008 World Series title, Napoli helped the Rangers win the AL pennant in 2011 and Gomes helped the Rays to the 2008 AL pennant, the Reds to the 2010 NL Central title and the Athletics to the 2012 AL West title.
But will the 2013 Red Sox be better off with Napoli, Victorino and Gomes than the 2012 Sox were (to start the season) with A-Gone, Beckett, Nick Punto and a disabled Crawford?
They'll smile more in the clubhouse, but you cannot make the case that Boston is better off now.
At 32, Victorino is coming off the kind of season that makes you wonder whether the natural erosion around the edges is beginning to overtake him.
Napoli, though his 1.107 Fenway Park OPS is the best ever for a right-handed Boston opponent, suffered a decline nearly as dramatic as Victorino's in 2012. He hit .227 (down from .320 in '11) with 24 homers (down from 30) and 56 RBI (down from 75). His on-base percentage dipped to .343, from .414.
New Boston manager John Farrell spoke earlier Tuesday about "a definite intent to bring in guys that are proven team guys, guys of high character."
Intent on changing their culture, this year's Red Sox are on their way to outdistancing their predecessors in the character department, no question.
But remember those great lines from Airplane!? Looks like I picked the wrong week to stop drinking. Looks like I picked the wrong week to stop sniffing glue.
Looks like the Red Sox picked the wrong year to remodel.
Because they always are measured against the Yankees, and the Yankees are getting old and breaking down. Derek Jeter, Mariano Rivera, Alex Rodriguez, ouch. And now they're operating under a self-imposed salary limit for two years, attempting to lower their luxury tax before the rules change in 2015 and they again start doling out money like a broken ATM machine.
With better planning and some luck, this was the Red Sox's chance to hit the car pool lane and blow past the Yankees.
Instead, they excised all of those contracts last summer only to run into mostly barren shelves this winter (stocked with overly expensive items). And as vulnerable as the Yankees are, you cannot look at this Boston team right now and think it is seizing the opportunity.
Napoli mostly will play first base, maybe he can work behind the plate at times (and maybe even help bring old Angels teammate John Lackey back from the Land of the Dead when he does).
He also has never proven to be very durable. He's played in more than 114 games in a season only once.
"He's a winner," Rangers manager Ron Washington said. "But he's no longer a Texas Ranger, and I really don't want to get into trying to assist Napoli because he's not here."
With Jacoby Ellsbury in center field, Victorino will play right field. The Red Sox are thrilled with that because as anybody who remembers Dwight Evans knows, right field in Fenway is huge. It is extremely important that Boston has a skilled defender there, and that's why Cherington essentially was looking for a center field-type to play right.
Maybe these pieces all fit together and develop into one of those the-sum-is-greater-than-the-whole-of-the-parts production.
Maybe the improved character lifts these Sox up to greater heights than anyone would ever expect next summer.
But on a dreary December day in Nashville, in a mostly dreary free-agent market, despite the dollars, there isn't much sizzle in Mudville. Or Boston.
Boston wants to add two big bats to their lineup, not just one

Even more relievers signed on the final day of the Winter Meetings

Keep tabs on the top 50 free agents right here
The league is not happy Ohtani's medical information leaked

Kansas City and Baltimore were quite busy at the Rule 5 Draft

Piscotty's mother was diagnosed with ALS earlier this year