Red Sox need to beat Cards, A's, others for Peavy
Boston is mulling third basemen and relief help, as well, but Peavy would make the biggest impact.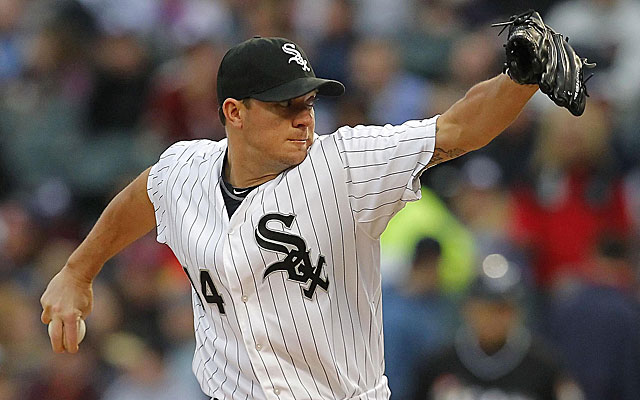 The Red Sox need to go get Jake Peavy. They have little other choice now.
The prospect-laden Cardinals plus the always dangerous A's are thought by people familiar with the talks to be the other two main teams in a big mix for Peavy. But Boston needs Peavy more, has an even better reserve of prospects from which to trade and is locked in just as tough a battle for the division crown as the other two teams, if not tougher.
Word is going around that the Red Sox are mulling over a play for a third baseman with rookie Jose Iglesias starting to come back to earth, and they're always looking for bullpen help. But in a tight, tough battle, the best place to make a difference would be the rotation.
And in a starting pitching market weaker than Anthony Weiner's excuses, Peavy looks like the ace he can be.
Yes, I know Boston's starting crew has done a nice job. But they have to be worried about star right-hander Clay Buchholz, the best starter in the league early. Buchholz was finally cleared this week to start a comeback but may still be weeks away, at least. He has already had a few setbacks with his neck, so there are no guarantees.
There's no doubt the Red Sox did a terrific job this winter identifying players who could help them at reasonable prices, landing Mike Napoli, Shane Victorino, Jonny Gomes, and let's not forget Mike Carp. But they are ensconsed in a difficult competition with the Rays and Orioles now, and they can't just keep their fingers crossed that Buchholz will be back and that Jon Lester will return to being a stud.
The Red Sox haven't invested $170 million to rely on finger crossing. They need to remove the luck from the equation.
"Buchholz will be back," Red Sox GM Ben Cherington said. "Not a major issue when it comes to the trade deadline but we are working like every other team is. There is no particular target right now.''
That may be so, but Boston surely has positive reports on the universally liked Peavy from pitching coach Juan Nieves, who was the bullpen coach with the White Sox, and also from Matt Thornton, who was a late-inning reliever with the White Sox until Boston recently acquired him in trade.
The Red Sox have no excuses, as they easily have the wherewithal to get it done. Twenty million total through next year shouldn't faze them (Peavy makes $14.5 million this year and next). They passed on Matt Garza for some reason, but they shouldn't pass here.
Boston is known to be pretty possessive of its better prospects. But this would be a good time to make an exception. No one has a better prospect list than the Red Sox, and with so many very good ones on their rosters they won't have to consider including either of their top two guys, shortstop Xander Bogaerts or center fielder Jackie Bradley Jr.
Even taking those two out of the equation, the Red Sox prospect list is imposing. It includes pitchers Allen Webster, Rubby De La Rosa, Anthony Ranaudo, Henry Owens, Matt Barnes, Brandon Workman and Drake Britton, third baseman Gavin Cecchini, catcher Christian Vazquez, outfielder Bryce Brentz and others. 
They've done a spectacular job drafting players, and that trade with the Dodgers is the gift of a lifetime, but there's no sense hoarding prospects. Pick two prospects, and make a deal.
They've already made one deal with the White Sox, and there's no good reason they don't make a bigger one now.
Harrison has a thing for ending no-hit bids

Hill was close to perfect across regulation but it turned out to be all for nothing in the...

Plus Hank Aaron weighs in on Colin Kaepernick, Trevor Rosenthal hits the DL, and more
Davis should help fortify the Red Sox outfield

Whether or not Mike Matheny will adjust is to be seen

Hammerin' Hank wants to see Kaepernick get another shot in the NFL