Red Sox (Peavy) and Tigers (Iglesias) address needs for stretch run
A sluggish trade deadline rattled to life with the three-way deal starring Jake Peavy late Tuesday, and two American League superpowers made themselves even better. The Red Sox and Tigers are on the move.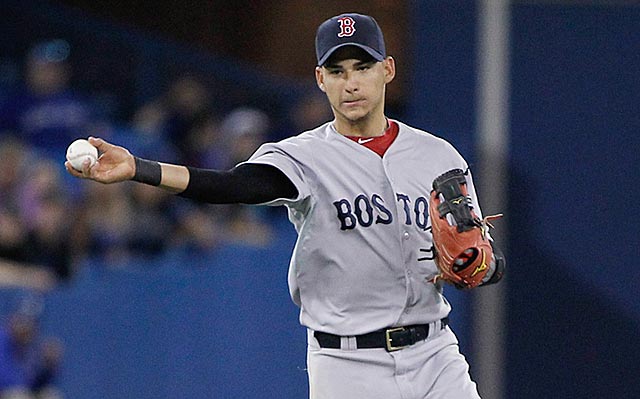 A slow trade deadline sprang to life late Tuesday night. And, boom, it's now on in the American League.
That race changed dramatically with the blockbuster, three-way Jake Peavy trade because two of arguably the five best clubs in the AL significantly improved themselves in one jumbo deal.
The Red Sox, in the midst of an impressive bounceback season from last year's disaster, have the opportunity to bounce a little higher with Peavy nestled in the rotation alongside Jon Lester, John Lackey, Ryan Dempster and, if he returns healthy, Clay Buchholz.
The Tigers, bracing for shortstop Jhonny Peralta's expected Biogenesis suspension, not only scooped up a highly capable replacement in acquiring Jose Iglesias from the Red Sox, they seriously upgraded themselves defensively.
The rest of the deal: The Red Sox added reliever Brayan Villareal and the White Sox landed outfielder Avisail Garcia along with three minor leaguers -- right-handers J.B. Wendelken and Frencelis Montas and infielder Cleuluis Rondon.
The White Sox did fine. Probably, long-term, more than fine. But for the moment, this deal is about the two clubs realistically aiming at a World Series title this autumn.
Boston had to get another starter this month because the pitching-rich Rays, behind David Price, Matt Moore and Chris Archer, seized first place in the AL East from the Sox this week. The Rays' seven complete games in July are the most in a calendar month since the Phillies recorded seven in May 1999, according to STATS, LLC.
That's what Boston is facing. So ... 
"We're really excited to bring Jake here," Red Sox general manager Ben Cherington said on an overnight conference call early Wednesday morning. "Obviously, he's a proven major league starter, he's had a ton of success in his career and I think if there's one thing we wanted to do, if we could pull it off, was to add a starting pitcher.
"As we looked at the next two months, we're in position to compete for a playoff spot and we felt that adding a starting pitcher was the best way to protect our chances to do that."
Even before news of this dramatic three-way trade -- easily the most significant deadline deal so far -- the Red Sox and Tigers ranked right there with the Rays, Athletics and Orioles as the five best teams in the AL.
In adding Peavy, the Red Sox put the pressure on Tampa Bay and distanced themselves even further from the Orioles, who now are at risk of slipping permanently behind those two clubs without a July 31 surprise of their own.
What Peavy brings Boston is a determined and gutsy right-hander with plenty of big-game experience. While he might no longer be the pitcher he was when he won the 2007 NL Cy Young award in San Diego -- he's several injuries down the road from that -- he nevertheless remains a guy you want on the mound. On a last-place White Sox club this summer, he was 8-4 with a 4.28 ERA and a 1.138 WHIP.
If Buchholz (9-0, 1.71 ERA) comes back strong from his shoulder injury (he hasn't pitched since June 8), the Red Sox rotation could be lights out. And if Buchholz can't make it back, Peavy fills what otherwise could have been a possibly fatal gap.
Peavy is expected to arrive in Boston on Wednesday, though there is no word yet when his first start for the Red Sox will come. Cherington said he will not pitch Wednesday night. He was scheduled to start Tuesday in Cleveland, but the White Sox scratched him in anticipation of making a deal.
Cherington said that the fact that Peavy is signed through 2014 (at $14.5 million) with a $15 million player option for 2015 -- it automatically vests if he works 400 innings combined in 2013 and 2014, including 190 innings in 2014, and is not on the disabled list at the end of the 2014 season -- was appealing to the Sox. Boston was not interested in a two-month rental pitcher, especially if it meant parting with a talent like Iglesias.
"We certainly didn't go into this July looking or expecting to trade Jose," Cherington said.
But with Stephen Drew at shortstop and several talented youngsters on the left side of their infield in the organizational depth chart, it made sense to trade Iglesias in the right deal.
Boston had casual conversations on other topics with the Tigers, but the three-way talk started, Cherington said, "in earnest" earlier in the day Tuesday.
Which makes perfect sense from Detroit's side, because the Biogenesis suspensions now are expected to be handed down by week's end and the Tigers almost certainly were about to lose their shortstop. Peralta likely is going to be sidelined for a minimum of 50 games, and possibly more.
Iglesias absolutely is a defensive upgrade at shortstop over Peralta. The Tigers were a below-average defensive team, but now they have defensive stars at two of the most important positions on the diamond -- shortstop, and center field with Austin Jackson. So that should make Justin Verlander and Co. smile.
And in acquiring reliever Jose Veras from Houston on Monday, Detroit improved its other potential Achilles' heel heading into the stretch run.
No question, considering what Peralta's loss could have meant to them, it appears as if Tigers' GM Dave Dombrowski proactively struck at the perfect time.
And the Red Sox are better, too.
"He's an intense competitor," Cherington said of Peavy. "He loves to pitch, he's got a good assortment of stuff. His fastball has a ton of life, along with his changeup and slider ... he throws strikes, attacks hitters.
"I think he'll fit in nicely with the group we have. ... We're just expecting him to give us a chance to win every time out."
That, Peavy will do.
Now we'll see if the Rays, Athletics and Orioles can improve themselves by 4 p.m. Wednesday.
Tick, tick, tick ...
deGrom is set to become a free agent after the 2020 season

Perkins missed most of the last two seasons due to injury

Jonathan Singleton was suspended after a third positive test for a drug of abuse
Rodriguez will join Jessica Mendoza and Matt Vasgersian on the "Sunday Night Baseball" boo...

Jeff Wilpon talked about payroll on Tuesday, and it won't make any Mets fan happy

Yelich's agent recently asked the Marlins to trade him before the spring