Red Sox-Rays ALDS Game 4 preview: Peavy vs. Hellickson
It's Jake Peavy vs. Jeremy Hellickson in Game 4 of the Red Sox-Rays ALDS. Here's a pitching breakdown.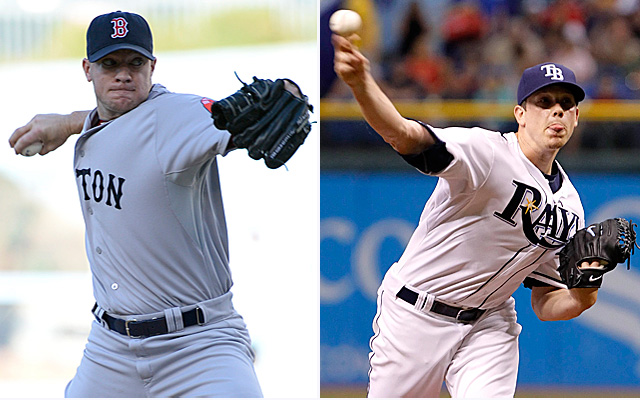 The Tampa Bay Rays enter Tuesday in familiar territory, with their backs against the wall. They trail the Red Sox two games to one in the best-of-five ALDS. As I mentioned, though, they've been here before.
The Rays won the last game of the season to force a one-game playoff with the Rangers. They beat the Rangers to advance to the wild-card game, where they beat the Indians. Monday, they faced elimination in Game 3 of the ALDS and won in walkoff fashion. So now it's yet another elimination game, set for 8:37 p.m. ET in Tampa Bay's Tropicana Field.
For the home team, it's Jeremy Hellickson (12-10, 5.17 ERA in regular season) while Jake Peavy (12-5, 4.17) gets the ball for the road Red Sox. Let's break it down.
Hellickson vs. Red Sox
Hellickson doesn't come into Tuesday's matchup with a hot hand. Not even close. He gave up six runs on six hits in 4 2/3 innings against the Blue Jays last time out. His second half of the season included a minor-league demotion and a 6.23 ERA.
He is slightly better at home than on the road, so that's a plus. Also, Hellickson faced the Red Sox three times this year and it wasn't a disaster, as he posted a 3.44 ERA and 0.98 WHIP in 18 1/3 innings.
As far as career history goes, Hellickson has seen several players more than 20 times. Dustin Pedroia has hit just .194/.242/.355 against him in 33 plate appearances. Jacoby Ellsbury has also struggled a bit, hitting .261/.292/.348 in 24 PA. David Ortiz, on the other hand, has owned Hellickson, hitting .375/.516/.875 with a double, a triple and three homers in 31 PA. Jarrod Saltalamacchia has also had success, hitting .320/.433/.800 with three doubles and three homers in 30 PA.
Peavy vs. Rays
Peavy split time between the White Sox and Red Sox this season, but one thing was certain, he was worlds better at home (7-0, 2.73) than on the road (5-5, 5.27). It could be a coincidence, but it's worth noting.
The same could be said for Peavy's postseason track record. He's only made two playoff starts, but he's been awful (19 hits and 13 earned runs allowed in just 9 2/3 innings -- good for a 12.10 ERA and 2.38 WHIP).
He faced the Rays twice, putting up a 4.26 ERA and 1.26 WHIP. In his career, Peavy has made three starts in Tropicana Field, going 2-0 with a 3.93 ERA, 1.31 WHIP and 17 strikeouts in 18 1/3 innings.
In terms of personal history, only two Rays have faced Peavy more than 16 times. James Loney is hitting .323/.344/.677 with five doubles and two homers in 32 plate appearances. David DeJesus is hitting .136/.208/.227 in 24 PA.
Otherwise, we're grasping at ridiculously small samples. Evan Longoria, Delmon Young, Matt Joyce, Desmond Jennings and Ben Zobrist have all homered off Peavy, for whatever it's worth.
Neither Josh Donaldson nor Brian Dozier have talked about a new contract extension

Francisco leads the Dominican Winter League with seven home runs

Thome deserves enshrinement and here's why the case against him does not hold up
The Twins have already fortified the bullpen with Addison Reed, and now they want to address...

The Orioles likely want pitching, and the Indians have plenty of it

Halladay died in a November plane crash off the coast of Florida