Red Sox scarcely resemble themselves, record one hit vs. Tigers
Boston was nearly no-hit at home for the first time in 55 years.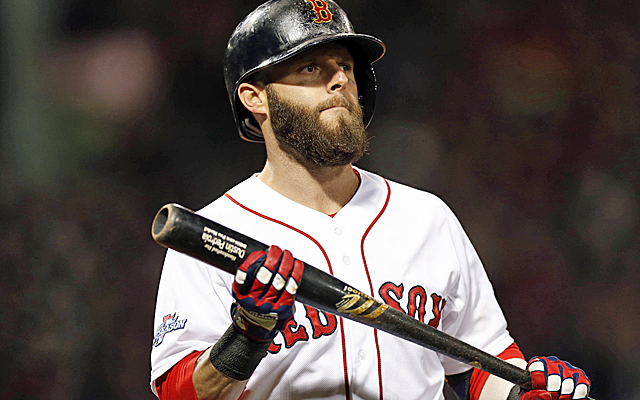 BOSTON -- Seeing the Boston Red Sox 's uncharacteristically, almost historically meager offensive output in Game 1 of the ALCS, you might suspect their hitters were all just a bunch of beards.
Could this have been the actual Red Sox, the ones who led baseball in most every important offensive category? Apparently, it was them. (You could only tell by their over-the-top facial hair.)
But it surely wasn't them at their best.
This isn't a team you'd ever expect to take until the ninth inning to record a single hit. Nor is it a team you'd expect to struggle all night just to hit the ball, much less get hits.
The strikeouts against Detroit Tigers Game 1 starter Anibal Sanchez came first in bunches, then in twos. The hits came almost not at all.
Sure, Sanchez led the American League in ERA, and according to one scout represented the best righthander the Red Sox had faced since another Tigers pitcher, Max Scherzer , early in September. Sanchez is far from a pushover, even if he was rocked in his lone ALCS start vs. the A's.
Sanchez has a no-hitter in his past and a very nice power arsenal that includes a variety of above-average pitches, one more deceptive than the next. At his best, he's very good. But Boston's vaunted hitters looked like they hadn't a chance.
"Anibal pitched a very good game,'' Red Sox star Shane Victorino said after the 1-0 Boston defeat that included just one Red Sox hit. 'Sometimes you just have to tip your cap."
He obviously has it in him. Sanchez, after all, has thrown more complete games with one or no hits since 2006 than anyone else (five).
But Sanchez lasted just six innings, and four Tigers relievers – supposedly the soft underside of the team – did nearly as well. Wasn't that supposed to be the way to beat the Tigers?
The only way you could really tell it was the Red Sox is the way they grinded out at-bats, and took their walks. Despite allowing no hits, Sanchez barely made it through six, having thrown 116 pitches. And it was something he did that considering he threw 51 pitches just to get through the first two innings.
The first inning, while lengthy, is one to be recalled, as Sanchez recorded only the second four-strikeout inning in postseason history, following the beautifully-named Orval Overall, who did it for Chicago on the day the Chicago Cubs won their last World Series (so you know it was a long time ago, 1908 to be exact), not to mention the first in the Tigers' long and illustrious history.
Eventually, Sanchez settled into a pattern whereby he'd record two strikeouts an inning, so it's made sense he ended with 12 strikeouts to go with six walks. The relievers did the same, and altogether Red Sox hitters struck out 17 times, which tied a postseason record done twice previously, once by the Tigers against Bob Gibson in the 1968 World Series and once by the New York Yankees against a combination of Kevin Brown (16) and Trevor Hoffman (one) in the 1998 World Series. So not too often.
Sanchez was hampered (or was it helped?) by inexact command, as the bases on balls and wild pitches provided Boston's only source of offensive weaponry. Sanchez, who was the American League ERA leader despite his status as the third best pitcher on his own team, racked up strikeouts, walks and pitches as he went.
There were just too many pitches in the end, do he didn't make it 'til the end. Tigers manager Jim Leyland removed Sanchez after six, the first postseason pitcher to be yanked that late with a no-hitter still alive.
"That's always been our thing," Victorino said. "What you always want to do is get into the bullpen."
One other Red Sox player cited the pen as the one Tigers "weakness" if you could call it that. No matter, the Tigers relievers were nearly as dominant, and the strikeouts kept coming in twos.
This turned into a group effort. Four Tigers relievers appeared. And that's where the Red Sox should have had their chance.
Their goal was to get into the Tigers bullpen, and they saw half of it in Game 1, though no hits were recorded until Daniel Nava hit a fastball off Tigers close Joaquin Benoit into left-centerfield with one out in the ninth ("I think it was a fastball. Sometimes you just black out." he said). Quintin Berry stole second base, making it 28 for 28 in steals for him in his career, but Benoit got Stephen Drew on a flyout and rookie Xander Bogaerts on a popout.
Until Nava's well-placed hit, the five Tigers pitchers threatened to become the first to no-hit the Red Sox here at Fenway Park since Jim Bunning, also of the Tigers, did it in the summer of 1958. The Red Sox came within two outs of becoming the third team to be no-hit in the postseason, following the Los Angeles Dodgers in 1956 (Don Larsen) and Cincinnati Reds in 2010 ( Roy Halladay ).
Afterward, all the Red Sox acted like this was a fairly normal occurrence. It happens, they said. Playoff baseball, they told us.
Red Sox manager John Farrell declined to agree with the first questioner who called it "unexpected" Instead, Farrell said, "Whether it was Sanchez or every guy they brought out of the bullpen, it was power stuff. And they executed."
Give Farrell and his troops credit for not trying to tie their off night to home-plate umpire Joe West's strike zone. There were a few borderline calls that didn't go their way. But that's not why they struck out so much, or failed to get a single hit through 8 1/3 innings.
Their performance makes it seem even a tad more daunting that Boston's next two assignments come against sure Cy Young winner Scherzer and past Cy Young winner Justin Verlander , who threw one of the best games of his career to demolish the upstart A's  gets Detroit into this round.
"It's a tough task," Victorino said. "But you can say the same thing about our pitching."
Boston's pitching isn't a worry. But baseball's best offensive team in terms of runs, on-base percentage, slugging percentage and OPS will surely have to pick up its game against two more of the American League's best.
To beat Scherzer and/or Verlander, at the very least the Red Sox hitters will need to be themselves.