Red Sox should just release problem right-hander Aceves
Alfredo Aceves is expected to accept a demotion to Triple-A. Since he has no trade value and remains a negative influence in the clubhouse, the Red Sox should just release him.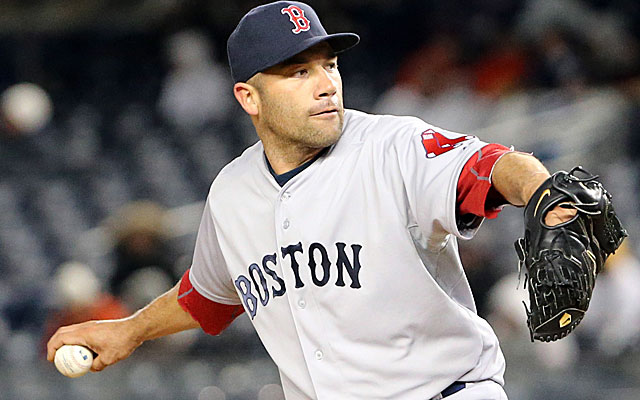 Embattled Red Sox right-hander Alfredo Aceves is expected to report to Triple-A Pawtucket within the allotted 72 hours. They suggested Saturday would be fine since the team is on the road.
To get paid his $2.65-million salary he has to accept the club's decision to option him to the minors. So he'd have to be crazy not to report. (I will resist comment there.)
That said, the sanest move Boston could make now is to release him. That he is a versatile, live arm just isn't a good enough reason to keep him around anymore.
The Red Sox's winter plan to sign solid "mid-range'' free agents who are clubhouse pluses looks like a winner to date, as veteran pros Shane Victorino, Mike Napoli and Jonny Gomes all have been huge pluses, on the field and in the clubhouse.
Sending Aceves down is another plus for Boston's clubhouse, of course. But putting him in with prospects isn't necessarily a recipe for a positive outcome, either.
Red Sox people seem to maintain hope, though. "He's got to pitch and get back to effectiveness, and everything else will come after that,'' Red Sox GM Ben Cherington said.
From here however, Aceves, who was told at one point last year he was one bad deed from being cut, just isn't worth the trouble. He's 1-1 with an 8.66 ERA after the 13-0 defeat to the A's the other day. Add that to his 2-10 mark and 5.36 ERA last year, and it's fair to say he has been unproductive for more than a full season.
But the real issues are his behavior and demeanor. Last year, he pitched tantrums over his usage (even though then manager Bobby Valentine mistakenly gave him the honor of making him the closer after Andrew Bailey went down in spring training), he fought with team leader Dustin Pedroia and generally made himself into a nuisance.
Manager John Farrell gave Aceves yet another chance after Aceves gave no effort the first time he threw BP this spring over some new perceived slight. And Farrell gave Aceves a pass on his postgame comments that seemed to pin part of the blame on the umpires and his own hitters.
In the most lenient possible review of his comment, it's possible no harm was intended when Aceves said, "They got their hacks. Why do we not hit? Same thing. It's just bad today.''
But even if one chalks that up to some sort of miscommunication, Aceves' time has to be up by now. In the game he showed as lack of "focus,'' as Farrell rather nicely put it, balking twice and demonstrating indifference on a run-scoring fielding play. This from a guy who was already on thin ice -- or should be -- from past misdeeds.
It has been reported that the Red Sox might take a crack at trading him. But this is obviously a pipe dream. Who'd take him?
Just to be sure, I checked. Asked if Aceves has any trade value, one competing GM said, "None. Given his salary, declining performance and antics who would trade for him? ... Boston is stuck with him.''
Well, not quite.
The release option remains. And at this point, that's the best option.
The Padres may be poised for an active winter

Yes, Bryce Harper is going to make a lot of money next winter

Outfield prospect Clint Frazier may be part of the talks
The veteran slugger spent the last eight seasons with Cleveland

Boston wants to add two big bats to their lineup, not just one

Even more relievers signed on the final day of the Winter Meetings