Red Sox-Tigers ALCS Game 1 preview: Lester vs. Sanchez
The ALCS opens on Saturday night with Jon Lester and Anibal Sanchez on the hill. Here's a closer look at the pitching matchup.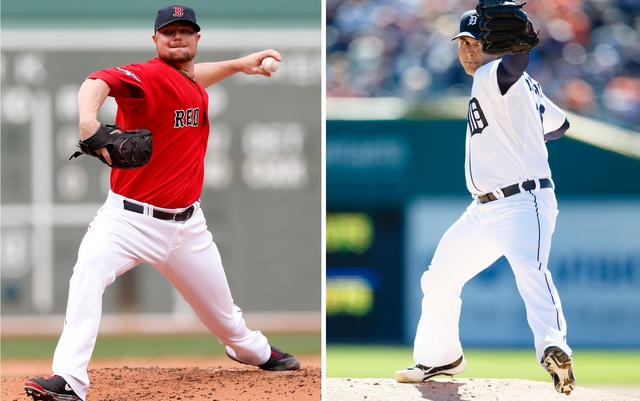 More: NLCS: Kershaw vs. Wacha pitching preview | ALCS: Who has the edge?
BOSTON -- The Red Sox and Tigers open their ALCS matchup with Game 1 Saturday night. First pitch is scheduled for 8:07pm ET at Fenway Park.
Both teams are sending experienced pitchers to the mound for the series opener. Left-hander Jon Lester (15-8, 3.75 ERA and 1.29 WHIP in 213 1/3 regular season innings) gets the ball for Boston while Detroit counters with righty Anibal Sanchez (14-8, 2.57 ERA and 1.15 WHIP in 182 regular season innings). The two were minor league teammates with Double-A Portland in 2005.
Depending on your point of view, Game 1 could be the most important (set the tone!) or the least important (so many games left!) game of a best-of-seven series. Either way, both the Red Sox and Tigers want to come away with a one game-to-none lead on Saturday. Let's break down the pitching matchup.
Lester vs. Tigers
Lester finished the regular season very strong and that carried over into the ALDS, as he held the Rays to two runs on only three hits and three walks in 7 2/3 innings in his Game 1 win. He faced the Tigers twice this season and got hit around a little bit (six runs in 12 2/3 innings). Here's what Lester said about the Detroit lineup on Friday:
I mean, obviously very tough lineup.  We've seen it kind of go both ways as far as them come in and score some runs. But at the same time, the games that they don't they're still tough outs. I think that's what makes them very similar to I think our offense is. You know you're not going to have three pitch outs. You know you're not going to have at?bats that they just give away.
So you have to be on top of your game from pitch one to however long you're in the game for. And try to execute down in the zone. Keep them in the ballpark, that's a big key.  If they are able to score some pitches up and hit some home runs, hopefully you've kept guys off the base paths, so it's just solo shots.
Lester was considerably more effective at home (3.09 ERA and 1.16 WHIP) than on the road (4.21 ERA and 1.39 WHIP) this year, which is impressive considering how hitter-friendly Fenway Park can be. He wasn't as effective at night (4.23 ERA and 1.35 WHIP) as he was during the day (2.81 ERA and 1.19 WHIP), however.
As an eight-year veteran, there's quite a bit of history between Lester and the Tigers lineup. The three hitters who have seen him the most -- Torii Hunter (1.012 OPS in 32 plate appearances), Jhonny Peralta (.999 OPS in 32 plate appearances) and Miguel Cabrera (1.414 OPS in 24 plate appearances) -- have all done serious damage against the Red Sox lefty. On the other hand, Prince Fielder (.579 OPS in 16 plate appearances) and Austin Jackson (.690 OPS in 15 plate appearances) haven't been so lucky.
Players currently on the Tigers roster have hit .378/.439/.577 with only 24 strikeouts in 173 plate appearances against Lester in their careers. I'm always wary of pitcher-hitter numbers though, especially when accumulated over a long period of time. These guys aren't the same players they were four or five years ago. A lot changes over time, including a player's strengths and weaknesses.
Sanchez vs. Red Sox
In his ALDS Game 3 start against the Athletics, Sanchez allowed three home runs after surrendering just nine all season. It was the first time he gave up multiple homers in a start since last September. His final line showed six runs (five earned) on eight hits and two walks in 4 1/3 innings.
Sanchez didn't really have a big home (2.70 ERA and 1.08 WHIP)/road (2.44 ERA and 1.22 WHIP) split this season, but he did pitch considerably better at night (2.34 ERA and 1.16 WHIP) than during the day (3.23 ERA and 1.14 WHIP). This will be his first career start at Fenway Park and he did not face Boston at all during the regular season.
Because he's spent the bulk of his career in the National League, Sanchez doesn't have much experience against the Red Sox hitters. Shane Victorino has seen him the most by far thanks to their former Phillies-Marlins rivalry, but he's only gone 10-for-43 (.233) with one double and one homer (.623 OPS) against Sanchez. Stephen Drew (23 plate appearances), David Ross (12), Jonny Gomes (five) and David Ortiz (three) are the only other players on Boston to have faced him.
While speaking to reporters on Friday, Sanchez suggested he may empty his bag of tricks early in Game 1 rather than save something for the later innings:
Tomorrow, yeah, it's a big day for me especially because I going to start the series again.  This team, a pretty good team. But I think every day is different. I need to keep working. I need to be focused tomorrow. Putting my first pitch is something I look forward to every outing. I try to feel comfortable like I do all year long.

But they got a pretty good lineup. Basically they got a pretty good team. The guys play hard all year long. And, you know, for me, I think I have to do what I do. They're really aggressive on the field, so probably tomorrow I'll probably have to ... throw a lot of pitches early in the game.
Sanchez regularly uses six pitches according to PitchFX -- four-seam fastball, sinker, cutter, slider, curveball and changeup -- which will make it especially tough for the hitters who haven't seen him before. Lack of experience is usually advantage pitcher anyway, but that doesn't mean Sanchez is automatically guaranteed to pitch well. He could have an off night. The Red Sox players who haven't seen him before are going to have their hands full though. It's a tough assignment.
Ohtani is arguably the best hitter and pitcher in Japan

The O's need rotation help, and Cobb is available for hire

The Red Sox and Cardinals are expected to make trade offers next
The free agent first baseman may be a fit in St. Louis

The front office changes in Atlanta continue

The Marlins are more likely than you think on our list