Red Sox-Tigers ALCS Game 2 preview: Buchholz vs. Scherzer
Two pitchers with Cy Young caliber performances in 2013 get the ball in Game 2 of the ALCS on Sunday.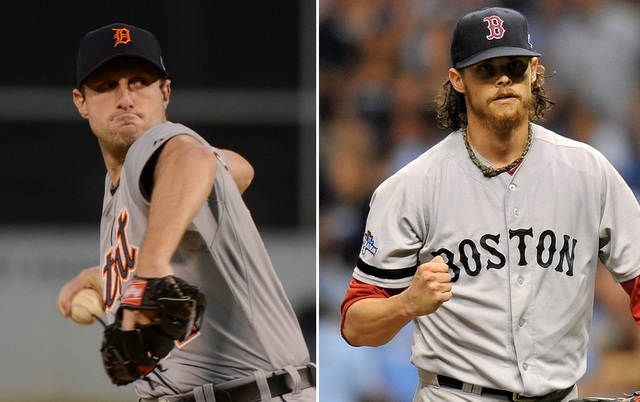 More ALCS: Positive signs for Red Sox in Game 1 loss | Who has the edge?
BOSTON -- The Tigers took Game 1 of the ALCS from the Red Sox thanks to a one-hit effort from their pitching staff on Saturday night. It was an intense and extremely entertaining game, so we'll all be lucky if the rest of the series plays out the same way.
Game 2 at Fenway Park is scheduled to begin a little after 8 p.m. ET on Sunday night. Boston will send right-hander Clay Buchholz (12-1, 1.74 ERA and 1.03 WHIP in 108 1/3 regular season innings) to the mound while Detroit will counter with likely AL Cy Young winner Max Scherzer (21-3, 2.90 ERA and 0.97 WHIP in 214 1/3 innings). I'm not sure we could ask for a better pitching matchup. Let's break it down a little further.
Buchholz vs. Tigers
Buchholz had an okay start against the Rays in the ALDS, allowing three runs on seven hits and three walks while striking out five in six innings. Not great but not awful. A winnable game the Red Sox happened to lose.
While missing more than three months with a neck injury during the regular season, Buchholz actually pitched slighty worse at home (1.99 ERA and 1.09 WHIP) than on the road (1.40 ERA and 0.93 WHIP). We're splitting hairs here though, he was awesome no matter where he pitched. The same can be said for his performance in night games (1.98 ERA and 1.03 WHIP) vs. day games (1.16 ERA and 1.00 WHIP).
Because of the injury, Buchholz did not pitch against the Tigers at all this season. He has faced them several times over the years though, posting a 3.58 ERA and 1.23 WHIP in 50 1/3 innings overall. Since 2011, it's a 4.32 ERA and 1.16 WHIP in 25 innings.
Buchholz has done a pretty good job containing Detroit's best hitters -- in a relatively small sample, of course -- over the years. Miguel Cabrera has a .653 OPS in 25 plate appearances against the Red Sox right-hander while Torii Hunter (.536 OPS in 28 PA) has had an even harder time. Austin Jackson (.860 OPS in 21 PA) and Jhonny Peralta (.723 OPS in 19 PA) have done well enough.
Hitters currently on the Tigers roster have hit .231/.317/.380 in 139 combined plate appearances against Buchholz. Detroit has not swung the bats well in the postseason so far, at least outside of ALDS Game 4.
Scherzer vs. Red Sox
In one start and one relief appearance against the Athletics in the ALDS, Scherzer allowed three runs on six hits and four walks while whiffing 13 in nine total innings. He is on regular rest after coming out of the bullpen for two innings in Game 4.
Scherzer has actually performed far better on the road (2.28 ERA and 0.92 WHIP) than at home (3.55 ERA and 1.03 WHIP) this year. He's also been a bit better at night (2.76 ERA and 0.94 WHIP) than under the sun (3.35 ERA and 1.06 WHIP). Like Buchholz, he's tough no matter where he pitches.
Scherzer made two starts against the Red Sox this summer, holding them to two runs in seven innings both times. First at home in June, then on the road in September. He's got a career 7.02 ERA and 1.63 WHIP in 42 1/3 innings against the Red Sox in his career, though obviously the story was much different in 2013. His career numbers at Fenway Park (3.86 ERA and 1.41 WHIP) aren't too bad.
David Ortiz (1.689 OPS in 18 PA), Jacoby Ellsbury (1.667 OPS in 12 PA) and Jarrod Saltalamacchia (1.083 OPS in 12 PA) have had the most success against Scherzer while Mike Napoli (.220 OPS in 14 PA) and Stephen Drew (.614 OPS in 12 PA) have stood out for the wrong reasons. Sample size caveats obviously apply.
The current Red Sox roster has hit .273/.333/.496 in 133 combined plate appearances against Scherzer. A lot of that success came several years ago, before Scherzer took his game to the next level and become a legitimate Cy Young contender.
I think we can sum up this post with this: Both pitchers are really, really good.