Red Sox-Tigers ALCS Game 6 preview: Buchholz vs. Scherzer
In a rematch of Game 2, Max Scherzer and Clay Buchholz will face off in Game 6 as the Tigers look to stay alive in the ALCS while the Red Sox try to advance to the World Series.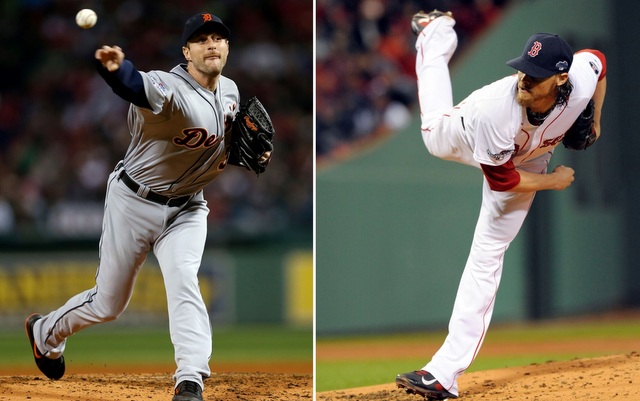 BOSTON -- The Red Sox are one win away from the World Series and they have two games at home in Fenway Park to get it. The Tigers and Red Sox will play Game 6 of the ALCS a little after 8pm ET on Saturday night.
The starting pitching matchup for Game 6 is a rematch of Game 2: likely AL Cy Young Award winner Max Scherzer (21-3, 2.90 ERA and 0.97 WHIP in 214 1/3 regular season innings) vs. Clay Buchholz (12-1, 1.74 ERA and 1.03 WHIP in 108 1/3 innings). The Tigers got the better end of that pitching matchup in Game 2 despite ultimately suffering a bullpen-induced loss. Let's break down the two pitchers.
Scherzer vs. Red Sox
In Game 2 of the ALCS, Scherzer struck out 13 batters and allowed just one run on two hits and two walks in seven innings. He pitched well in two starts against the Red Sox during the regular season (2.57 ERA and 1.00 WHIP), though his career numbers at Fenway Park are just okay (3.86 ERA and 1.40 WHIP in four starts).
Scherzer pitched considerably better on the road (2.28 ERA and 0.92 WHIP) and at night (2.76 ERA and 0.94 WHIP) than at home (3.55 ERA and 1.03 WHIP) and during the day (3.35 ERA and 1.06 WHIP) this year. That's nitpicking though. He was pretty good no matter where he pitched in 2013.
Prior to Game 5 on Thursday, Scherzer talked about the challenges of facing a team as good as the Red Sox for the second time in a short series and the need to change his game plan:
It changes because they're familiar with what I did. Obviously they're going to be looking through the film and watching what I did, the sequences, patterns, when I threw offspeed pitches, when I didn't. Obviously I've got to be ahead of the curve ... I don't know exactly what I'm going to do, but there will be things I do differently.
There isn't a ton of history between Scherzer and the Red Sox batters, but David Ortiz (1.524 OPS in 24 plate appearances) and Jacoby Ellsbury (1.418 OPS in 15 PA) have handled him well, Dustin Pedroia (.850 OPS in 20 PA) and Jarrod Saltalamacchia (.867 OPS in 15 PA) slightly less so. On the other side of the coin, Stephen Drew (.522 OPS in 14 PA), Mike Napoli (.220 OPS in 14 PA) and Shane Victorino (.641 OPS in 13 PA) haven't had much success.
Players currently on the Red Sox roster have hit a combined .245/.312/.441 against Scherzer in 158 plate appearances. As we saw in Game 2, however, he is capable of shutting any lineup down at any time. I'm not sure how much career numbers matter against a pitcher of this caliber.
Buchholz vs. Tigers
Buchholz did not pitch particularly well in Game 2, giving up five runs on eight hits (including two home runs) in 5 2/3 innings of work. Things spun out of control in the sixth inning, when he allowed four runs and five of the seven men he faced to reach base. He did not face the Tigers at all during the regular season.
Like Scherzer, Buchholz was pretty awesome no matter where he pitched in 2013, though he was better on the road (1.40 ERA and 0.93 WHIP) and during the day (1.16 ERA and 1.00 WHIP) than at home (1.99 ERA and 1.09 WHIP) and at night (1.98 ERA and 1.04 WHIP). His career numbers against the Tigers are pretty good (3.58 ERA and 1.23 WHIP) in eight career starts.
Buchholz spoke about the need to learn from that disastrous sixth inning in Game 2 and use that to improve for Game 6 while talking to reporters on Thursday:
A little of both (reviewing video and talking to coaches). I felt pretty good in the first five innings, I can take more positive than negative. There were a couple of innings I let the ball get out of the zone and they hit it out of the park. I need to minimize the damage a little bit better. Both video and talking to whoever it is on the staff, you can sort of pick each other's brain and see what I was feeling, what I could have done differently and how to get better from it.
Outside of catcher Alex Avila (1.481 OPS in 14 PA), who may or may not play in Game 6 depending on his left knee sprain, not a lot of players on the Tigers have had success against Buchholz in their careers. Miguel Cabrera (.780 OPS in 28), Austin Jackson (.746 OPS in 24 PA) and Jhonny Peralta (.708 OPS in 22 PA) have been decent at best while Torii Hunter (.480 OPS in 31 PA) and Prince Fielder (.633 OPS in 10 PA) have been far worse.
Tigers hitters own a .247/.321/.432 line against Buchholz in 165 combined plate appearances, which is right in line with what the Red Sox have done against Scherzer. When they're on, these two starters are among the very best in the business and they can truly dominate a lineup.
Charlie Morton will start either Game 3 or 4

Granderson, Verlander, Beltran and more are looking to reach the top of the MLB world

Houston's top relievers have been shaky this postseason
Our experts have a unanimous World Series pick

Otani's rare ability to hit and pitch will need to be accounted for in realms beyond real...

Kenny White has won 8 of his last 10 MLB Over-Under picks and has a strong play for Game 1