Red Sox trade Jon Lester, Jonny Gomes to A's for Yoenis Cespedes
The Red Sox have traded Jon Lester and Jonny Gomes to the Athletics for Yoenis Cespedes.
More: Trade Tracker | Heyman's latest | Heyman on Twitter | Trade Deadline Blog
The Red Sox have traded Jon Lester, Jonny Gomes and cash to the Athletics for Yoenis Cespedes, Jon Heyman of CBSSports.com has confirmed. Boston will also receive Oakland's competitive balance pick in the 2015 draft.
Lester, 30, is 10-7 with a 2.52 ERA, 1.12 WHIP and 149 strikeouts against 32 walks in 143 innings this season. He was scratched from his scheduled start Wednesday in anticipation of a possible trade.
A three-time All-Star, Lester was 15-8 with a 3.75 ERA and 177 strikeouts in 213 1/3 innings last season. In the postseason, he was 4-1 with a 1.56 ERA, serving as the ace of the World Series champion Red Sox.
Cespedes, 28, is hitting .256 with 17 home runs in 101 games this year. He is a career .262/.318/.470 (119 OPS+) hitterw with 66 homers since signing with the A's and coming to MLB in 2012.
Cespedes is owed $10.5 million next season and will become a free agent during the 2015-16 offseason. The Red Sox do not control him as an arbitration-eligible player after next year because of the conditions of his original four-year contract with the Athletics.
Gomes, 33, is hitting .234 with six home runs this season. He played with the Athletics in 2012, hitting .262/.377/.491 (142 OPS+) with 18 homers in 99 games. Gomes will help replace some of the righty power the team is giving up in Cespedes.
Obviously the Athletics are going all-in this year. They added Jeff Samardzija and Jason Hammel a few weeks ago and now added Lester on top of them. Oakland will go into the postseason with Lester, Samardzija, Sonny Gray and Scott Kazmir in the rotation.
Lester is set to hit free agency after the season. In fact, a trade became apparent once the Red Sox were unable to come to terms on a contract extension -- a process that had appeared mostly stagnant since the spring -- and finally fell out of contention, seemingly for good, in late July.
The Athletics will not be able to make Lester a qualifying offer after the season, so he will not be attached to free agent compensation during free agency.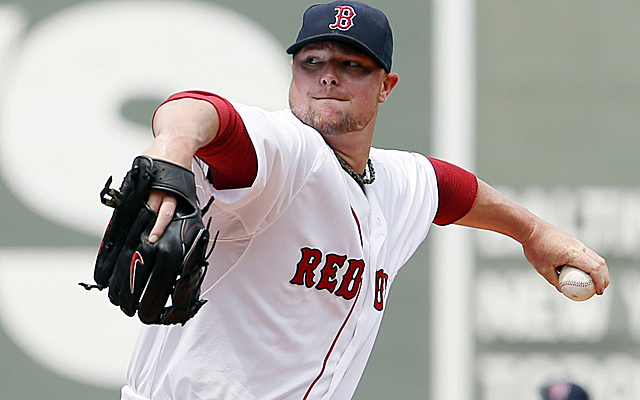 Darvish's poor World Series hasn't scared the Dodgers away

GM Sandy Alderson said he followed his manager's recommendation

A report indicates the Rays are listening to trade offers on Chris Archer and Evan Longori...
Scott missed almost all of last season after a concussion

The superstar is one year away from free agency

The Angels knew about it and still wanted to sign the potential ace, of course