Red Sox weren't seriously on Lee; few see anyone meeting Philly price
Cliff Lee's chances to move to a contender seem slim unless the Phillies' asking price is overblown or drops drastically.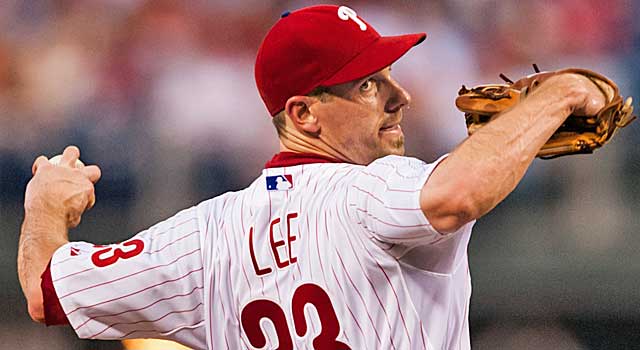 The Red Sox are said now to have in reality been a "non factor" for Cliff Lee before they landed Jake Peavy, and baseball people are highly doubtful anyone would meet the supposed Phillies' asking price of three top prospects for a pitcher who has $70 million guaranteed to go through 2015.
"No one's going to do that," one executive said.
"I don't know of a team in baseball that would [do] that. Taking on that much money and giving up three legit prospects seems like a stretch for anyone," another executive said.
The Red Sox have been successful since going away from the mega contract, such as Carl Crawford and Adrian Gonzalez, and doing mid-range deals. So they didn't especially want to get back into that game.
No other teams have been identified yet as a big player for Lee -- though the Phillies seem serious about wanting to make bold moves.
Lee appeared too be looking forward to a trade to a contender, and was ready to waive his no-trade to the Red Sox, if a deal materialized there. However, the reality is that unless the Phillies drastically drop their asking price, he will stay in Philly. Lee has a 21-team no-trade list but that appears to be no impediment.
There's a chance he could clear waivers meaning he could be an August trade, but the price still would have to drop. Last summer he was claimed by the big-spending Dodgers, but they appear well set in their rotation for now.
Lee makes $25 million annually thrugh 2015 but has a vesting option for '16 for $27.5 million, with a $12.5 million buyout, according to Cots Baseball Contracts.
The lefty starter is coming off a terrible season

After acquiring Ian Kinsler and Zack Cozart in recent days, the Angels are trending upward

Cozart's coming off a big season as the Reds' shortstop
The veteran slugger spent the last eight seasons with Cleveland

The Padres may be poised for an active winter

Yes, Bryce Harper is going to make a lot of money next winter