Red Sox win second straight, and now Rays don't look as dangerous
Two games in, the Rays-Red Sox series has looked one-sided, and there's no indication at all that will change before it ends.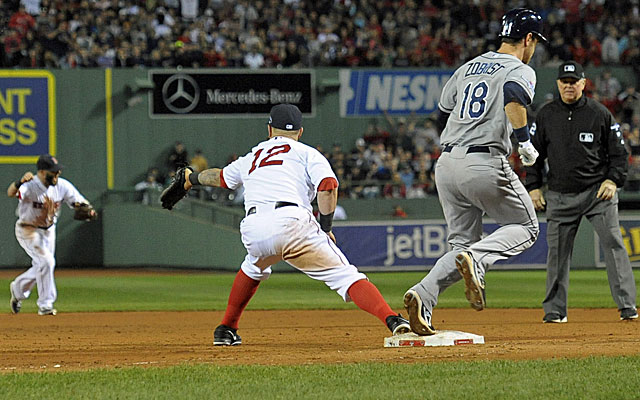 BOSTON -- The Rays looked like a dangerous first-round opponent to the Red Sox, right up until they started to play the games.
The Rays looked dangerous, right up until they started making all the mistakes (and not just by Wil Myers).
There's still time for this Division Series to turn around, but two games in there's no indication at all that it will. The Red Sox head to Florida with a two games to none lead, and a whole lot better chance that the next game at Fenway Park will be Game 1 against the Tigers or A's, rather than Game 5 against the Rays.
Joe Maddon talked after Saturday's 7-4 Red Sox win about forcing Game 5 ("Boston this time of year is kind of lovely, and I'm looking forward to coming back"), but he has to say that, right?
David Ortiz said "It's not over," but he has to say that, too.
The rest of us don't. The rest of us watched the Red Sox lineup eat up top left-handers Matt Moore and David Price on back-to-back days, and watched Fenway Park eat up a Rays team that was supposed to be able to handle this environment.
The reality is that the Red Sox were the better team this year, and they look far the better team this week. And while the Rays can point at the three must-win games they won last week, those were against the Blue Jays, the Rangers and the Indians.
They had some of us believing they could be a real threat to the Red Sox in this series. But that was based on Moore and Price having a real chance to shut down Boston's big left-handed bats.
Instead, Moore crumbled in Game 1 (with the help of shaky defense), giving up eight runs, and Price gave up seven runs in Game 2. And those lefty hitters? Jacoby Ellsbury went 3 for 3 off Price and scored three runs. Stephen Drew had a run-scoring triple.
And Ortiz, who had never homered in 37 prior at-bats against Price, homered off him in the first inning and again in the eighth.
Ortiz suggested that Price's velocity was down after throwing a complete game in Monday's tie-breaker in Texas. PitchFx agreed to an extent, saying (according to brooksbaseball.net) that he averaged 93.8 mph on Saturday, as opposed to 94.7 on Monday.
Others will suggest that Price's command within the strike zone wasn't as good as usual, and Maddon pointed to the "awkward" things that happened on some of the Red Sox hits.
If the Rays can get this series to a Game 5, Price could start again, on normal rest. If they can get this series to a Game 5, we can go back to looking at the Rays as a dangerous opponent for the Red Sox, and stop talking about Price's Rays career in the past tense.
But to get to Game 5, the Rays first need to win Games 3 and 4. They need right-handers Alex Cobb and Jeremy Hellickson to do what lefties Moore and Price couldn't.
They need to exploit what seems to be the biggest Red Sox weakness, a middle of the bullpen that is very thin in pitchers that manager John Farrell has confidence in.
Farrell didn't need to rely on middle relief in Game 1, when Jon Lester pitched into the eighth inning and left with a six-run lead. The Sox needed 11 outs from the bullpen in John Lackey's Game 2 start, with a smaller cushion, but Craig Breslow and Junichi Tazawa (with the help of two fine double plays) got the game to near-perfect closer Koji Uehara.
Still, the questions about the middle relief showed, when Farrell stuck with the left-handed Breslow with Evan Longoria at the plate representing the tying run in the seventh. Breslow ended up walking Longoria, but Dustin Pedroia and Drew turned a Ben Zobrist ground ball into a nice double play.
That's pretty much how the entire last two days went. The Red Sox could do no wrong. The Rays could do little right.
Really, could this be going any better for Boston?
"I don't know," Jonny Gomes said. "I guess there's always room for improvement. But we had no errors, we had hits, we stole bases, we ran the bases well.
"We've got a lot of weapons."
They've got a lot of weapons, and a lot of confidence. Someone could beat them this month, but it's hard now to see how that someone could be the Rays.
Wright was arrested at his home Friday

The former Tigers teammates were voted into Cooperstown by the 16-person Modern Era Commit...

The Yankees still have room for a good-sized signing even after Saturday's trade with Miam...
St. Louis gets some much needed help for their bullpen

Keep tabs on the top 50 free agents right here

Morrow thrived with the Dodgers last season