Red Sox working hard to try to land Cuban OF Rusney Castillo
Boston looks like the favorite to win his services.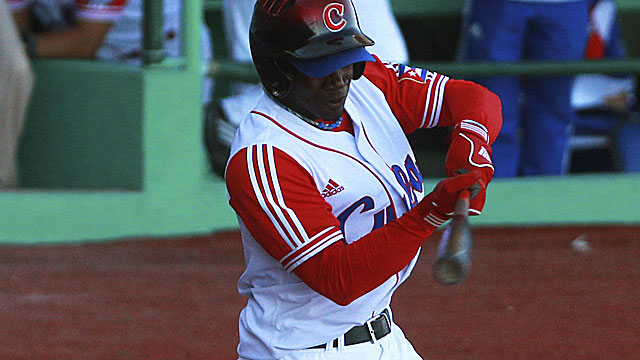 The Red Sox are focused on signing outfielder Rusney Castillo, and several sources suggested they are working hard to beat several others teams to land the top Cuban free agent.
Boston remains "heavily involved" according to people familiar with the situation, and executives with other interested teams suggest the Red Sox are the favorite to win Castillo's services.
Boston and Detroit were tabbed as the favorites a couple days ago by Gordon Edes of ESPNBoston, and the Red Sox remain in close contact with Castillo, an exciting speed-power combo, according to league officials.
The Yankees, Cubs, Giants, Mariners and others have also been showing interest in Castillo.
Estimates for Castillo have emerged at $72 million.
No, you're not imagining things. This MLB offseason has been very slow compared to the last...

Francesa will retire from radio next month, so he'll have plenty of free time next summer

Get your sports fans something that they'll wear all year
Get 15 percent off any order of more than $75 at CBS Sports Shop

The Twins need help in the rotation, and they may look to the trade market to find arms

Here are the bullet-points of what went down Tuesday regarding MLB and the Braves' punishm...