Red Sox working hard to try to land Cuban OF Rusney Castillo
Boston looks like the favorite to win his services.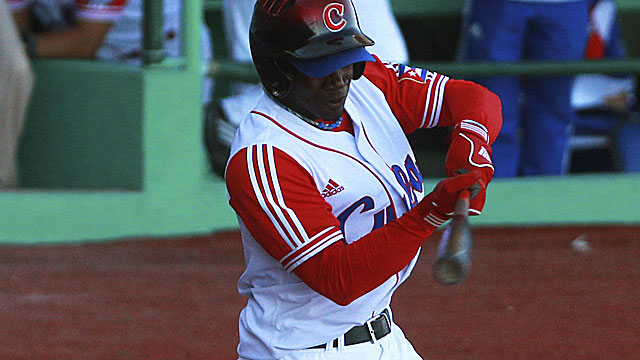 The Red Sox are focused on signing outfielder Rusney Castillo, and several sources suggested they are working hard to beat several others teams to land the top Cuban free agent.
Boston remains "heavily involved" according to people familiar with the situation, and executives with other interested teams suggest the Red Sox are the favorite to win Castillo's services.
Boston and Detroit were tabbed as the favorites a couple days ago by Gordon Edes of ESPNBoston, and the Red Sox remain in close contact with Castillo, an exciting speed-power combo, according to league officials.
The Yankees, Cubs, Giants, Mariners and others have also been showing interest in Castillo.
Estimates for Castillo have emerged at $72 million.
It's part of commissioner Rob Manfred's ongoing effort to improve pace of play

But one other team is prominently in the mix for the Marlins' slugger

Morgan went into the Hall in 1990 and has some strong words for PED users
Mark Appel was one of the players being moved about on Monday night

Garrett Cooper is the answer to a trivia question

We still don't know if Ohtani will be jumping to the majors yet