Red Sox wrong to blame umps; call was on the money, not throw
The umpires made the appropriate ruling that ended Game 3 with a 5-4 Cardinals victory.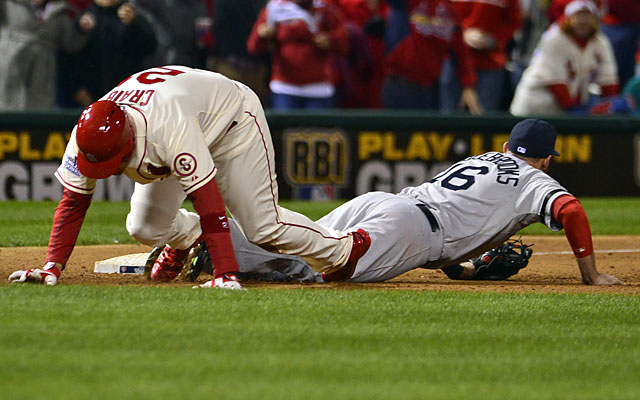 ST. LOUIS -- Boston starter Jake Peavy says he doesn't see how anyone agrees with that call "other than Cardinal fans."
Peavy, as fun and forthright as he is, apparently is viewing the decisive call that ended Game 3 in the Cardinals' favor with Red Sox-colored glasses.
Umps Jim Joyce and Dana DeMuth got it right. Besides Allen Craig, Matt Holliday, Yadier Molina and some other Cardinals, Joyce and DeMuth are two of the heroes in one of the more thrilling and controversial endings in World Series history, even if some Red Sox didn't see it that way.
Really though, the call's only controversial because the game ended on a rare ruling of obstruction. There was nothing debatable about it, not one thing. It was plain and it was obvious, and the umps deserve nothing but bouquets for getting it right.
They certainly didn't deserve the bad-mouthing they got later.
The excitable Peavy pitched only OK but came with the colorful quotes. Speaking of home-plate umpire DeMuth, Peavy said, "He's already proved he can't see things right. I hope he rests well in his hotel rom."
It isn't sure if Peavy was talking about his own four innings in his eagerly awaited first World Series game ever, or what. It's only sure Peavy wasn't pleased.
"That's a joke, that's an absolute joke," Peavy said.
Not only is there nothing funny about, the call was dead on. Red Sox manager John Farrell did grudgingly admit "by the letter of the rule" it may indeed have been obstruction on Red Sox third baseman Will Middlebrooks.
By the letter of the rule. By the spirit of the rule. Any way you look at it, the call was correct.
The Cardinals deserved their 5-4 victory that puts them up, two to one, in games in this World Series that's getting better by the game. Any way you look at it, Middlebrooks obstructed Cardinals baserunner Allen Craig with two outs in the ninth inning.
He impeded him. He prevented him from scoring. However you want to put it.
Middlebrooks blocked Craig's path to home plate. It wasn't necessarily Middlebrooks' fault. He just happened to be there. Though Middlebrooks did raise his feet and legs, tripping Craig and quite possibly making the call much easier for the umps to see.
Whether the trip was intentional or not, we will never know. It certainly was well-timed to impede Craig. Middlebrooks might not even be sure at the moment whether he raised his legs and feet intentionally (though he suggested it wasn't).
No matter, it doesn't really matter. Being there was enough.
But for good measure, Craig was plainly tripped, preventing him from having any real chance to make it home after Red Sox catcher Jarrod Saltalamacchia's throw went down the left field line. Salty had received a throw from second baseman Dustin Pedroia to nail Molina at the plate for the second out, and was trying to get Craig at third to end the inning that was set up by pinch-hitter Craig's big double.
 Craig, delayed by Middelbrooks (and hobbled by his lisfranc injury, plus any new pain from his collision at third) was out by 15 feet going home. Though without the trip, even a slow Craig probably makes it home.
The Red Sox saw it another way. Some Red Sox folks suggested Craig was out of the baseline. Or that Middlebrooks was just "laying there."
In reality, Craig just rose to run. He didn't seek or cause the contact. And as far as Middlebooks goes, that's just bad luck. It's on him not to do anything to impede Craig.
Rules guru Joe Torre said, "Intentional or not intentional, he just has to clear the path."
 And DeMuth kindly told Middlebrooks at the time, "You know you have to get out of the way."
Maybe Middlebrooks didn't know that. Some Red Sox players seemed not to know it. No matter, the call doesn't need their approval.
Craig himself wasn't so sure what happened, even afterward.  He said, "I couldn't tell. I just had to jump around him. I don't know if he clipped me or not."
That's OK, the replay (not that it was needed, or allowed to be used) clearly showed that Middlebrooks did clip him. He did impede him. And he did prevent him from having a chance to score on his own.
Really, it's no surprise some Red Sox players didn't see it that way. When there's a game as close and hard fought and important, and it ends with a rare obstruction call that puts you in a 2-1 World Series hole, it's hard to see it any other way than you're own.
"I don't understand it," Middlebrooks said. "There's nowhere for me to go there."
Apparently, he's right. He doesn't understand it.
Craig, not starting here because he's still not quite healed enough to play the field, had the big hit in a pinch-hitting role. And he deserves all the accolades for getting back from a lisfranc injury faster than almost anyone in modern record. "Having a bat like that is unbelievable," Carlos Beltran noted.
Having speed like his: much more believable. Craig, uncertain what his status will be Sunday after his double followed by his double collision, noted that he felt like he had run an "obstacle course."
Joyce, who actually made the call (not DeMuth), immediately signaled for obstruction and gave Craig the plate.
"The baserunner has every right to go unobstructed to home plate, and unfortunately for Middlebrooks he was right there," Joyce said.
Middlebrooks was right there because the throw from Saltamacchia tailed away from him and into Craig, and Middlebrooks was unable to stop the ball from heading into the outfield. That right there was the Red Sox's real issue.
 It was the second game in a row -- and second loss -- where a throw intended for third base ultimately cost the Red Sox the contest.
The throw looked a bit late, anyway. But mostly it tailed off line.
"Maybe they shouldn't throw to third base," observed one Cardinals official, wryly noting the similarity.
The point is, it's what the Red Sox did. It's not what the umps did. The men in blue got it right.
The Nature Boy will do the traditional honors

Ron Wotus and Dave Righetti are both expected to be reassigned to the front office

Scully, for his part, seems to want no part of the World Series call
Verlander threw seven innings and 99 pitches in Game 6 on Friday

Bosio is the latest name in a loaded free-agent class for pitching gurus

Chad Green won't be available in Game 7 and David Robertson looks worn down