Red Sox's David Ortiz not happy with official scorer's decision
The Red Sox won on Thursday, but all was not well with David Ortiz.
More MLB: Power Rankings | Expert Picks | Latest news & notes | Fantasy news
On Wednesday, the Red Sox prevailed over the Twins by a score of 2-1, and along the way team warrior-poet David Ortiz clouted his 16th homer of the season. That said, Ortiz afterward was none too pleased about an official scorer's decision that cost him a base hit. 
Here's the play in question ...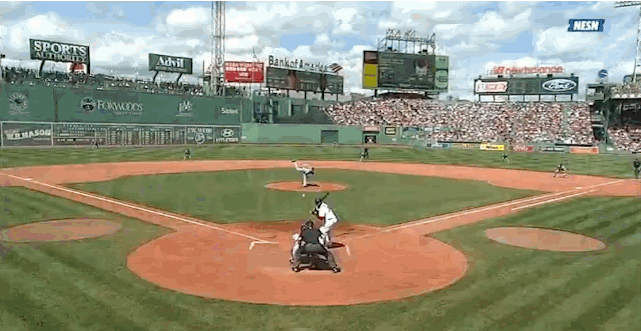 Well-struck ball and perhaps not entirely a routine play on Joe Mauer's part, but you can certainly justify calling it an error. 
Big Papi, however, perceived no such ambiguity. Here's more from Julian Benbow of the Boston Globe:
As Ortiz walked slowly off the field, he stared up at the Fenway Park press box, thumbs down, to let the scorer know how he felt.

"What is he watching?" Ortiz said afterward. "He's not watching the same ballgame that everybody's watching, I guess."

Having what he felt was a hit taken away from him has happened before to Ortiz.

"People are supposed to have your back at home, and it never happens," said Ortiz, who hit his 16th homer in the 10th inning, the first of back-to-back shots that won the game. "It's always like that. I've been here more than a decade and the scorekeepers here are always horrible. This is home, man."

In the top of the eighth inning, while he was in the dugout, Ortiz continued to glare at the press box, shouting his disapproval.

"Got to make it clear," Ortiz said. "It's not my first rodeo, man. You know how hard it is to get a hit, man?"
If I had my druthers, then we'd do away with the error rule altogether. After all, it doesn't take into account the fielder's range (you can get an error on a ball you never reach in the first place), and the very much related ERA statistic is far too forgiving after the commission of an error. As well, Ortiz's complaint about the official scorer's "[having] your back at home" is both, a, silly and, b, a fairly realistic assessment of what typically goes on.
More to the point, though, this is a pretty weird hang-up for Ortiz to wield so forcefully following a game in which he homered and his team, you know, won.  
Despite a seven-game ALCS, the Houston rotation lines up nicely for the World Series

Sabathia and the Yankees are a perfect fit for each other

Bregman threw out Greg Bird at the plate to preserve the Astros' lead
The 2017 World Series begins Oct. 24

The Yankees returned to contention even quicker than their front office expected

The Dodgers have the better defense, rotation, and bullpen, in our estimation