Red Sox's Jon Lester continues to dominate
Red Sox lefty Jon Lester dominated the Athletics on Saturday. That's nothing unusual this season.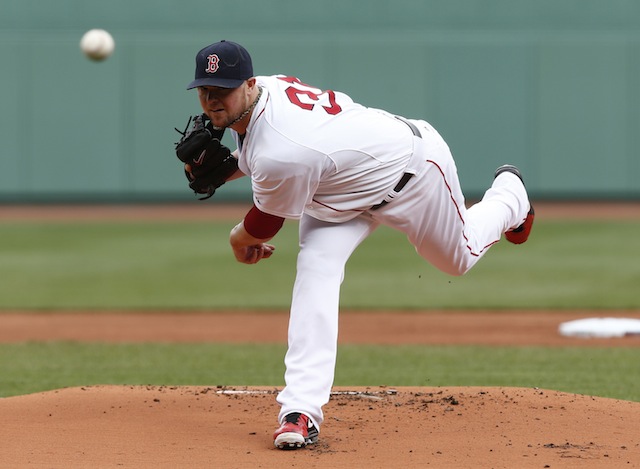 More MLB: Power Rankings | Expert Picks | Latest news & notes | Fantasy news
Saturday probably shouldn't have been such a good day for Jon Lester. After all, the Red Sox lefty was pitching in Fenway against the Athletics -- an offense that so far in 2014 has been MLB's most fly-ball-inclined and also one of the best at making contact. Still and yet, Lester suffocated them: 8 IP, 0 R, 1 H, 15 K, 2 BB, 76 of 119 pitches for strikes. In doing so, Lester became the first pitcher to strike out 15 or more in Fenway since Pedro Martinez in April of 2001 and became the first lefty to strike out 15 or more in Fenway since Randy Johnson of the visiting Mariners in April of 1998. Not bad company, that. 
The 2013 season was supposed to be Lester's bounce-back campaign, but now, eligible for free agency next winter, Lester is knee-deep in what could be a career year. In 48 2/3 innings this season, Lester boasts an ERA of 2.59, and he's struck out 58 batters against just 10 walks. As well, Lester's high BABIP and low strand rate suggest he's actually be unlucky this season. Correct for such factors, and his ERA should be 2.16. Really, though, it's a longer run than that. Lester has been pitching at an elite level since the 2013 All-Star break. Include his legendary run last postseason, and Lester has pitched to a 2.51 ERA and 4.25 K/BB ratio over his last 211 2/3 innings. That's roughly full season of dominance, with a good portion of it against playoff-caliber competition. 
Digging a little deeper, Lester is reaching new heights in terms of command. In 2014, his K% coming into Saturday's gem was 25.8 percent -- his highest such mark since 2010. As well, his walk percentage of 4.8 is easily the lowest of his career. There's also the fact that he's throwing first-pitch strikes at a higher rate than ever before. 
As for repertoire, Lester's still primarily a fastball-cutter pitcher who keeps the ball down, but he also throws a two-seamer to left-handed batters and ramps up his use of the largely platoon-proof curve and changeup when facing the opposite side.
Like every pitcher who ages and survives in the bigs, Lester is at the same time coping with velocity loss. Per the wonderful and necessary Brooks Baseball, Lester's fastball peaked in 2009 at 94.67 mph. Needless to say, that's great heat, especially by the standards of left-handers. He's been trending modestly downward ever since, and this season Lester's at 93.11 mph (to be fair, velos tend to be lower in April, but that figure is in keeping with Lester's recent history). 
Most pitchers respond to diminished fastball speed by relying more on breaking and offspeed stuff. Lester, though, has undertaken what would seem to be a counterintuitive approach to those mounting physical limitations. Take a look at his pitch mix since he arrived in the majors in 2007 ...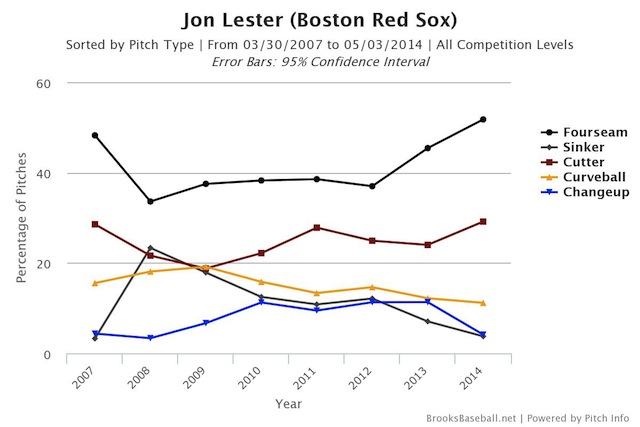 Lester over the years has become more fastball-heavy than he was when he threw his hardest. This is especially the case since 2013. As any number of great hurlers have proved, there's much more to pitching than throwing hard -- changing speeds and levels, working inside and out and getting movement are also deeply important. Lester, though, is still a guy who likes to work low in the zone and pitch to the glove-side.
As he's seemingly thinned out his repertoire in recent seasons, he's also changed his approach in key spots. Have a look at these Brooks charts that list Lester's pitch usage during particular counts. First we'll have a look at his "peak velo" period of 2009 ...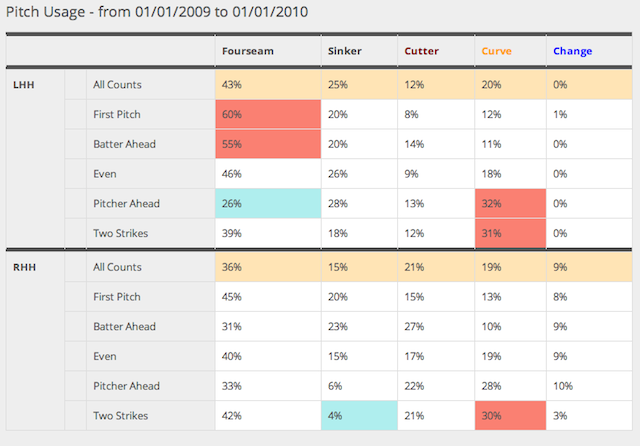 And now check out 2014 ...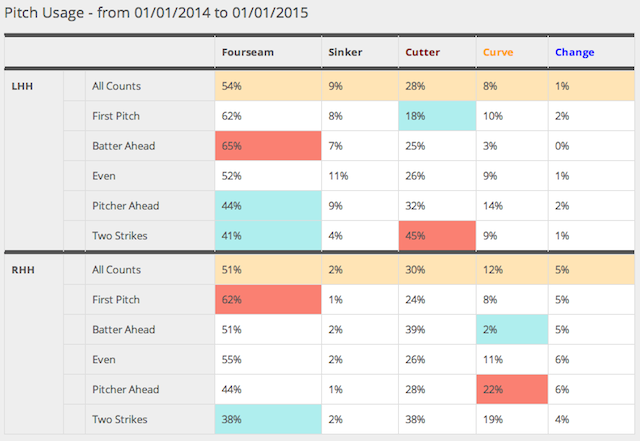 As you can see, Lester these days loves the first-pitch fastball more than ever (recall that career-high first-pitch strike percentage he has at the moment), and, contrary to that earlier period, he now favors his cutter as his put-away pitch with two strikes. 
Lester has a deep repertoire, but this narrowing of focus suggests a pitcher who knows what he does best and leans on what he does best in those critical counts. You can keep hitters off balance by throwing a level mix of pitches, or you can keep hitters off balance by giving them just enough of your back-end offerings to keep them thinking while attacking them with the pitches over which you have the most command. Age-30 Lester seems to favor the latter approach.
In part, that's why he's dominating in 2014 and setting himself up for a nine-figure payday. 
The Mets are actively seeking Terry Collins' replacement in the dugout

Verlander has been dominant this postseason, but who has the edge going into Game 6 of the...

New York's DHs started the postseason a combined 0 for 28
According to Tracy Ringolsby of Baseball America, MLB may be considering a bold plan

It all starts on the mound, but here is Houston's road map to a decisive seventh game

The Nationals once again failed to get past the NLDS round in the playoffs