Red Sox's simple goal was to make people feel a little better
The Boston Red Sox knew a win couldn't change all that has happened in their city this week. They simply hoped a win Saturday over the Kansas City Royals, on Fenway Park's most emotional day ever, could help people around here feel a little better. And when Daniel Nava's eighth-inning home run helped them beat the Royals 4-3, the Red Sox felt they had done their small part.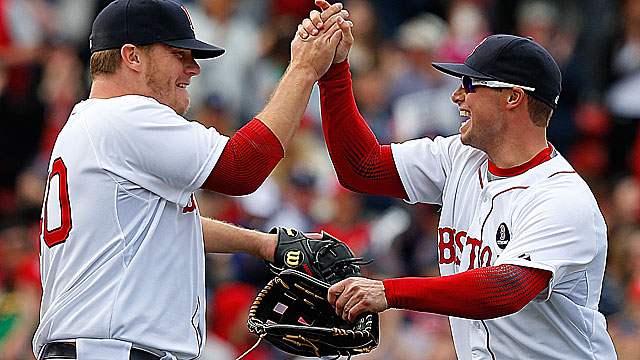 BOSTON -- There was no greater meaning here. There was no reason to make a Red Sox win at the end of Fenway Park's most emotional day ever something that it wasn't.
All through this most trying of weeks, the Red Sox have found the perfect tone, the perfect response for a city that has been hurting.
They know they can't change what happened. They know they're not the real heroes here.
They also know they're in a position to help. And maybe this win helped, just a little.
"At the end of the day, it just made people feel better," David Ortiz said after the Sox beat the Royals 4-3. "It just made people feel better."
For a few moments Saturday, and for years to come, people around here could think of Daniel Nava's game-winning home run and smile. For a few hours, they could sit in the stands at Fenway and chant, "Let's go Boston!"
"We all know it's going to take some time to heal," Ortiz said. "But it's step by step, and this is one of those steps. We can move forward."
It was Ortiz who took the microphone to address the crowd at the end of Saturday's moving pregame ceremony, dropping in an expletive but making sure no one missed his meaning.
"This is our f------ city, and nobody is going to dictate our freedom," Ortiz said, in another Saturday moment that will live on for years. "Stay strong."
The city has adopted "Boston Strong" as a mantra this week, and the Red Sox have gone along, coming up with a logo that features the "B" from their caps, with the word "strong" underneath.
"It's not just a slogan," Nava said. "It's something that means a lot to us, to the people who were on the field [in the pregame ceremony], and to all the people here."
Nava grew up in California, and he admits that he didn't really understand Boston or what this team means to this city until he played here. But just like his teammates, he gets it now.
"We wanted to get that win for this city," he said.
For a while, it seemed they wouldn't. The Red Sox didn't get a hit off Royals ace James Shields until the fourth inning, and didn't get a runner past first base until the sixth.
"No wonder we didn't get any hits early," David Ross told WEEI.com's Rob Bradford. "Guys didn't stop crying until the fifth inning."
Nava admitted the pregame ceremony got to him, saying his sunglasses hid the tears. He worried later that his baserunning mistake in the seventh inning had cost the Red Sox a chance to win, but he got another chance an inning later.
Ortiz had grounded into a double play, leaving the Red Sox with a runner on third and two out, with the Royals leading 2-1. Royals manager Ned Yost went to Kelvin Herrera, who walked Mike Napoli on four pitches and then served up a hittable changeup to Nava.
Nava doesn't hit many home runs (this was his 11th in 467 career at-bats), but quite a few have been memorable. This one won't soon be forgotten.
"A home run doesn't bring back people who died," Nava said. "But maybe winning a game takes some people's minds off it, at least for a split second."
You can't blame him or his teammates for hoping they have helped, and you can't deny that their feelings about this week and this city are real.
As he so often does, Ortiz spoke for many of his teammates. He talked about driving back and forth this week from Boston to Pawtucket, where he played in rehabilitation games with the Triple-A PawSox (Saturday was his first major-league game this year).
He spoke of the looks he saw on people's faces this week after Monday's bombing. And he spoke of the spirit he saw in the city where he has become one of the biggest stars.
"The one thing everybody has to keep in mind is how everybody supported each other," Ortiz said, speaking about the city rather than just about his team. "That's what makes this nation greater than any other. I love this country. I would do anything for this country."
Saturday, all Ortiz and the Red Sox could do was play a baseball game, a baseball game that maybe could make people feel just a little bit better. All they could do for their city was play, and try to win, and give this city a little something to smile about, if even for just a split second.
"I wanted to win this game -- bad," Ortiz said.
They won it, and won it dramatically. They won for the seventh time in a row, and they improved to 4-0 since the bombings.
Does that heal anyone? Even the Red Sox would only hope that it helps.
Saturday, they just wanted to make a few people around here feel better.
At the end of the day, there was no doubt that they had.
Keep it locked right here for everything you need to know about the world of baseball Tues...

There have been several racially charged incidents at Fenway Park this year

Washington's right fielders have sputtered offensively since Harper went down
The good news? Wichita still has a chance to win the series Tuesday night

The 2017 season is going to shatter the all-time collective home run record

Ferrell somehow avoided going to the ground