Redemption a common theme among Managers of the Year
Whether it was winners Clint Hurdle and Terry Francona or any of the other finalists for the respective Manager of the Year awards, redemption was a common theme.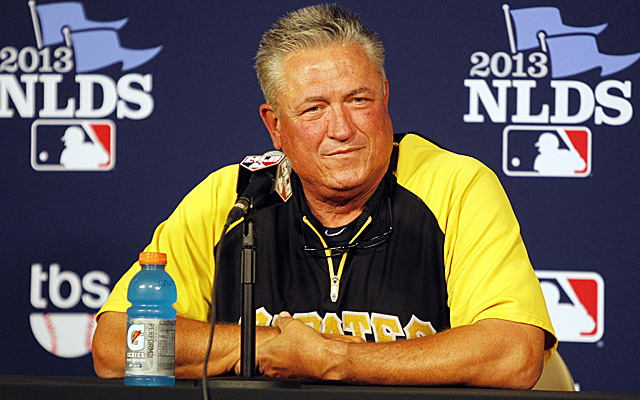 Hurdle wins NL Manager of the Year | Francona wins AL Manager of the Year
The Manager of the Year race in each league this year was about redemption. The two winners get their redemption in taking home the hardware, but really, it was about all six of the finalists to varying degrees.
Clint Hurdle was the no-brainer choice in the NL and would have won an MLB-wide vote for sure. He guided the Pirates to a 94-68 record and then advanced all the way until Game 5 of the NLDS against the eventual NL champion Cardinals before being eliminated. All this for for a franchise that hadn't even posted a winning record since 1992.
But put that aside and this served as redemption for Hurdle on a personal basis, too.
In parts of eight years for the Rockies, Hurdle only posted one winning record. He went 90-73 in that magical 2007 season, as his Rockies historically went 14-1 to close out the season, winning the NL wild card and then winning seven straight in October to get to the first World Series in franchise history.
Still, that could be dismissed as a fluke because it was his only good season and runs like that just can't be explained rationally. And then you have the Pirates' collapse last season.
So, yes, this was redemption for Hurdle as a manager. He wasn't alone.
A two-time World Series champion, Terry Francona is obviously a decorated manager, but his exit from Boston was unceremonious. It followed a historic September collapse and later reports surfaced about marital problems and abuse of pain medication, not to mention that he was the controls while the infamous "chicken and beer" stuff was going on in the clubhouse.
All he did in his next job was take over a 68-94 team and guide it to 90 wins and its first playoff berth since 2007. And now he has his first career Manager of the Year award.
Redemption.
John Farrell was coming off a 73-89 season with the Blue Jays, who let him go to Boston in exchange for a middling player (Mike Aviles) they traded just a few weeks later. So it's safe to say his stock in Toronto wasn't especially high. Now, Farrell is a World Series champion and the AL manager of the year in a crowded field. Redemption is his, even in not winning this award.
Over in the NL, Fredi Gonzalez was coming off three disappointments. First, he was fired by the Marlins in 2010. In 2011, the Braves collapse almost mirrored that of the aforementioned Red Sox. Last season, the Braves made the playoffs, hosting a one-game wild card against the Cardinals. Though they were six games better in the regular season, the Braves lost that game to the Cardinals.
This time around, Gonzalez's Braves didn't mess around with the wild card. They won the NL East by 10 games, despite a good number of injuries and underperformance from several players.
Don Mattingly's Dodgers won the NL West by 11. This came after his club began 30-42 -- trailing by 9.5 games in the NL West, at the time -- before coming to life. Mattingly was even nearly fired, by the admission of front office executives, but instead led a division champion.
Redemption.
Even Bob Melvin -- whose A's repeated as AL West champs -- has been twice fired from managerial posts, including once being replaced by A.J. Hinch in the middle of the season. It's a stretch on the redemption angle, unless you say this was a continuation of the 2012 season for Melvin and the A's. I'm actually good with that, though, because many thought last season in Oakland was a fluke. It wasn't.
We're talking about six finalists -- and especially the two winners, who deserve our utmost praise -- who were deemed to have failed and got another chance. Each and every one made good on that second (or third) chance.
So maybe that Lloyd McClendon hire isn't necessarily that bad, eh, Mariners fans? But that's a different topic for a different day.
For now, well deserved congratulations to Terry Francona and Clint Hurdle are in order.
Ausmus most recently managed the Tigers, but won't be headed to Queens

Keuchel would be starting Game 4 on short rest

The Astros have made some matchup-related changes to their lineup for Game 3 of the ALCS
A former scout had agreed to auction off his ring

With the Yankees down 2-0 in the ALCS, Joe Girardi will look to go to his bullpen as soon as...

The former big-league infielder is presently the Astros' bench coach