Reds appear set to shop Brandon Phillips in offseason
Multiple reports are bouncing around that the Reds intend to trade Brandon Phillips this offseason.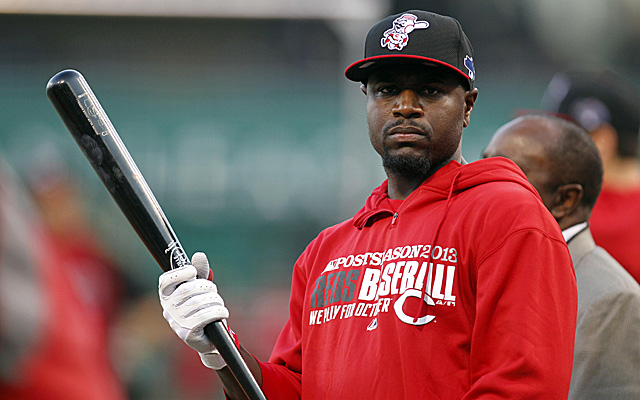 Earlier this week, Reds beat writer John Fay reported that there were several indications in place that the Reds will try to trade second baseman Brandon Phillips this offseason. One of the major reasons is that Phillips upset Reds CEO Bob Castellini with his "slap in the face" comments about his contract.
And there's now this, via USA Today's Bob Nightengale:
The #Reds decided a month ago that they will shop Brandon Phillips this winter w all intents to trade him

— Bob Nightengale (@BNightengale) October 18, 2013
Phillips, 32, made the All-Star team for the third time in the past four years this season. He hit .261/.310/.396 (92 OPS+) with 24 doubles, 18 homers and 103 RBI.
The latter figure in the above stat line is why he's unbelievably overrated in many circles. Phillips was hitting behind the top two on-base percentage guys in the National League for the majority of the season, and for most of the season posted a highly-unsustainable batting average with runners in scoring position. In a different lineup position on a different team, Phillips posts a sub-par season with the bat. Look at his measly four RBI in September, for example.
Phillips was seventh in OPS among NL second baseman and sixth in WAR. With a low OBP and a slugging percentage below .400, nearly all Phillips value was derived from his glove and from his luck with RBI -- which was bound to run out and, again, did in the last month.
And while he's a useful defender, there are still four years and $50 million left on his contract.
Keeping in mind that and his penchant to annoy, his declining skill set and hefty price tag, the guess is the Reds are hard pressed to find a buyer without having to eat a large portion of his salary. So we'll find out just how badly they want to rid themselves of him.
L.A. manager Dave Roberts indicated that Puig's benching was related to more than one inci...

Manager Torey Lovullo said so on Monday

Let's see how SportsLine forecasts the race for MLB's 10 playoff spots
No other rookie in baseball history has hit more home runs than Judge has this year

Jays have said goodbye to Encarnacion and will to Bautista. Should they move on from Donaldson,...

Judge's big September means Jose Altuve has some serious competition for the award