Reds at Pirates for NL wild-card game: Who has the edge?
The Reds and Pirates are set to play the wild-card game Tuesday. Let's do a position-by-position breakdown.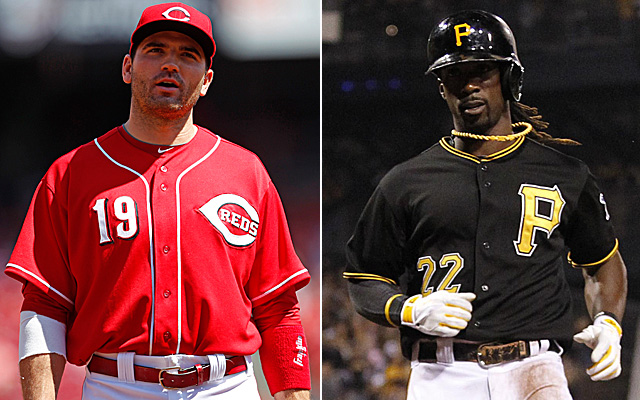 After sweeping the Reds in Cincinnati and taking the season series 11-8, the Pittsburgh Pirates now return home for a sure-to-be-rocking crowd in PNC Park on Tuesday. It'll be the National League wild-card game at 8:07 p.m. ET.
The Pirates finished their first winning season since 1992 in impressive fashion, running their record to 94-68 while the Reds stumbled to the finish line with a still-admirable 90-72 record.
Let's break things down position-by-position. Please take note that just going through and adding up the advantages of each team and drawing a conclusion for a one-game playoff would be quite folly. This is partly for fun and partly to see where each team's strengths are heading into the game.
Catcher: Ryan Hanigan vs. Russell Martin

Both are very solid behind the plate and work well with their pitchers. Both have low batting averages but take enough walks to turn in a reasonable on-base percentage. The separation, however, is Martin's power -- and he has a significant advantage in that department.
First base: Joey Votto vs. Justin Morneau

Morneau has been a rather ordinary player since joining the Pirates and, in fact, he hasn't hit a home run since the deal. Votto is one of the elite position players in baseball. Easy choice here.
Second base: Brandon Phillips vs. Neil Walker

I can hear the screams already. Toss out RBI total -- which Phillips gained through unbelievable fortune in hitting behind two of the best on-base artists in the NL and an insane mark for a while with runners in scoring position. His pace wasn't sustainable, which is why it's not surprising he only drove home four runners in September. Now let's look at the lines without RBI.
Walker: .251/.339/.418, 24 2B, 4 3B, 16 HR, 115 OPS+, 3.9 bWAR
Phillips: .261/.310/.396, 24 2B, 2 3B, 18 HR, 92 OPS+, 1.5 bWAR
Walker missed time with a DL stint, too. Phillips is a better defender, but the gap isn't large enough to sway me to give him the edge. In fact, by calling this even an argument can be made I'm being generous to Phillips. He's one of baseball's most overrated offensive players.
Shortstop: Zack Cozart vs. Jordy Mercer

Mercer has been a very productive offensive player since gaining regular playing time while Cozart remains pretty poor with the stick. I do consider Cozart the better defender, though, making things a bit closer. Oddity: Cozart tied for the NL lead in sacrifice flies this season.
Third base: Todd Frazier vs. Pedro Alvarez

Frazier has had a rough follow up to his solid rookie season, but he still ended up with 19 homers. He has a slightly better on-base percentage than Alvarez, too, but the NL home run leader gets the boost here due to his huge power.
Left field: Ryan Ludwick vs. Starling Marte

Ludwick has been pretty bad this season when healthy, while Marte has great gap power, excellent speed and solid defensive range. In fact, Ludwick actually has a negative WAR on the season while Marte is sporting a robust 5.4 figure. Even if you hate WAR, pretty much every category here points to Marte.
Center field: Shin-Soo Choo vs. Andrew McCutchen

Choo is having an outstanding season with the bat and getting by in center field -- even though he should be a corner outfielder. He deserves lots of praise for his work atop the Reds' batting order and again flashing a nice power-speed combo (20-20 club). McCutchen, however, should win the NL MVP.
Right field: Jay Bruce vs. Marlon Byrd

Byrd is having a career year at age 36 and has been an excellent addition for the offense. He deserves lots of praise for his bounce-back season and is now a key cog for a 94-win ballclub. Bruce, however, has hit over 30 homers for the third consecutive season and flashes very solid defense in right field. The nod goes to one of baseball's more underrated power hitters.
Bench X-factor: Billy Hamilton vs. Travis Snider

Snider is listed here because he has three pinch-hit home runs this season and has come up big in the clutch several times. The Pirates do not, however, have anyone that can come close to impacting a close game the way scary-fast Hamilton can.
Starting pitcher: Johnny Cueto vs. Francisco Liriano

Cueto has been very good in two starts since coming off the DL, allowing only eight hits and one earned run in 12 innings (0.75 ERA). He only faced the Astros and Mets, though. Still, in the past three seasons, Cueto is 33-16 with a 2.61 ERA, 1.13 WHIP and 154 ERA+. He's a true ace. In two starts against the Pirates this season -- both in PNC Park -- Cueto boasted a 0.73 ERA and 0.41 WHIP. In fact, he owns the Pirates in his career -- 13-4, 2.37 ERA, 1.01 WHIP.
Liriano will get some Cy Young votes after a huge 2013 season. He didn't close very well, though, as he had a 5.14 ERA in five September starts. Against the Reds this season, he has gone 0-3 with a 3.70 ERA and 1.11 WHIP. His splits show he's unbelievably better at home (8-1, 1.47 ERA, 0.96 WHIP) than on the road (8-7, 4.33, 1.44). And two of his starts against the Reds were on the road. The Reds numbers overall are worse against lefties and righties, but it's not an overwhelming difference.
Basically, flip a coin.
Bullpen: Aroldis Chapman, J.J. Hoover, Sean Marshall, Sam LeCure et al vs. Jason Grilli, Mark Melancon, Tony Watson, Justin Wilson et al

Both groups are pretty outstanding. The Pirates rank second in the NL in bullpen ERA while the Reds rank fourth. The divide, however, is significant (2.87 to 3.30). After a blown save on Sept. 13, Jason Grilli seems back on track. Mark Melancon, however, went through a rocky finish to the season, so that's a concern heading in. Aroldis Chapman has been very good since mid-August. He hasn't allowed an earned run to the Pirates in seven outings this season and owns a career ERA of 1.21 in 23 career appearances against Pittsburgh -- with 37 strikeouts in 22 1/3 innings.
If we were going to say "which bullpen was better during the 2013 regular season?" the answer would be the Pirates. The way things look for Tuesday night, however, it's difficult to give an advantage to either side, given Grilli's recent injury and Melancon's recent struggles.
Defense

The Pirates have used incredible intelligence in defensive shifts this season to become an elite defensive team. According to Defensive Runs Saved, the Pirates had the third-best defense in the majors this season, trailing only the Royals -- who were historically good -- and the Diamondbacks. The Reds are no slouch, though, checking in at seventh. Fangraphs' UZR (utlimate zone rating), however, has the Pirates ranked 15th with a slightly above average mark, while the Reds rank eighth with a solid mark of 26.2. Fielding percentage shows the Reds in sixth (.988) and the Pirates in 21st (.983), but -- as you can see -- the spread there is really small. Martin and Hanigan are both very impressive in terms of catching opposing baserunners stealing. We could try and nitpick to come up with a true answer, but overall this is very close to a wash. So that's what I'm calling it.
Prediction
One game is such a crapshoot. The Astros, for example, could win a one-game playoff. As we know, the reason there are 162 games in the regular season and up to seven games in a playoff series is that one game rarely tells us the better team. Thus, this is a complete shot in the dark.
I'm going Pirates, 4-1.
The Indians pitching coach would be getting his first MLB managerial job

In the last several years, lots of droughts have ended in MLB

The most likely scenarios are Dodgers winning in five or six games
Despite a seven-game ALCS, the Houston rotation lines up nicely for the World Series

Sabathia and the Yankees are a perfect fit for each other

Bregman threw out Greg Bird at the plate to preserve the Astros' lead