Reds' Brandon Phillips, Pirates' Jared Hughes make nice
Reds second baseman Brandon Phillips said he and Pirates reliever Jared Hughes spoke on Tuesday and resolved any differences they might have had as a result of Monday night's plunking.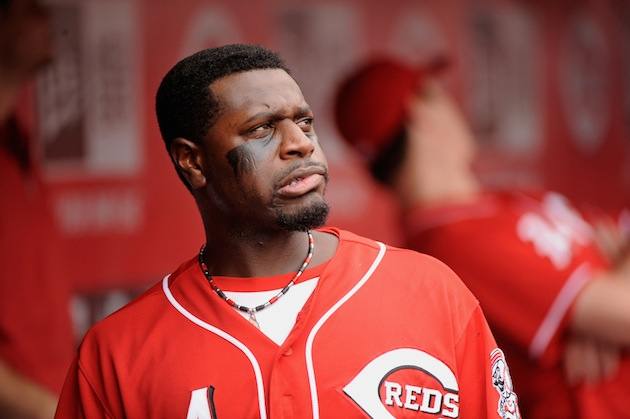 Brandon Phillips called Pittsburgh's Jared Hughes on Tuesday. (Getty Images)
Reds second baseman Brandon Phillips and Pittsburgh reliever Jared Hughes spoke again on Tuesday and this time it was less heated than their exchange on the field Monday. After being hit on Monday, Phillips refused to talk to reporters after the game before making a charge of racism on Twitter.
Phillips said Pirates outfielder Andrew McCutchen facilitated a conversation between the two players on Tuesday.
Here's what Phillips had to say before Tuesday's game, from John Fay of the Cincinnati Enquirer:
"Last night, it was heat of the moment for me, especially being from Stone Mountain, Ga. A lot of crazy things go down. A lot of racial stuff happens in the South. I was pissed off about the situation.

"We reached out, and me and Mr. Hughes had a great conversation before I came to the stadium today. It was the best thing that ever happened, just talking to him about what happened, talking to him about things that I heard and stuff.

"It was great to hear what he had to say and him to hear what I had to say. It made us both feel better about the situation. I respect him as a player and a man from the conversation we had.

"It was just a big misunderstanding. When you say certain things in the heat of the moment, you really don't mean it. You forgive people. He forgave me. I forgive him. It's the baseball family. I love him as a brother."
Hughes also said everything was good between the two. 
"I've got a ton of respect for Brandon Phillips as a man and a ballplayer," Hughes told reporters (via the Pittsburgh Tribune-Review). "We talked and told each other how much we respect each other as men. He's a great guy. He's super nice."
Good for Hughes for taking the high road. Hopefully in their private conversation, Phillips apologized for at the very least insinuating that Hughes' actions were driven by any type of racism. To make such a claim is irresponsible and unfair to Hughes and is much more than a "misunderstanding." Since he's the one who made it public to begin with, Phillips needs to make a public appology, if not to the media, at least on Twitter, the same medium where he made the accusation.
Here is what Phillips had to say on Twitter:
#RealTalk: Great convo b4 I got to the park & ALL IS GOOD! Hopefully next time he'll throw me a pitch I can hit LOL 

— Brandon Phillips (@DatDudeBP) September 11, 2012
For more baseball news, rumors and analysis, follow @EyeOnBaseball on Twitter, subscribe to the RSS feed and "like" us on Facebook.
A-Rod held a similar role last season

Bautista makes his home in Tampa

The Angels' Ohtani faced Milwaukee in Cactus League action on Saturday
New Mexico broke the school and WAC single-game run record with a 39-0 victory over Mississippi...

It's the first Saturday slate of spring training games, and Ohtani will be taking the mound...

The Tigers are very early in their rebuild and they're counting on Miguel Cabrera to rebound...