Reds' Brandon Phillips says he didn't deserve to be an All-Star
Several Reds were upset that Johnny Cueto and Brandon Phillips were left off the All-Star team. Cueto voiced his displeasure, but Phillips was silent until Saturday, when he said he didn't deserve to go.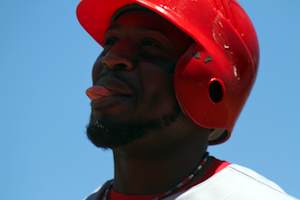 Reds second baseman Brandon Phillips said he didn't deserve to be an All-Star. (Associated Press)
In what is hopefully the last update of the Reds-Tony La Russa All-Star dustup, Cincinnati second baseman Brandon Phillips finally spoke about his supposed "snub" from the National League squad. While Dusty Baker and Johnny Cueto -- along with Joey Votto and Jay Bruce -- spoke about the fact Cueto and Phillips weren't sent to Kansas City, Phillips had been quiet.

With Fox in town for a national broadcast of the Reds and Cardinals, Phillips finally spoke about not being selected for the All-Star Game.

"I felt like I didn't deserve to be an All-Star anyway. I feel like if I did my job on the field, I would have been an All-Star," Phillips said. "I don't worry about what happened with the La Russa situation, I feel like I shouldn't have been an All-Star in the first place. My job is to go out there and play the best baseball possible. The only ones I have to really get mad at are my fans voting -- if they really wanted me there, they would've voted for me."

Although that's a very mature way to look at the situation, Phillips suggested he wasn't so settled about his absence from the game when it was announced on July 1. He did, however, avoid controversy by just not talking about it.

"I let it get to me on the whole California trip," Phillips said, referring to the Reds' 11-game West Coast road tripe before the break. "I was struggling, I was like, 'why am I not an All-Star, why am I not an All-Star?'"

Phillips hit just .220/.273/.268 in 10 games on the trip. He had three hits Friday night and two more on Saturday.
For more baseball news, rumors and analysis, follow @EyeOnBaseball on Twitter, subscribe to the RSS feed and "like" us on Facebook.
Boston wants to add two big bats to their lineup, not just one

Even more relievers signed on the final day of the Winter Meetings

Keep tabs on the top 50 free agents right here
The league is not happy Ohtani's medical information leaked

Kansas City and Baltimore were quite busy at the Rule 5 Draft

Piscotty's mother was diagnosed with ALS earlier this year